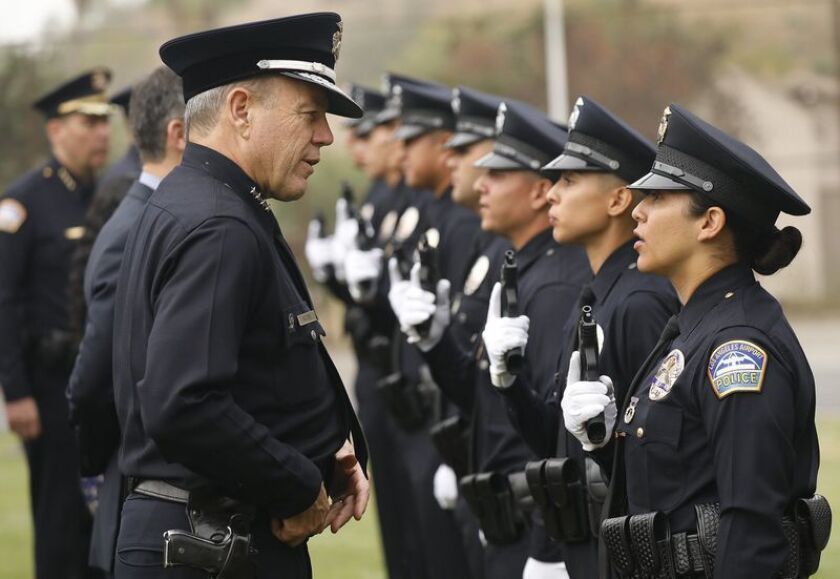 The Los Angeles Police Commission will start accepting applications for residents who want to serve on the powerful boards that review serious officer misconduct.
The commission needs to expand its pool of examiners after the City Council passed a measure last month to give police officers the choice of having a panel of three civilians decide a misconduct case.
Officers had the option to pick the panels on June 13 or select a board with the current makeup of one civilian and two LAPD command staff members.
"The Police Commission is desirous of increasing the diversity of the Hearing Examiner pool and encourages those interested to apply beginning July 9, 2019," Richard Tefank, the commission's executive director, said in a statement.
The potential for an all-civilian panel — one of the most sweeping expansions of civilian oversight in decades — comes after voters in 2017 approved Charter Amendment C, which gave officers the all-civilian option despite opposition from civil liberties groups that argued that civilians tend to be more supportive of officers. The City Council formalized the measure in April.
The ordinance implementing the all-civilian panels is valid for two years. At that time, the LAPD will submit a report to the City Council to evaluate the effectiveness of the changes.
Two commissioners will review the civilian applications and pick candidates to interview. The selection and training is expected to take 90 days. Training consists of an eight-hour course, during which the new examiners learn about rules of evidence and other procedures from city attorneys and internal affairs investigators.
To serve, residents cannot have a criminal record or serious misconduct allegation at a job and must have at least two years of experience in areas such as human resources, personnel and labor relations.
Hearing examiners will earn $900 for a full day hearing and $450 for a half-day hearing, Tefank said in a statement. The application will be available on the commission's website on July 9.
---