Voters decisively back measure to rework discipline at the LAPD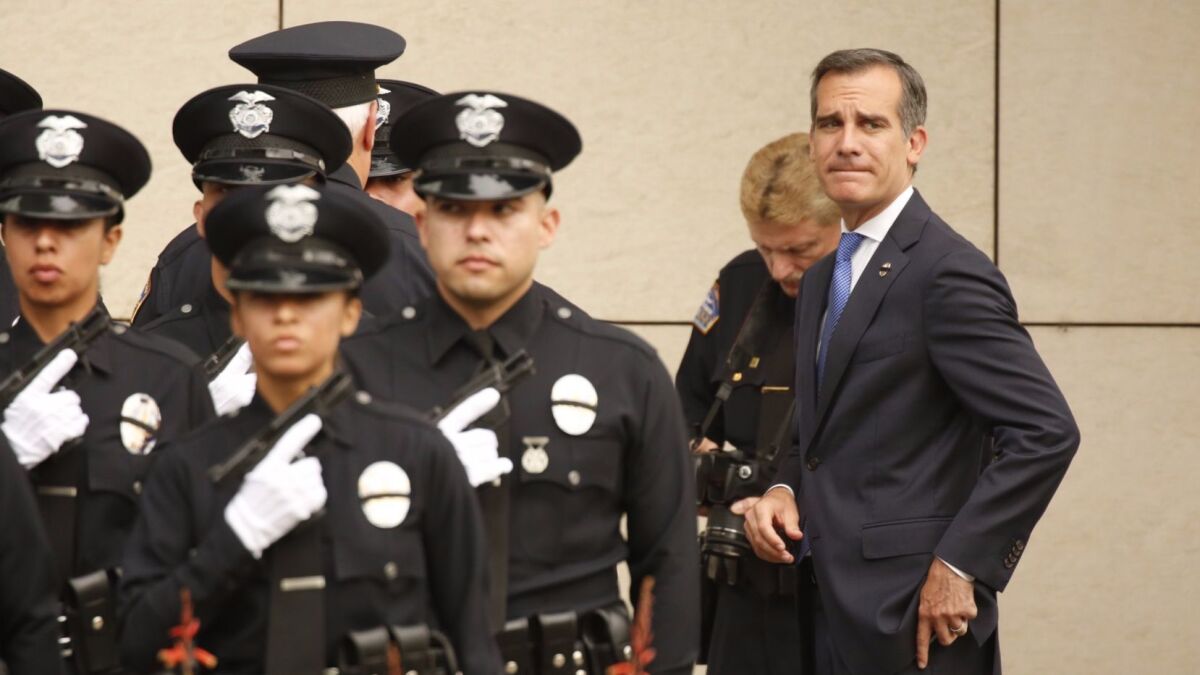 A ballot measure to significantly change the way the Los Angeles Police Department handles serious officer misconduct has won easily, despite warnings from some community activists that it will result in more lenient treatment for problem cops.
With 99.9% of precincts counted, Charter Amendment C passed with 57.1% of the vote, according to unofficial results released early Wednesday. The measure, backed by both Mayor Eric Garcetti and the City Council, will deliver one of the most significant changes to the LAPD's disciplinary process in decades, allowing more civilians on the panels that review officer terminations.
The results provided a major victory to the Los Angeles Police Protective League, which championed the measure. Union officials had long argued that disciplinary proceedings handled by the three-member Boards of Rights are frequently unfair to officers. Currently, each board consists of one civilian and two LAPD command staff ranked captain or above.
Union spokesman Dustin DeRollo said Tuesday's results showed that voters "want to see officers get a fair shake when it comes to discipline."
"We're pleased that the voters are choosing increased civilian oversight and are going to help fix our broken disciplinary system," he said.
Opponents have called Charter Amendment C a City Hall giveaway to a politically connected union and warned it would send the LAPD's reform efforts backward. Peter Bibring, director of police practices for the American Civil Liberties Union of Southern California, also described the measure as a "deceptive" piece of legislation.
"Many voters thought they were voting for greater police accountability, when in fact this does just the opposite," he said.
The LAPD has been grappling with the right approach to discipline since the 1991 videotaped beating of Rodney King by officers, an incident that became a national embarrassment for the department and helped spark devastating riots a year later.
Garcetti's team began working behind the scenes with the union on changes to the disciplinary process two years ago. Advocacy groups that were locked out of those talks — including Black Lives Matter and other organizations that are vocal on police accountability — portrayed the measure as the product of a backroom deal.
"The ball has been hidden from the general public since 2015," said Pete White, executive director of the Los Angeles Community Action Network, one of the groups campaigning against Charter Amendment C. "[The measure] was strategically timed to give the opposition the least amount of time possible to mobilize and respond."
Charter Amendment C would give officers the option of having their disciplinary cases heard by boards composed entirely of civilians. They could also continue to choose the current setup.
The union put at least $839,000 into the campaign for Charter Amendment C, relying heavily on Garcetti to promote it. The City Council will need to draft an ordinance implementing the changes, said Council President Herb Wesson, who played a key role in placing the measure on the ballot.
Wesson said he wants to spend the coming months finding ways to make the pool of civilian panelists more racially and ethnically diverse — and look at bringing retired officers into the process.
"I think that people do want to begin a serious conversation about reform," he said. "And I think this is what cracks the door open to have a larger conversation."
Charter Amendment C would represent one of the biggest changes to police disciplinary practices since 1992, when voters passed a measure adding civilians to the Boards of Rights. That measure was initially resisted by some police officers.
In recent years, officers have voiced concerns over the role played by commanding officers on those panels. They argued that high-level officers feel pressure to follow the police chief's recommendations in disciplinary cases, rendering the process unfair to those accused of misconduct.
Foes of Charter Amendment C have also complained about the Boards of Rights process, noting that disciplinary reviews are conducted in secret. They also asserted that the civilians, typically lawyers and others with a background in arbitration or mediation, are not representative of the larger public. Nevertheless, they said Charter Amendment C is not the solution.
Opponents pointed to a city report, issued in January, that concluded that civilians have been "consistently more lenient" than their sworn counterparts on the Boards of Rights. They criticized city leaders for sending the proposal to voters in a low-turnout election.
In many parts of the city, Charter Amendment C was the only item on the ballot.
Charisma Johnson, a voter who lives in Echo Park, said she wrestled with her decision on Charter Amendment C. Johnson said she didn't know if an all-civilian panel would do a better job than one that has includes two commanding officers. But she voted in favor because she wants "something to change."
"If you vote no, nothing will happen," she said.
Opponents of the measure said they were heavily outspent by the union-funded campaign, which sent at least 10 campaign mailers featuring endorsement messages from Garcetti, Wesson and Los Angeles County Supervisor Janice Hahn.
Opponents never managed to put an argument against Charter Amendment C on the ballot. High-profile critics of the proposal, including Rep. Karen Bass (D-Los Angeles), went public with their opposition just before the election.
Times staff writer Emily Alpert Reyes contributed to this report.
Twitter: @DavidZahniser
Twitter: @katemather
ALSO
Trump's pick for a top Interior post has sued the agency on behalf of powerful California water interests
Republican couple who lost a son want their GOP back, fewer guns, and a return of statesmanship
Advocates urge LAPD to do more to distance itself from federal immigration enforcement
---
UPDATES:
1:10 a.m. May 17: This article was updated with the measure's passage.
11:05 p.m.: This article was updated with new vote totals.
9:50 p.m.: This article was updated with early returns and reaction.
This article was originally posted at 8 p.m. May 16.
The stories shaping California
Get up to speed with our Essential California newsletter, sent six days a week.
You may occasionally receive promotional content from the Los Angeles Times.