Secret records of police misconduct and shootings must be released under new law, L.A. judge rules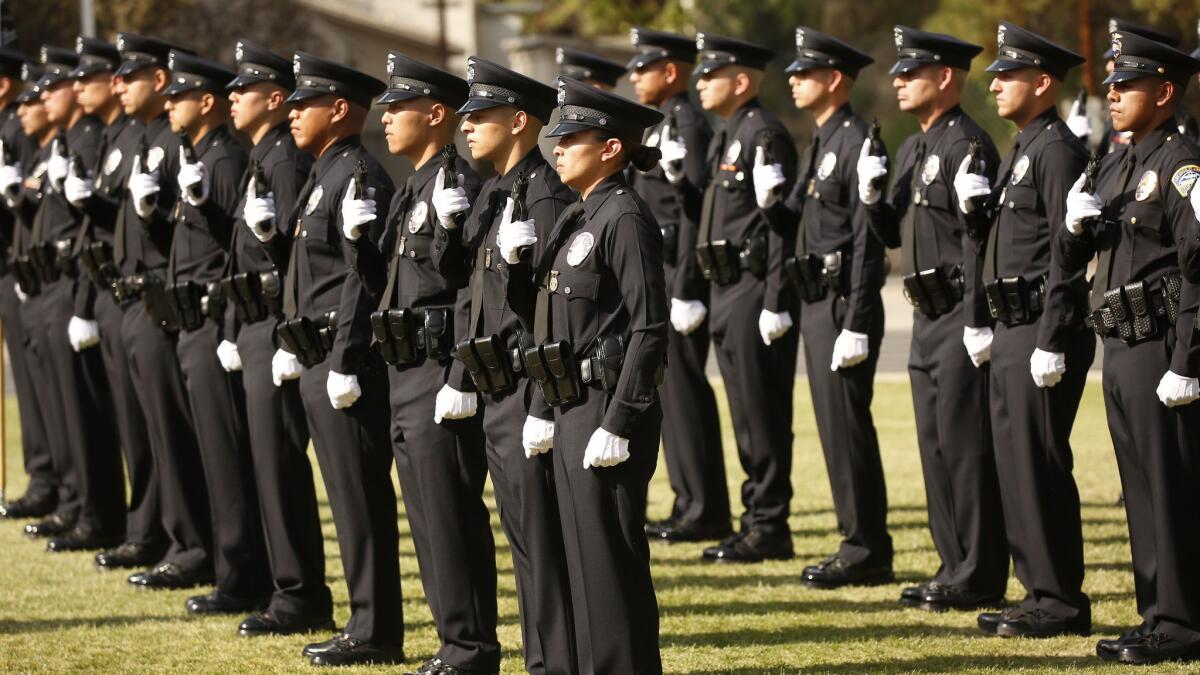 A Los Angeles judge dealt a blow this week to law enforcement unions trying to limit the scope of a landmark transparency law, ruling that records from shootings, use of force and some misconduct by police officers in California are public even if they occurred before the new law took effect this year.
The decisions mark a provisional victory for open-government groups and media organizations that intervened in cases brought by the Los Angeles Police Protective League and the Assn. for Los Angeles Deputy Sheriffs, which sought to keep records of older incidents confidential.
Los Angeles County Superior Court Judge Mitchell L. Beckloff's final rulings released Wednesday involve records that fall under Senate Bill 1421 — internal investigations into shootings by officers, severe uses of force and confirmed cases of sexual assault and lying by officers.
The judge's decisions don't take effect until March 1, giving the police unions time to appeal and ask the appellate court to block the release of records pending its decision.
"We disagree with the judge's interpretation of the law and expect that we will be filing an appeal of these decisions shortly," said Jacob Kalinski, an attorney representing the Los Angeles Police Protective League and Assn. for Los Angeles Deputy Sheriffs.
But open-government advocates hailed the judge's decision, saying that keeping older records secret would shield misconduct by some officers who remain on the job.
"It's a clear rejection of the core legal argument that the police unions have been relying on for weeks now," said David Snyder, executive director of the First Amendment Coalition, which, along with the American Civil Liberties Union of Southern California, The Times and other media organizations, intervened in the case brought by the union representing LAPD officers. "We are confident that as courts continue to confront the unions' tortured legal arguments, they will come down on the side of transparency and accountability."
Until last year, California had the nation's strictest protections on officer personnel files. The state's powerful law enforcement unions repeatedly blocked attempts to make any disciplinary records public. But lawmakers approved SB 1421 amid a heightened debate over how officers use force and interact with communities of color.
Several agencies including the San Luis Obispo County Sheriff's Office and the San Bernardino, Santa Barbara, Burlingame and Cathedral City police departments have already disclosed records under the new law.
The Los Angeles Police Protective League is one of several unions across California that have gone to court to try to block the disclosure of records from older incidents.
Last week, a judge in Ventura County granted a request by the local deputy union for a preliminary injunction to prevent the release of records from incidents prior to Jan 1. In Contra Costa County, a judge denied nearly identical requests for injunctions from local police unions, siding instead with a coalition of open-government and media organizations.
The issue is likely to be ultimately decided by the California Supreme Court.
Sen. Nancy Skinner (D-Berkeley), who wrote SB 1421, formally notified the state Senate that she intended the law to open up records from the past as well as those going forward. But law enforcement groups have argued SB 1421 does not explicitly apply to the release of records from incidents prior to Jan. 1, when the law took effect, and that publicly disclosing personnel files would violate officers' long-standing privacy rights under the state Constitution.
In Los Angeles, the judge heard the Los Angeles Police Protective League case at the same time he was reviewing a similar petition brought by the Assn. for Los Angeles Deputy Sheriffs, which represents rank-and-file members of the Sheriff's Department.
In his rulings, Beckloff disagreed with the main arguments made by the unions.
"The unambiguous language [in the statute] demonstrates the operation of SB 1421 has nothing to do with the date on which a personnel record was created — it applies to all records," the judge wrote.
The Times and Southern California Public Radio, which operates KPCC 89.3 in Pasadena, argued in the Assn. for Los Angeles Deputy Sheriffs case that the new law opens up records that are currently maintained by a police agency, regardless of when the files came into existence. Lawyers for the news organizations said the public's right to know about serious police misconduct or significant events, such as shootings and use of force, outweigh officers' privacy rights.
"There is no constitutional right to sexually assault someone and keep that private, nor is there a right to shoot someone and keep that secret," Kelly Aviles, an attorney representing the media organizations, told the judge at a hearing Friday.
A key source of dispute is whether something that was once confidential can be later made public.
Kalinski, the attorney for the police unions, likened officer privacy rights to attorney-client privilege, arguing that it would be problematic for statements made by a client to a lawyer to eventually become public because of a change in law.
Kalinski said officers accused of wrongdoing made potentially career-altering decisions about whether to appeal their discipline based on an understanding that their cases would remain private.
Beckloff pushed back against that argument, citing a legal scholar's quote mentioned in a 1994 U.S. Supreme Court opinion: "If every time a man relied on existing law in arranging his affairs, he were made secure against any change in legal rules, the whole body of our law would be ossified forever."
Times staff writer Joel Rubin contributed to this report.
Sign up for Essential California for news, features and recommendations from the L.A. Times and beyond in your inbox six days a week.
You may occasionally receive promotional content from the Los Angeles Times.