During LAPD officer's 100-mile run for fallen heroes, he learned of the death of one more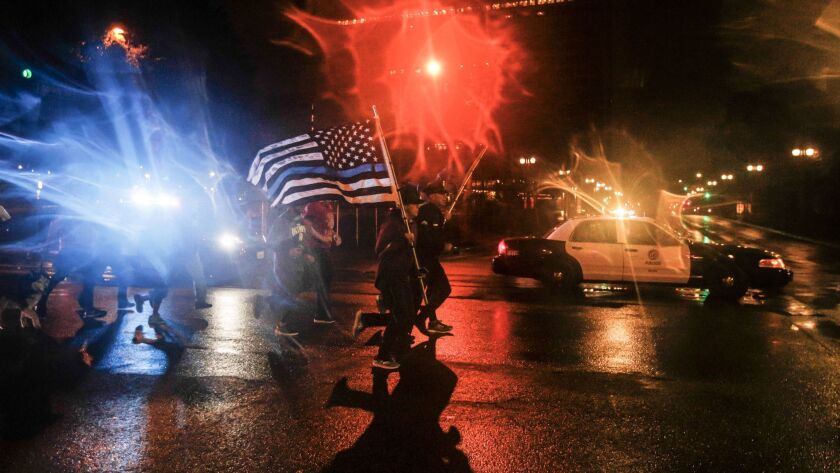 Of course Joe Cirrito was tired, but there was no turning back.
"One foot in front of the other," he told himself as he dressed Saturday morning in full tactical gear and resumed his 100-mile run from an empty field south of Bakersfield — where onions once grew — to Los Angeles.
A senior lead officer with the Los Angeles Police Department's Olympic Division, Cirrito had put in 18 hours the day before, covering almost half the distance.
After six hours of sleep, some soup and oatmeal, he felt as though he had the downtown police memorial, with its brass plaques honoring fallen officers, in his sights.
Then he had heard the news, a little past Castaic, and he picked up the pace. For the sadness and grief, there was also anger, and with the anger came a surge of adrenaline.
Another police officer, 30-year-old Greggory Casillas, had been killed hours earlier while chasing a suspect into an apartment building in Pomona. Casillas' partner was wounded as he tried to pull the rookie to safety.
Cirrito, 49, had started planning this run two months ago. He wanted to commemorate the life of LAPD Officer Ian Campbell, whose abduction and murder in 1963 in an onion field north of the Tehachapis had stunned Los Angeles for its cold-bloodedness.
The run would coincide with the anniversary of Campbell's death.
Cirrito had enlisted the help of fellow officers from the Olympic Division, and a little before dawn Friday he suited up in his BDUs — battle dress uniform — donning boots, a duty belt with its Taser and cuffs, a body armor vest and a tactical holster with a Glock strapped to his right thigh.
"All of us are a little crazy," he said in an interview before starting out, "but there is a bigger cause for this. It's bigger than me. It's bigger than the LAPD. We're talking about those who have given the ultimate sacrifice, and this is the least I can do. I can run.
"I can't sing, but I can run."
Reflecting on Campbell's death, Cirrito scooped up a few handfuls of dirt from the field where the officer had been found 55 years ago and placed them in a zip-lock bag. He tucked the bag into his vest.
A little more than 24 hours later, he had Casillas to run for as well.
Time collapses when a police officer is killed, and the shots fired in Campbell's death can be heard today in the gunfire that killed Casillas, who had been on the job for six months.
Both men were in their early 30s. Each left behind a wife and young children. Detectives are still investigating the circumstance of Casillas' death; Campbell's murder has been well-documented.
It was the culmination of a traffic stop in Hollywood during which Campbell and his partner, Karl Hettinger, were disarmed and kidnapped by two small-time criminals and driven to the outskirts of Bakersfield.
Hettinger managed to get away, but he would never escape the sound of the gun that killed his partner.
But circumstances, as tragic as they are, matter less to Cirrito than the aftermath.
"This job is hard enough," he said. "I can't imagine when an officer, a first responder, pays the ultimate sacrifice, what that family has to endure."
Cirrito, whose wife and three children monitored his progress through Facebook posts and phone calls, is sensitive to families left behind.
In the weeks before the run, he reached out to Lori Graham, Campbell's youngest daughter. She was 3 when her father was killed.
"I just can't imagine what it must have been like to grow up without a dad," he said.
But the imagining isn't as difficult as he lets on. His friend, Dominick Pezzulo — an officer with the New York-New Jersey Port Authority Police Department — was a first responder caught in the collapse of the south tower of the World Trade Center on Sept. 11, 2001, and left behind a wife and children.
Pezzulo's death led Cirrito to quit his job as a high school teacher, come to California and join the LAPD. It had been his dream to be a police officer in Los Angeles.
Rain was steadily misting as Saturday's twilight fell upon his route. Lights shimmered off the wet asphalt.
"We're pushing through. This is for Pomona," he said on video. "We're running, and we're remembering."
By 6 p.m. Saturday, Cirrito had passed the 5 Freeway and was running south on San Fernando Road. He stopped at the Foothill police station for a soup break and then went back out, fighting exhaustion, trying to pick up the pace.
Moleskin covered parts of his feet to keep blisters at bay. His back was hurting from the weight of his gear.
More than 24 hours into the run, he and his crew had established a routine: running a mile and walking a mile. Occasionally he would stop, and they would massage his leg muscles to minimize the cramping.
The Grapevine was the worst, climbing three hours on a side road that seemed to rise like a set of stairs, his pace slowing to a walk, assisted by hiking poles. At noon Friday he reached the top, where he was greeted by the cheers and high-fives of students from El Tejon Unified School District in Lebec.
Cirrito completed his first marathon in 2011, and two years ago he began to run in full duty uniform. After working a shift at the Olympic station, he would go home, set his alarm for 2:30 a.m. and then return to work to run circuits in the parking lot before going back on duty. On his days off, he follows trails in the foothills of Chino Hills and Yorba Linda.
In November 2016, he set out with a fellow officer from Los Angeles for a 420-mile run to Sacramento, raising more than $25,000 that was donated to the Los Angeles Police Memorial Foundation and Concerns of Police Survivors, a national organization supporting families who have lost a loved one in the line of duty. He estimates he's run about 500 miles since then.
His goal on the Bakersfield-to-L.A. run was to raise $5,000 from a Crowdrise page, titled "Just Cause — Remembering our Fallen," money that will sponsor local youth who want to participate in the Run to Remember, a half-marathon and 10K honoring first responders on April 8.
A portion of the money will also be used to repair the police memorial in downtown Los Angeles.
Cirrito plans to continuing running for other fallen officers, charting their paths from where they were killed back to LAPD headquarters.
::
A little before 11 p.m. Saturday, he was nearing downtown, its skyscrapers beacons of light shrouded in clouds. The rain was still falling.
"I can actually see the lights of the greatest city of the world," he said, speaking on video. He looked haggard, and his voice choked with emotion in a call-out to his wife and kids. "This push is all you," he told them.
His gait was a slow shuffle as he approached downtown. He had stopped a little before midnight to change into his Class A uniform — the dress blues — to look the best he could at the finish.
By 12:50 Sunday morning, he crested Bunker Hill on 1st Street, the Music Center to his left. His entourage had grown to include a phalanx of police vehicles, headlights flashing white, the light bar alternating red and blue.
Wheep. Wheep. The sirens intermittently wailed in salute.
Soon the sound of wet shoes striking the road could be heard. Cirrito was surrounded by friends. An American flag and a Run to Remember flag fluttered beside him.
"Stay tight," someone yelled as Cirrito neared police headquarters. "Stay right behind him."
With a hundred yards to go, he had found the energy to sprint. Bagpipers, standing in the plaza, began to play as he jogged up the steps to the memorial wall, a tessellation of brass plaques carrying the names of officers who had been killed in the line of duty.
Haggard and stooped, his dress cap pulled low on his brow, Cirrito pulled out the zip-lock bag of dirt taken from the site where Campbell had been killed. Sprinkling the soil at the base of the memorial, he made two passes until the bag was empty.
Breaking down in tears, overcome by fatigue, he sobbed, "I want to go home now," mindful that neither Campbell nor Casillas had that option at the end of their shifts.
In formation, the bagpipers played "America the Beautiful," as Officer Joe — as he is known to his friends — hobbled across the plaza to a waiting van.
Twitter: @tcurwen
---
The stories shaping California
Get up to speed with our Essential California newsletter, sent six days a week.
You may occasionally receive promotional content from the Los Angeles Times.