Paradise schools were devastated by the Camp fire. Now, educators are racing to find classrooms and help traumatized students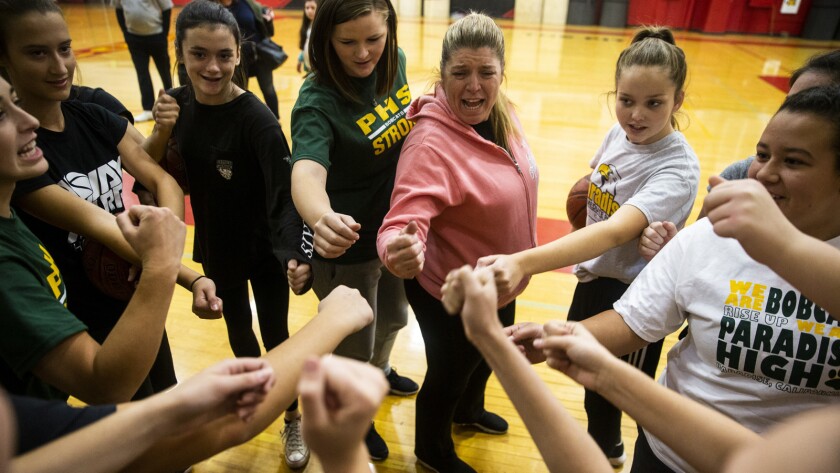 Reporting from PARADISE, Calif. —
As this region still reels from the worst fire in California history, educators are faced with the challenging task of reopening schools even as the firefighters continue their work and searchers scour the area for more victims.
Butte County's countywide public school system has been closed since the start of the Camp fire Nov. 8. Officials said the hope is to reopen Dec. 3.
They are working to identify replacement classroom space for schools that were burned to ashes during the fire.
Paradise Unified School District was hardest hit, with multiple school buildings lost to the fires. Charter schools in the area also suffered.
"This is the equivalent to setting up a school district in two weeks. There are a lot of logistics, and we want to assure you that we're on it," Mary Sakuma, deputy superintendent at the Butte County Office of Education, said last week.
Authorities are also assembling trauma counselors to be available at schools.
"This is not just about buildings," she said. "Our staff, parents and students have undergone tremendous trauma. We can't just come back to school after Thanksgiving like we used to."
Paradise Unified is now operating out of a temporary location and said in a letter to parents several days ago that it was on the hunt for classroom space.
"We can tell you that we have secured locations within Butte County that will allow us to have PUSD teachers in classrooms with PUSD students. We are also working on eliminating transportation barriers for our PUSD students so that they will be able to get to these new sites," the letter said.
School officials have been asking for donations and other forms of support. Rancho Santa Fe businessman Bob Wilson has promised to donate $1 million to Paradise High School, one of the few campuses to survive the flames.
The fire burned more than 12,000 homes in the Paradise area and left more than 80 dead with hundreds still missing.
Educators in the areas burned by the Woolsey fire in Southern California are dealing with less dire but also difficult issues.
Schools in Malibu survived almost intact but they got very dirty, and cleanup efforts will keep campuses closed even as residents are allowed to return to their properties.
The fire killed three people, burned nearly 97,000 acres and destroyed 1,600 structures. Malibu's four schools have been closed since Nov. 9, when they were included in the mandatory evacuation zones.
The tentative date to reopen Webster Elementary is Nov. 28. Point Dume Marine Science School is scheduled to reopen Dec. 3. Juan Cabrillo Elementary School should be ready between Dec. 3 and Dec. 5, pending results of air testing inside and outside for traces of lead, asbestos and polychlorinated biphenyls, or PCBs. Malibu High will be back in business between Dec. 4 and Dec. 10
The district had planned a swifter reopening but slowed down out of an abundance of caution, spokeswoman Gail Pinsker said.
"We are hearing from parents that they want thorough cleaning and testing, which we plan, but the cleaning and testing and waiting for results take a day to more than a week," she said.
Three other districts in the region also had closed campuses. Schools in Conejo Valley Unified, Oak Park Unified and Las Virgenes Unified are aiming to reopen Monday.
Residents who had to evacuate included Las Virgenes Supt. Daniel Stepenosky, who estimated that about 90 families with district students lost their homes, as did two staff members.
In a video update on social media, he said that everyone is eager for schools to reopen: "Everyone wants to get back to a state of normalcy, to be honest with you."
To that end, a crew of 200 has been working for several days, and the district had brought in 300 air scrubbers and 300 hydroxyl deodorizers. Playgrounds that are not ready by Monday will be cordoned off.
Stepenosky said that a "full-court press" will continue because "the schools are really boring when they're empty."
California's Camp fire 95% contained with an assist from rain; flash flood watch still in effect »
ron.lin@latimes.com | Twitter: @ronlin
howard.blume@latimes.com | Twitter: @howardblume
---
The perils of parenting through a pandemic
What's going on with school? What do kids need? Get 8 to 3, a newsletter dedicated to the questions that keep California families up at night.
You may occasionally receive promotional content from the Los Angeles Times.