L.A. 'swatting' suspect charged with manslaughter in Kansas over hoax call that led to fatal police shooting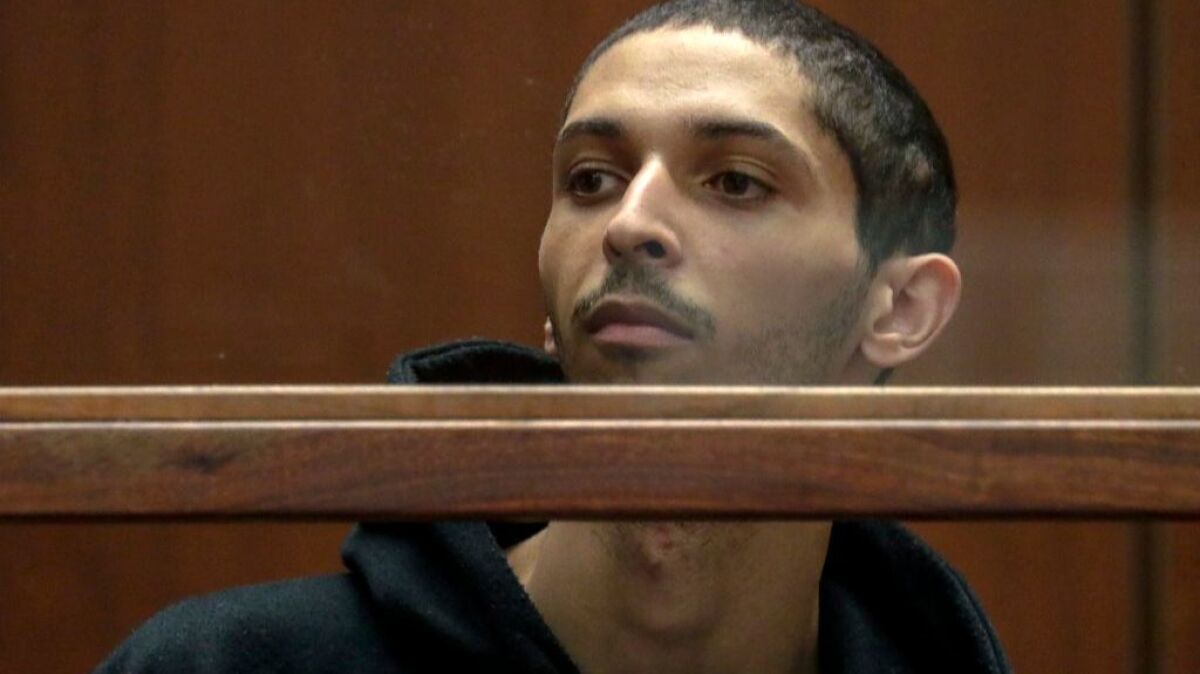 The Los Angeles man at the center of what is believed to be the first fatal "swatting" incident in the U.S. has been charged with manslaughter in connection with a hoax phone call that led to a deadly shooting in Kansas, records show.
Tyler Rai Barriss, 25, was charged with involuntary manslaughter and interference with law enforcement, according to court records made public Friday. Barriss has also been accused of making a false alarm, a felony.
Authorities allege that a dispute over an online video game led Barriss to call a Wichita, Kan., police dispatcher and falsely claim that he had shot his father and was holding two other people hostage inside a Wichita home on Dec. 28.
But Barriss was in Los Angeles, not Kansas, and there was no hostage situation. When Wichita police responded, a man, later identified as Andy Finch, 28, emerged from the front door and was fatally shot by an officer.
Police have said they believed Finch was armed when he moved his hands toward his waistband and then motioned toward officers. The shooting occurred at the home of Finch's mother, according to an attorney representing his relatives.
Barriss made his first appearance in a Wichita courtroom Friday afternoon and a preliminary hearing is tentatively scheduled for Jan. 25, according to Sedgwick County Dist. Atty. Marc Bennett. He is being held in lieu of $500,000, and is represented by a public defender.
In Kansas, a defendant can be charged with murder when prosecutors believe that a death has been caused due to the commission of certain felonies. But causing a false alarm is not among the "inherently dangerous felonies" listed under the state's felony-murder statute, so prosecutors sought the manslaughter charge instead, Bennett said during a phone interview.
Law enforcement sources told The Times last week that the dispute that led to the hoax call stemmed from an argument over an online matchup in "Call of Duty: World War II," a recently released first-person shooting game.
Neither Barriss nor Finch was involved in the disputed game, according to the sources, who spoke on condition of anonymity because the investigation is ongoing.
The sources said investigators believe that someone involved in the dispute asked Barriss to make the call.
Bennett said that others have been identified as "potential suspects" in the case, but prosecutors are still deciding if they should face criminal charges.
"As you might imagine anytime computers and gaming machines are involved, there's a fair bit of forensic analysis involved," he said.
Bennett could not immediately say why Finch's address became the target of the hoax call.
If convicted of involuntary manslaughter, Barriss could face up to 11 years and three months in prison, depending on his criminal history, Bennett said.
Prosecutors are also reviewing a Wichita police officer's decision to shoot Finch, Bennett said. The officer, identified only as a seven-year veteran of the Wichita Police Department, was placed on leave after the shooting, authorities have said.
Barriss had a reputation for helping people gain revenge against online enemies and gaming opponents through swatting — placing a hoax phone call about a dangerous situation in order to trigger a massive police response at an address to frighten its occupants.
He pleaded no contest to charges of making false bomb threats in the Los Angeles area in recent years, sparking evacuations at a Glendale television station and two schools, records show.
Glendale police believe he was involved in at least two dozen other swatting and hoax calls around Southern California. The Los Angeles Police Department was investigating Barriss on allegations that he made similar calls in late 2017, and had planned a meeting with federal prosecutors before arresting the 25-year-old in connection with the Kansas incident.
Barriss has also been linked to swatting incidents in Illinois and New Hampshire, according to court records.
This week, Canadian police issued an arrest warrant for Barriss, accusing him of placing an eerily similar call just six days before the Kansas shooting. Barriss was allegedly targeting the home of a young woman he met online, authorities in Calgary said.
The Calgary Police Service allege that Barriss called 911 at about 7:40 p.m. on Dec. 22 and told an operator he killed his father and was holding his mother and younger brother hostage in the 2300 block of 17b Street S.W.
Calgary tactical officers descended on the neighborhood, evacuating the surrounding area before a woman at the home also called police to warn them she believed she was the target of a fake call. The woman exited the house and officers confirmed that the initial report of a shooting and hostage scenario was false.
Barriss was arrested by the LAPD this month and agreed to waive extradition and be taken to Kansas to face charges.
Follow @JamesQueallyLAT & @lacrimes for crime and police news in California.
---
UPDATES:
4:25 p.m.: This article was updated with comments from Sedgwick County Dist. Atty. Marc Bennett, details from court records and background about a separate hoax in Calgary of which Barriss is accused.
This article originally published at 12:40 p.m.
---
The stories shaping California
Get up to speed with our Essential California newsletter, sent six days a week.
You may occasionally receive promotional content from the Los Angeles Times.