San Diego deputy accused of groping women faces assault trial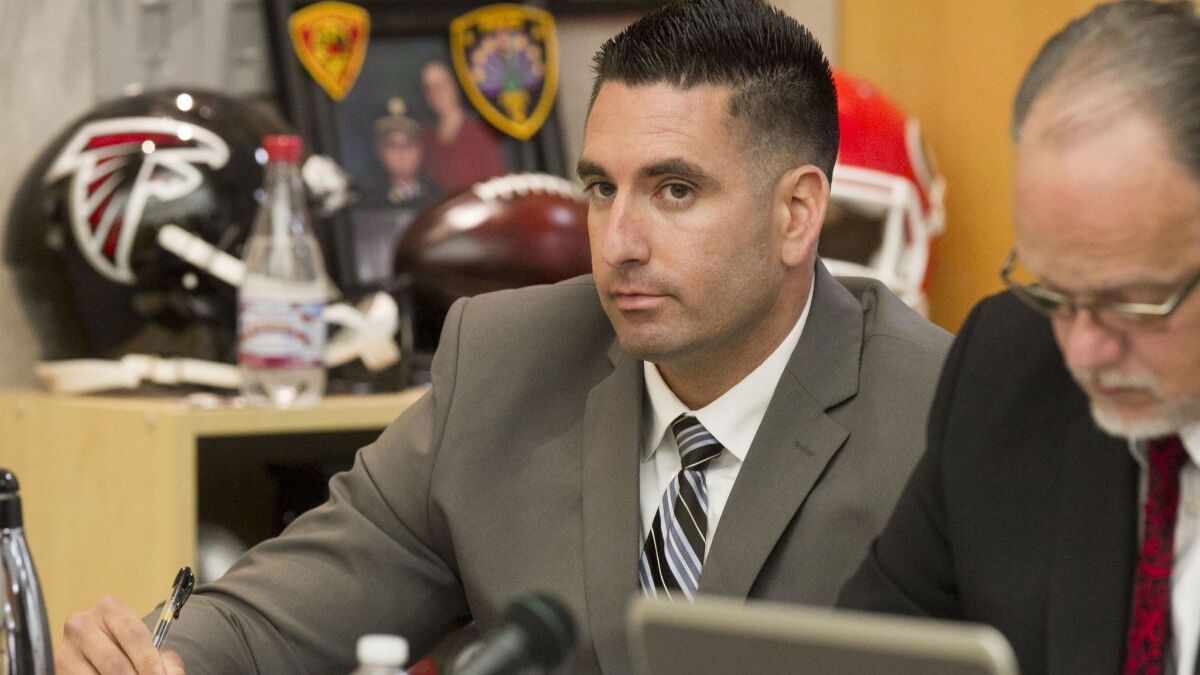 Reporting from San Diego —
A San Diego County sheriff's deputy accused of groping and fondling 13 women he encountered while on the job must stand trial on all 15 charges arising from the allegations, a judge ruled Wednesday.
Superior Court Judge Daniel Goldstein's decision came after a roughly four-day preliminary hearing for Deputy Richard Fischer, who has pleaded not guilty to the charges — nine felonies and six misdemeanors.
Many of the charges are related to assault and battery under the color of authority.
The women, Goldstein said, "were put into a position where they could not adequately fight him off."
In a few instances, the alleged fondling happened during hugs initiated by Fischer, according to testimony. Many of the women initially agreed to his request but said they quickly became uncomfortable.
During a discussion with the judge, one of Fischer's attorneys said the women didn't have to let the deputy into their homes or agree to his request for hugs. Goldstein responded that "the gravity of the offense is psychological coercion."
"There is a tremendous amount of ability to exert coercion by the mere status" of being a law enforcement officer, the judge said. "If a plumber asks for a hug, [a woman] is not going to feel the same psychological coercion."
Aside from the criminal case, the victims are suing the county in civil court. On Wednesday, during his closing arguments to the judge, Fischer attorney Richard Pinckard questioned the credibility of the accusers.
Pinckard said their testimony "was exaggerated for the purpose of bolstering their lawsuits." He called it "a money grab."
As of early May, the county had reached settlements totaling more than $900,000 with four of the accusers. The remaining claims are unresolved.
Fischer, 32, has been on unpaid leave since February.
In ordering Fischer to stand trial, Goldstein noted similarities in the allegations and circumstances, including the ages of the victims — many were in their 50s — and that they were vulnerable or "down on their luck" when they encountered the deputy.
Some of the women met him after calling 911. Others had been stopped by the deputy for a variety of reasons, such as a busted taillight.
The accusers also had similar descriptions of the deputy's alleged behavior, according to the testimony.
In some instances, Fischer would return to a woman's home long after the official business had ended and ask to use the restroom, then ask to hug them, the accusers said. He also asked some whether they were alone in the home.
Goldstein said the deputy's actions appeared "designed more to assess vulnerability than to engage in a lawful investigation."
Fischer faces 14 years, eight months if convicted.
teri.figueroa@sduniontribune.com
Figueroa writes for the San Diego Union-Tribune
The stories shaping California
Get up to speed with our Essential California newsletter, sent six days a week.
You may occasionally receive promotional content from the Los Angeles Times.