From Golden State Killer to Grim Sleeper, DNA helping break serial killer mysteries from 1970s and 1980s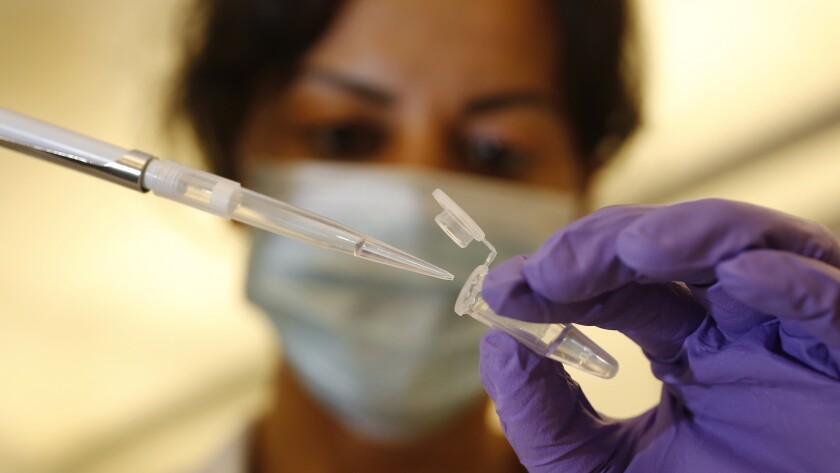 In the 1970s, when the Golden State Killer claimed his first known victim, it was relatively easy for a serial murderer to escape undetected and strike again.
DNA analysis was the stuff of science fiction. Fingerprint and hair analysis were rudimentary. There were no national databases to plumb for matches. It was a grim heyday for serial killers, who terrorized Californians from South Los Angeles alleys to gilded Orange County suburbs.
Last week, the suspect in the Golden State Killer case joined the dark club of serial killers from that era who have been arrested with the help of sophisticated DNA technology.
Joseph James DeAngelo Jr., 72, was living quietly in a suburb of Sacramento when he was taken into custody on Tuesday and charged with eight counts of murder. Authorities say he may be responsible for 12 killings and at least 46 rapes from 1976 to 1986 in Northern and Southern California.
In his mugshot, the one-time police officer has wispy white hair and skin mottled with age — a far cry from the fair-haired young man in FBI sketches from decades ago.
Crime sprees on the scale of the Golden State Killer's are more difficult to pull off nowadays, some experts say: The same technology that helps solve such cold cases can thwart a modern-day criminal before he accumulates enough victims to earn a nickname. In recent years, serial killers who make headlines are more likely to be long retired than actively on the hunt.
"It's a lot harder to be a serial killer or rapist now than it used to be — they get ID'd sooner," said former Los Angeles County District Attorney Steve Cooley.
The Zodiac Killer, who operated in Northern California, is perhaps the most famous serial killer who has not been caught. In Los Angeles, there are no big-name serial cases on investigators' radar.
"Depending upon what DNA or other forensics there are, we can link them together sooner than in the past because of the technology," said Capt. Billy Hayes of the LAPD's Robbery-Homicide Division.
The past has caught up to retired killers as they engage in the most mundane activities. The Grim Sleeper was done in by a partially eaten slice of pizza with his DNA on it. Investigators were tailing DeAngelo and retrieved samples of his DNA, though they have not said where and how they found the genetic material.
Sometimes, cold case detectives already have a suspect in mind and use DNA to confirm their suspicions. Other times, they look for a match in national DNA databases, which include genetic material from criminal offenders. A partial DNA match can indicate that a relative committed the crime. This technique, known as "familial DNA," has been controversial because of privacy concerns but has been used to solve prominent cases such as the Grim Sleeper as well as cases that barely make the news.
The Golden State Killer investigators expanded their search in a novel way, incorporating DNA submitted to genealogical websites by people researching family histories — a move that has raised further privacy concerns.
**
The Night Stalker. The Hillside Strangler. The Westside Rapist.
They were terrifying because they seemed to kill for the pleasure of it, and because they often struck people at home at night.
Suburbanites purchased guns and guard dogs. Children crept into their parents' beds, afraid to sleep alone.
And these were only the killers that the public knew about in the 1970s and 1980s. Others were not publicized by law enforcement or had not yet been identified as serial killers.
The Grim Sleeper — Lonnie David Franklin Jr. — preyed on black women who were drug addicts or prostitutes, and the LAPD kept the slayings quiet, sparking accusations of police indifference. Chester Dewayne Turner never got a nickname because police did not realize that the slayings of 11 black women, many of them prostitutes or homeless, in South Los Angeles were connected.
In those days, cases had to be cracked the old-fashioned way. The Night Stalker struck with shocking frequency in the spring and summer of 1985 until a fingerprint from a stolen car matched with the rap sheet of a 25-year-old drifter from Texas named Richard Ramirez.
"The Night Stalker got away with a lot," Cooley said. "He could have been identified through DNA if they had the same capacity, because he was a convicted felon."
When Hayes, the LAPD captain, was a young cop in the late 1970s, forensic science consisted mainly of blood typing and fingerprints. Hair comparisons were just starting to be used. Analysts painstakingly eyeballed a suspect's fingerprints against sample cards until they found a match, Hayes said — work that is now done by a computer in seconds.
Even if there was not much they could do with it, investigators carefully stored DNA evidence in dry, cool conditions. In other cases, the evidence was destroyed, either deliberately or because it had degraded over time.
In 1986, DNA analysis was used for the first time to solve a crime. Semen samples tied a baker named Colin Pitchfork to two murders in a small English village while exonerating another man who had been implicated.
In addition to high-profile serial killer cases such as the Grim Sleeper, LAPD cold case investigators have used DNA to solve individual homicides that have long faded from public view. Sometimes, the suspect is dead or already behind bars for another crime.
In the last few decades, they have combed through every old file looking for ways to apply DNA technology, Hayes said. There is no longer a backlog, though they still reexamine some of the unsolved cases as technology continues to evolve.
Traces of DNA from a soda can — or a pizza slice — are enough to make a match. Even the tiny flakes of skin that shed wherever a person goes can be harvested for DNA.
Fingerprint technology has also advanced rapidly. Last year, investigators identified a victim of the 1992 Los Angeles riots whose body had been burned beyond recognition, using a partial print from his left middle finger.
DNA technology has also been used to exonerate people. A mentally disabled janitor spent nine years in prison before DNA tests cleared him of three South L.A. murders, instead implicating Turner.
**
The Golden State Killer broke into homes at night, tying the residents up and snacking from their refrigerators while they trembled.
He led female victims to another room to rape them, sometimes putting plates or cups on the backs of male victims to forestall getaway attempts.
At first, he left the victims behind, alive. Then, he progressed to murder.
Bruce Harrington, whose brother and sister-in-law were bludgeoned to death by the killer in 1980, threw his weight behind a state ballot initiative, passed in 2004, that requires many criminal offenders to submit their DNA to a state database.
Harrington's brother, Keith Harrington, was a medical student at UC Irvine who had been married for three months to Patrice, a pediatric nurse. The newlyweds were in bed when an intruder entered their Dana Point home through an unlocked door and killed them.
By 2000, Harrington had given up hope that the murders would ever be solved. Then, Orange County sheriff's investigators linked the Harringtons' deaths to four other unsolved murders, also using DNA to connect the perpetrator to dozens of sexual assaults.
That inspired Harrington to push for the DNA database, which has been used to solve many crimes. Franklin, the Grim Sleeper, was sentenced to death in 2016.
But year after year, the Golden State Killer, also known as the East Area Rapist and the Original Night Stalker, remained free. The victims' loved ones began to think he was probably dead.
Recently, investigators turned to a creative strategy — using genealogical databases to broaden the DNA pool. They finally believed they had their man, following his every move until they got the last bit of DNA they needed.
"The DNA is the answer. Collecting the sample from the guy is the ultimate. That's the proof," said Rockne Harmon, a former Alameda County prosecutor who specializes in DNA evidence.
For more news on the Los Angeles Police Department, follow me on Twitter: @cindychangLA
---
Life is stressful. Our weekly mental wellness newsletter can help.
You may occasionally receive promotional content from the Los Angeles Times.