Challenger Alex Villanueva widens lead over incumbent Jim McDonnell in race for L.A. County Sheriff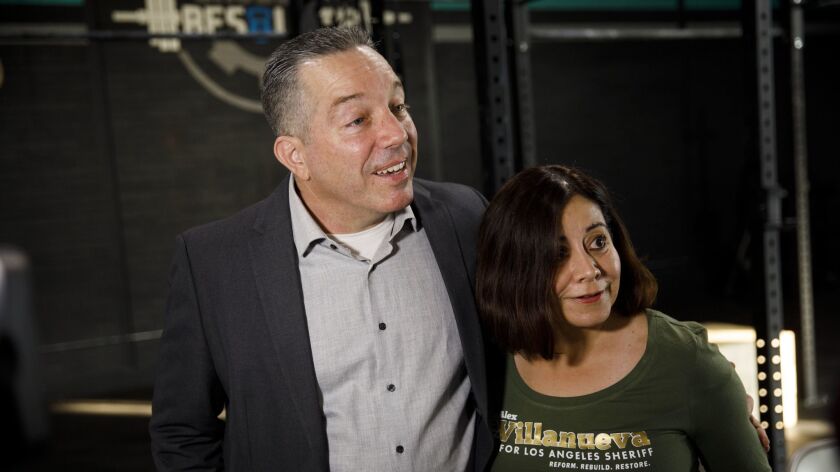 Challenger Alex Villanueva widened his lead in a historically close election for Los Angeles County sheriff in the latest vote totals announced Tuesday.
But it's unknown whether the retired lieutenant's 22,000-vote margin over Sheriff Jim McDonnell is wide enough to signal a victory, with 688,000 votes still left to be counted.
The sheriff's race, which has long favored incumbents and candidates supported by the outgoing sheriff, has seesawed from the early hours of election night. At one point McDonnell's 58% share of the vote seemed so dominant that at least one news agency projected him the winner.
By the next morning, Villanueva surged ahead by a few thousand votes. Then on Friday, McDonnell made gains that put him only 335 votes behind.
"Obviously the trending continues to be in our favor, and we continue to be optimistic," said Hilda Delgado, a spokeswoman for Villanueva. She said she expects his campaign will be able to predict the race's outcome by Friday.
McDonnell said despite his opponent's progress, he believes he can still win.
"I'm hopeful and optimistic in watching those ballots being counted," McDonnell said.
An exit poll conducted by Loyola Marymount University found Villanueva did better than McDonnell among younger voters, women, people of color, Spanish-speakers, liberals and moderates, and people earning less than $100,000 a year. McDonnell was favored among higher-earning, older, white, male voters who identify as conservative.
The survey, drawn from 1,546 voters at 25 randomly selected polling places across the county, said 54.8% of respondents voted for Villanueva, while 45.2% chose McDonnell.
A Times analysis showed Villanueva was most supported in heavily Latino areas of the county, and also dominated in areas that McDonnell had carried in the primary, including Santa Monica, Mid-City and Mid-Wilshire.
McDonnell, 59, campaigned on a bid to continue the reforms he started after taking over a department rocked by a jail abuse scandal in 2014. He oversaw a drop in serious jail violence and said he's made other improvements like boosting mental health care for those in custody and creating a human trafficking bureau.
The former Long Beach Police Chief and longtime Los Angeles Police Department official touted his support for the nearly 2-year-old Sheriff Civilian Oversight Commission and drew headlines when he tried to give prosecutors a "Brady list" of about 300 deputies with histories of misconduct.
Villanueva, 55, positioned himself as the more progressive choice, a Democrat who has called for alternatives to incarceration and said he would kick U.S. Immigration and Customs Enforcement agents out of the county jails.
The U.S. Air Force veteran who served three decades in the Sheriff's Department drew an unlikely coalition of liberal activists, labor groups and the union representing rank-and-file deputies, with most of the money supporting him coming through well-funded outside groups.
Some of his positions deviated from a typical progressive platform, like his statements that he would deliver inmates directly into the custody of immigration authorities outside the jail and would consider giving deputies metal flashlights to defend themselves against inmates.
The most recent vote total includes absentee, provisional and conditional ballots, as well as those labeled miscellaneous, such as those that are damaged or involve write-in candidates. The mail-in ballots being counted are ones received in the last 10 days that were postmarked by election day.
The next vote count is Friday.
Twitter: @mayalau
---
The stories shaping California
Get up to speed with our Essential California newsletter, sent six days a week.
You may occasionally receive promotional content from the Los Angeles Times.