Alex Villanueva inches closer to an upset in race for L.A. County sheriff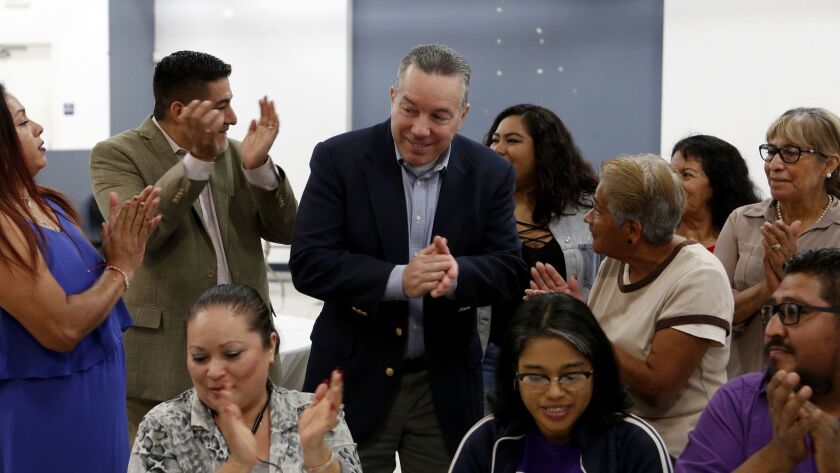 Alex Villanueva, the retired cop who's commanded a startling lead in the election for Los Angeles County sheriff, edged closer to triumph Tuesday, stretching his margin to nearly 87,000 votes ahead of incumbent Jim McDonnell.
Almost 261,000 ballots still need to be counted in a race that — no matter who wins — has already defied convention in Los Angeles County as a nail-biter challenge against a sitting sheriff.
Villanueva had 1,193,670 votes— 51.9% — compared with McDonnell's 1,106,750 or 48.1%, according to the Registrar-Recorder/County Clerk's Office. Villanueva, a retired sheriff's lieutenant, claimed victory last week, though he has yet to receive a concession from McDonnell.
In a statement released by the department Tuesday, the sheriff said he would not concede until the ballot count has been completed.
"I realize that the statistics appear to favor my opponent. I plan to reach out to Mr. Villanueva to discuss an orderly transition, should that be necessary," he said in the statement, calling for reforms to continue and for the office of sheriff to remain nonpartisan.
The latest vote tally comes as the Los Angeles County district attorney's office is investigating a complaint about potential straw donors to Villanueva's campaign. Villanueva has said that he believes all the contributions to his campaign were legal and that he is not considering refunding them.
Under state campaign finance laws, an individual may not conceal their campaign contributions by using another person — a so-called straw donor — to make the payment under the straw donor's name.
McDonnell, who won in 2014 vowing to clean up a department marred by a jail abuse scandal, has argued he's the best person to continue reforms in one of the nation's largest policing agencies.
The former Los Angeles Police Department official, who also served as Long Beach police chief, touted a drop in serious jail assaults under his administration and his support for the 2-year-old Sheriff Civilian Oversight Commission, though some community advocates have expressed frustration that the department hasn't become more transparent.
McDonnell said just after the election that he did not anticipate having to battle for his seat when he began thinking about the campaign last year.
"I'm proud of what we've been able to accomplish, and I would hate to see that being undone. With the reform and relationships with the communities we serve … it would be tragic to see those things diminished," he said.
Villanueva has promised to rid the department of corrupt officials — holdovers, he says, from the time of former Sheriff Lee Baca, who was convicted last year of obstructing an FBI probe into the jails he oversaw.
Villanueva trumpeted his status as a Democrat and promised to kick immigration agents out of the county jails, earning him a key endorsement from the Los Angeles County Democratic Party as well as from an immigrant rights group. But he's also said he would deliver inmates directly to immigration authorities.
At an event Tuesday, Villanueva said that he disagrees with preliminary recommendations of the Sheriff Civilian Oversight Committee calling for the department to stop honoring requests from the U.S. Immigration and Customs Enforcement to detain inmates in the county's jails.
"You have very dangerous convicted felons. You're gonna have rapists, sexually violent predators. I cannot release them into the public knowing that they're eligible for deportation," he said.
Political experts have said that the cues Villanueva provided to voters about being a Democrat and taking a stand against immigration agents were crucial in a race that typically gains little attention from most voters.
Outside groups that financed mailers to voters' homes promoted Villanueva's platform. McDonnell's campaign manager acknowledged the sheriff's platform lacked an equally effective messaging strategy.
Twitter: @mayalau
---
UPDATES:
7:10 p.m.: This article was updated with comments from McDonnell and Villanueva.
This article was originally published at 5:10 p.m.
---
The stories shaping California
Get up to speed with our Essential California newsletter, sent six days a week.
You may occasionally receive promotional content from the Los Angeles Times.