L.A. district attorney investigates potential straw donors to sheriff's candidate Alex Villanueva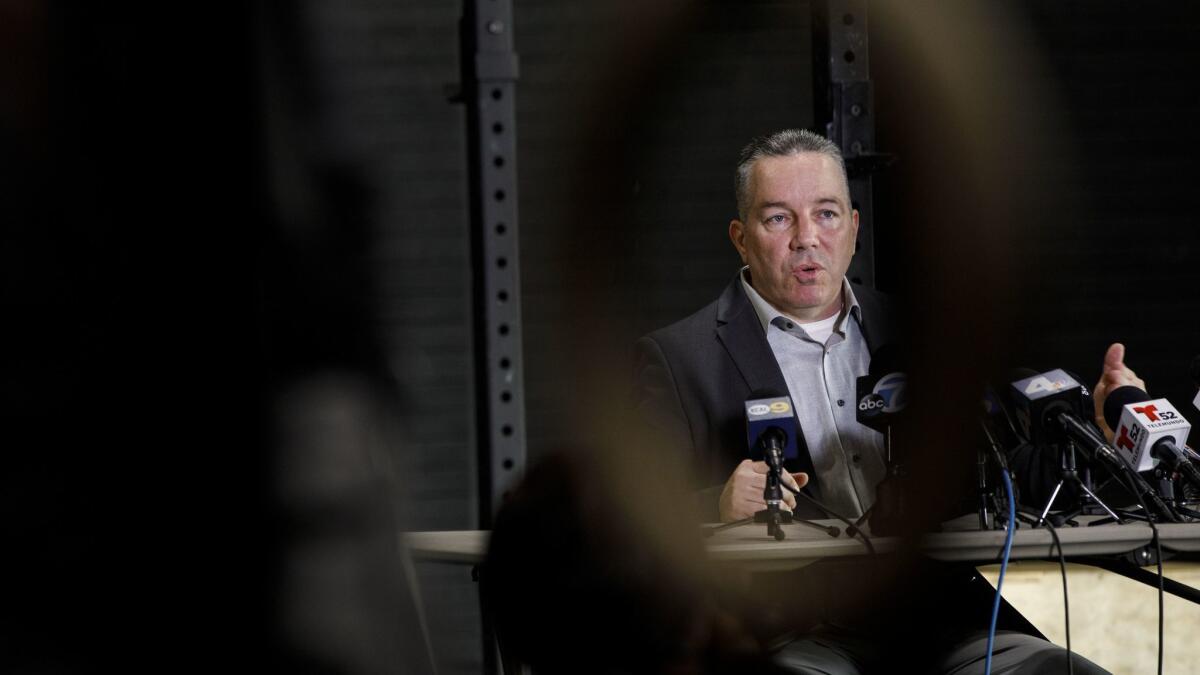 The Los Angeles County district attorney's office is reviewing a complaint that straw donors contributed to the campaign of Los Angeles County sheriff's candidate Alex Villanueva.
The office's public integrity division, which investigates official corruption, is handling the inquiry, according to spokesman Greg Risling.
"The complaint pertains to a donor, not Villanueva," Risling said in a statement. "When our office receives a complaint, our prosecutors review the allegation to determine whether the allegation, if true, would constitute a crime and whether there is evidence to support it. If these conditions are met, our office will investigate."
For several weeks, close observers of the hotly contested sheriff's election have zoomed in on a series of donations to Villanueva's campaign from employees of a company owned by a supporter of Villanueva's. Risling did not confirm that those donations are the subject of the review.
Villanueva said Wednesday that the donations to his campaign do not concern him and he is not considering refunding any of them.
"I'm confident everyone who donated did so legally," he said.
Steve Barkan, the campaign manager for Sheriff Jim McDonnell, who is trailing Villanueva by nearly 58,000 votes, had discussed making complaints about the contributions to the district attorney's office and the California Fair Political Practices Commission, according to an email reviewed by The Times.
Barkan acknowledged having those discussions, but said he did not make a complaint because he believed someone else, who he would not name, filed a complaint to the FPPC about the same subject matter. Risling declined to identify the complainant.
Under state campaign finance laws, an individual may not conceal their campaign contributions by using another person — a so-called straw donor — to make the payment under the straw donor's name.
According to Barkan, the contributions, each in the same amount, and many falling on the same days, came from employees of the company. Additional donations came from the company itself and its owner's relatives' firms, Barkan alleged.
One of the employees listed by Barkan and on campaign finance reports refused to say if he had been reimbursed for his donation when contacted by phone Friday.
"I don't think I can answer that question. That's personal," he said when questioned by a Times reporter.
Another employee who was listed said he remembered donating to Villanueva, calling him a good candidate, but denied being reimbursed for his donation.
Villanueva said he has not been contacted by prosecutors about a complaint. He questioned whether it was a conflict of interest for the office of Dist. Atty. Jackie Lacey, who has been a vocal supporter of McDonnell's and co-hosted a fundraiser for him, to be working on the case.
Risling said the inquiry is being handled by experienced prosecutors and that Lacey does not believe there is a conflict of interest.
"Our office has not received a complaint about Sheriff McDonnell," he added in his statement.
A representative for the FPPC said he could not confirm whether that agency is investigating such a complaint. The organization typically confirms open investigations, but often not in cases in which another law enforcement agency is looking into the same allegation.
Times staff writer Richard Winton contributed to this report.
Twitter: @mayalau
Sign up for Essential California for news, features and recommendations from the L.A. Times and beyond in your inbox six days a week.
You may occasionally receive promotional content from the Los Angeles Times.