Sheriff's election forum features candidate — but no sheriff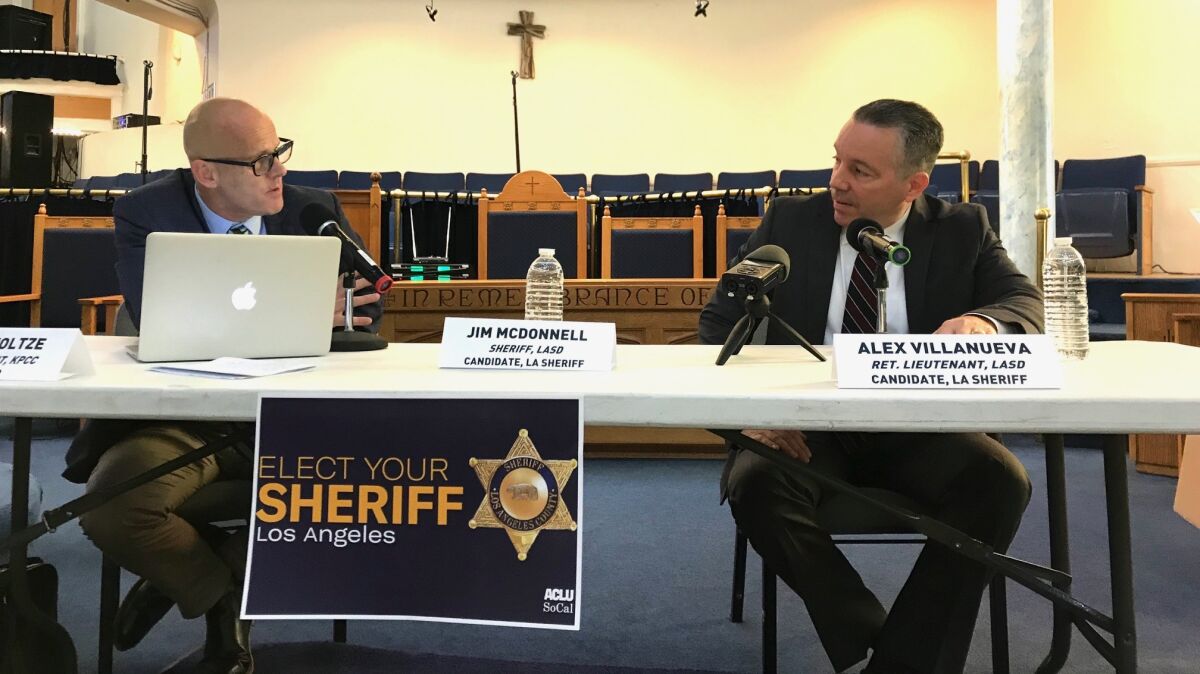 The people in the church wanted to know how the Los Angeles County Sheriff's Department would improve the jails, give deputies more training and end all interactions with immigration agents.
Retired Sheriff's Lt. Alex Villanueva addressed the crowd gathered for the sheriff's election forum Saturday, glancing to his right toward the space left open for his opponent, Sheriff Jim McDonnell.
But McDonnell never showed up. Instead, the 59-year-old incumbent who is fighting an unusual reelection battle tweeted a photo of himself at an event at the beach.
The only sign of McDonnell's face inside the Ward African Methodist Episcopal Church was a picture of him stamped in red with the word, "Missing."
The awkward scenario was another episode in a high-powered election that's left many scratching their heads. Villanueva, who jumped in the race with little money and even less name recognition, shocked observers when he edged the normally safe incumbent into a runoff.
Villanueva, 55, held forth at the event hosted by the American Civil Liberties Union of Southern California and a coalition of other organizations, promising to rid the department of corrupt officers and bar U.S. Immigration and Customs Enforcement agents from having access inside the jails.
"We will march [inmates] out ourselves and give them to ICE outside of the view of the other inmates," Villanueva said of those being released from jail custody who may be on immigration officials' watch lists.
When pressed if such an arrangement would signify a more intense link with ICE, Villanueva said the transfers would happen in a secure courtyard adjacent to the jail and reasoned that it would be a better solution than allowing immigration agents to have access to office space inside the county jail, as they currently do.
He criticized McDonnell's effort in handing prosecutors a so-called Brady list of about 300 deputies with histories of lying, sexual assault and other types of misconduct, calling it a product of unfair investigations under the previous administration.
After considerable back-and-forth with the moderator, KPCC reporter Frank Stoltze, Villanueva said he would support giving prosecutors information about deputy wrongdoing whenever it occurs.
The event played out as a Q&A for Villanueva instead of the lively debate community members hoped for. It was at least the third time McDonnell declined to appear at an election forum, having missed two events hosted by the ACLU before the primary.
"I'm disgusted," said Velvet Victorian, who runs a reentry program for people being released from custody and said she took off from work Saturday to attend the forum. "I feel McDonnell doesn't respect the voters."
McDonnell's campaign manager, Steve Barkan, sent a statement saying the sheriff will not appear at events alongside "a candidate who routinely makes false statements about the department, its policies and the sheriff himself."
Villanueva denied making false statements.
McDonnell tweeted Saturday that he was spending time at the 2018 Beach Walk in Long Beach to support health and life skills programs. He also tweeted a picture of himself at an event with volunteers inside jails.
The election is Nov. 6.
Twitter: @mayalau
---
The stories shaping California
Get up to speed with our Essential California newsletter, sent six days a week.
You may occasionally receive promotional content from the Los Angeles Times.