The new L.A. County sheriff was elected as a progressive, but concerns are growing about future of reforms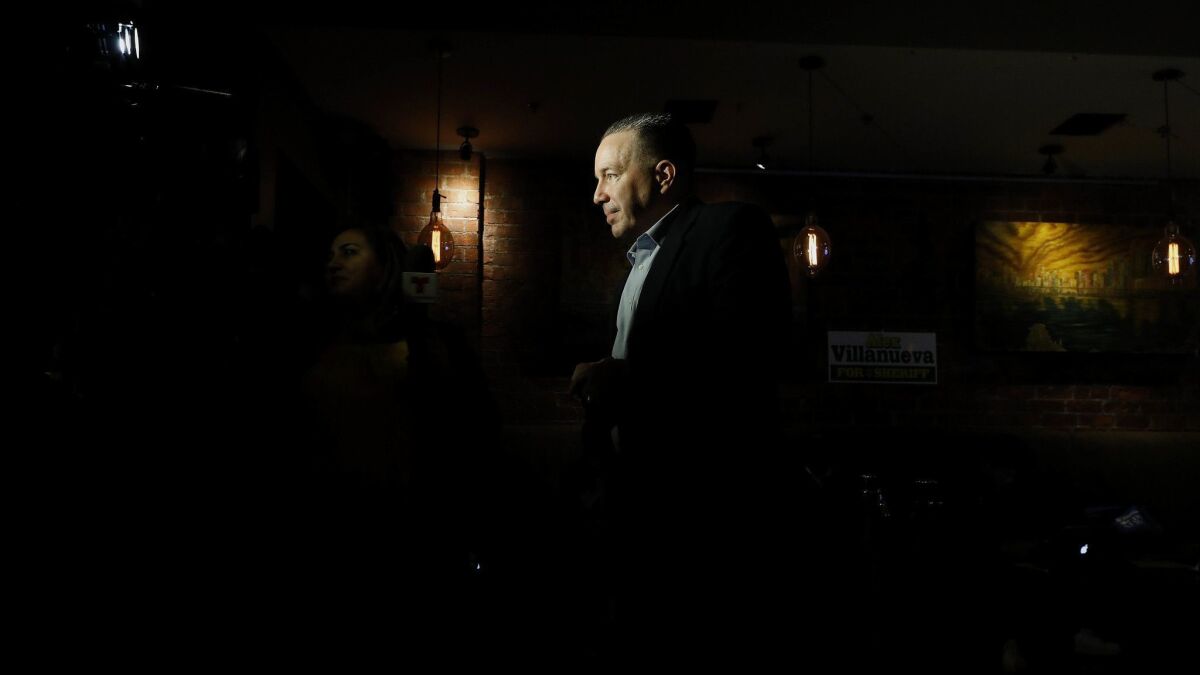 In his longshot bid to become Los Angeles County sheriff, Alex Villanueva succeeded by appealing both to a heavily Democratic constituency and the rank-and-file deputies he hoped to lead.
But part of his platform hinged on questioning some recent reforms that long have been a wedge between deputies and many progressive groups.
As Villanueva prepares to take office next week, there are growing concerns about the future of reforms imposed after a federal investigation found serious wrongdoing by top department officials and a culture of violence against inmates in the jails.
On the campaign trail, Villanueva, 55, lamented that deputies were being unfairly treated, criticized the requirements for reporting minor uses of force and suggested metal flashlights be reintroduced so that deputies could defend themselves against jail inmates.
The sheriff-elect, who retired as a lieutenant in February after three decades with the department, also sharply faulted Sheriff Jim McDonnell for attempting to give local prosecutors the names on a secret list of deputies who have histories of discipline for dishonesty and similar misconduct.
On Tuesday, hours after conceding the race, McDonnell expressed hope that the reforms he championed would continue.
"We went from being that fractured organization to one that is upholding the mandate of fairness, accountability and transparency," he said. "Those are hallmarks, those are milestones and points of comparison to be able to look at when you try to judge a department."
Some watchdogs worry that Villanueva's platform could undermine some of the progress made under McDonnell. Before McDonnell won election as sheriff in 2014, the former Long Beach police chief served on a county blue-ribbon commission that called for sweeping reforms of the department to deal with jail abuse and mismanagement.
"I get really nervous hearing that we should make changes like bringing back Maglite flashlights, which can be a deadly force weapon in the jails, and changing the use-of-force reporting requirements," said Peter Eliasberg, chief counsel for the American Civil Liberties Union of Southern California.
"Those changes were recommended and put in place to address an extremely serious problem," he said.
Serious force against inmates dropped significantly under McDonnell. But Villanueva has said a new kind of jail violence — attacks by inmates on deputies — needs to be addressed. In 2017, there were 643 assaults on jail employees, up 50% from 2015, when there were 429 assaults, according to department statistics.
"If we showed the public pictures of deputies assaulted by inmates, what they look like, they would have an entirely different appreciation of what we're talking about," Villanueva has said.
Danny Leserman, Villanueva's spokesman, said the sheriff-elect is not considering relaxing standards in the jails or rolling back reforms, but rather wants to review the department's policies closely so that they are more efficient while still holding deputies accountable.
Villanueva has also said he would expedite the implementation of body cameras for deputies, a project that has dragged for years because of budget concerns.
Among other changes Villanueva has proposed is eliminating the jobs of the department's constitutional policing advisors , who were hired by McDonnell to act as internal watchdogs and have counterparts at the Los Angeles Police Department. The advisors have been frequent targets of the Assn. for Los Angeles Deputy Sheriffs, the union that represents rank-and-file deputies and spent at least $1.32 million supporting Villanueva.
Diana Teran, one of the advisors, said she has advocated for policies that would bar deputies from telling federal immigration agents about a person's immigration status and a rule that would disallow deputies who fire their weapons from viewing video footage of the incidents before giving a statement.
Teran, a former prosecutor and criminal defense attorney, also supported requirements that internal investigators interview deputies in non-hit shootings within weeks, rather than up to a year after an incident, as was previously happening in the agency.
"This position is advocating for those people that nobody else would advocate for, the people that are arrested, the people that are incarcerated," she said. "There's no one else inside the department whose sole job is to advocate for the constitutional rights of those individuals."
Among her more sweeping projects was recommending that McDonnell give prosecutors the names of deputies with histories of misconduct in their files — information that could be subject to disclosure to defendants in criminal cases. That roster, known as the Brady list, became the center of a legal battle between McDonnell and ALADS, which opposes disclosure and went to court to stop it.
Villanueva, who says he was the victim of unjust discipline while with the department, has criticized the Brady list as a "fake list" that often reflects unfair and retaliatory actions against deputies. He's proposed a "truth and reconciliation" process to give deputies the chance to seek redress if they feel they were unfairly punished in the past. It's unclear how he will handle the legal fight over the list, a case that's now in front of the state Supreme Court.
Robert Bonner, a former federal judge who sits on the Sheriff Civilian Oversight Commission, said having constitutional policing advisors is considered a best practice for police agencies across the country.
"These are people with knowledge and expertise with respect to issues related to excessive and unlawful uses of force. To the extent [Villanueva] thinks he doesn't need that, I hope he'll reconsider," Bonner said.
Twitter: @mayalau
---
Life is stressful. Our weekly mental wellness newsletter can help.
You may occasionally receive promotional content from the Los Angeles Times.