In historic upset, Alex Villanueva beats incumbent Jim McDonnell in race for Los Angeles County sheriff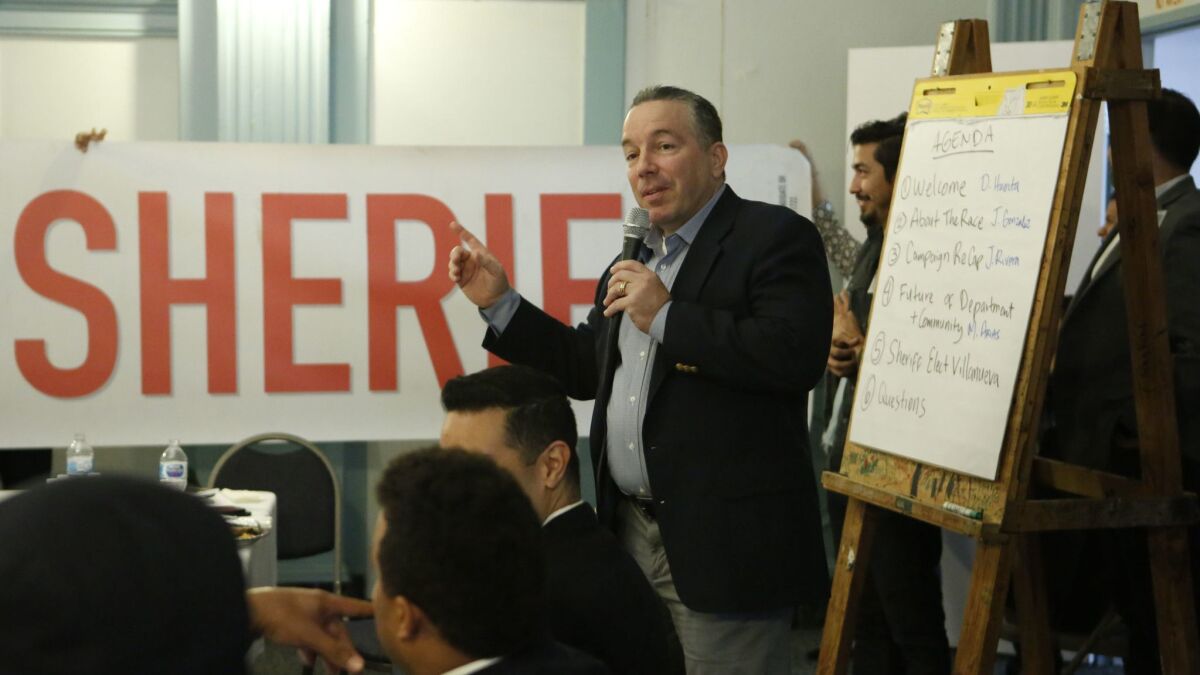 Alex Villanueva, a little-known lieutenant who mounted an improbable campaign to lead one of the nation's largest policing agencies, will replace Jim McDonnell as Los Angeles County sheriff, marking a stunning upset for a seat that hasn't seen an incumbent lose in more than a century.
Trailing by nearly 126,000 votes, McDonnell conceded the race on Monday, saying in a statement he would arrange for a smooth transition. Only 100,000 votes, all from provisional ballots, are left to be counted.
"The honor of serving as the L.A. County Sheriff is one like no other in law enforcement," the statement said. "The Sheriff will be immediately faced with a range of very complex issues that go to the heart of maintaining public safety and public trust."
Villanueva, 55, is scheduled to be sworn in as the 33rd sheriff next Monday at East Los Angeles College.
He will be entrusted with a department that has been plagued in recent years by scandals, including that of former Sheriff Lee Baca, who was convicted last year of obstructing an FBI probe into the county jails he oversaw. Many deputies have complained of low morale and inadequate staffing.
Villanueva, who served in the Sheriff's Department for three decades, won despite his lack of experience at the upper levels of law enforcement. His campaign launch, on a grassy slope outside the sheriff's East Los Angeles station last year, was sparsely attended.
He said he was discriminated against when he tried ascending the ranks, having passed the lieutenant's test four times before being promoted.
"No matter how hard I worked, how much schooling I got, every door was shut," he said recently. "So I figured, well, there's one door that's always open, and that's [the sheriff's] office. That's the one job they forgot to safeguard against."
Even as he gained momentum, he was out-fundraised by McDonnell 8 to 1.
But the dark horse candidate used the county's political mood to his advantage, experts said, trumpeting his status as a Democrat and claiming he would be the first Democratic sheriff in the county in 138 years. That message in the nonpartisan race was advertised on social media and direct mailers to voters.
"We owe a lot of this to Trump. … Where did Democrats in L.A. County have to go to express their displeasure with Trump?" said Javier Gonzalez, the campaign strategist for Citizens PAC, a group that channeled funding from labor organizations, including the Service Employees International Union, to promote Villanueva.
"All we had to do was make McDonnell a Republican and Alex a Democrat," Gonzalez said.
The strategy prompted McDonnell — an independent and former Republican who insisted on keeping partisanship out of the race — to assert in the final days before the election that he had been registered as a Democrat sometime in the past.
Villanueva also said he would kick U.S. Customs and Immigration Enforcement agents out of the county's jail system, the nation's largest, a claim that earned him an endorsement from an immigrants' rights group.
His proposals on the department's relationship with ICE, however, do not diverge entirely from the policies adopted by McDonnell. Villanueva says he would transfer inmates directly to ICE just outside the jail in a secure courtyard, out of the view of other inmates.
Contrary to a preliminary recommendation by the Sheriff Civilian Oversight Commission, Villanueva says he would honor requests from ICE to detain inmates convicted of serious crimes, as the department does now, arguing he would not want sexual predators or other dangerous criminals to reenter the community if they are subject to deportation.
The Chicago-born son of a Puerto Rican father and a Polish American mother, Villanueva owed his win to Latino voters, who turned out in large numbers, said Matt Barreto, a professor of political science at UCLA who also runs Latino Decisions, a polling and research firm.
A Times analysis found that Villanueva did best in heavily Latino areas of the county, including Los Angeles, East L.A. and the east San Fernando Valley, while McDonnell carried the South Bay, coastal areas and northern parts of the county. But Villanueva also overtook McDonnell in places the incumbent had won in the primary, including Santa Monica and Mid-Wilshire, the analysis showed.
McDonnell, a former Long Beach Police chief and longtime Los Angeles Police Department official, hoped his credentials and reform efforts would help him win. He highlighted bringing down serious assaults by deputies in the jails, the problem that ended Baca's career.
But even some of his supporters say he was more vulnerable when it came to the political aspect of being sheriff.
"He didn't have a political calculus, like in how to show empathy for constituencies that are being squeezed in our community. The immigrant community was not happy about the way the department was dealing with its relationship with ICE," said former Los Angeles County Supervisor Zev Yaroslavsky, who supported McDonnell in both his campaigns.
But the outgoing sheriff defended both his campaign and his dealings with the community.
"I never claimed to be a politician. That's not who I am. I am a career peace officer. My goal was to do the right thing for the people of Los Angeles County, not with an eye towards reelection, but to be protective of the 10 million people in our county," he said. "I don't regret the stance we took on any issue."
Some watchdogs credited McDonnell with largely stabilizing the Sheriff's Department, though new controversies emerged during his administration. A Times investigation found that a team of deputies targeted thousands of innocent Latino motorists on the 5 Freeway in drug searches, prompting McDonnell to launch reviews of the practice.
Revelations that as many as 20 deputies at the Compton station have matching skull tattoos revived concerns by watchdogs that gang-like groups are operating within the department.
Villanueva has signaled a mixed attitude toward the tattooed deputy clubs. He has said that cliques could be a sign of low morale, but he added that some of the most honorable officers he's known have been part of the inked groups.
Villanueva recently visited the East Los Angeles station, where he once served, wearing a shirt bearing the station logo of a boot with a helmet on top of it — a symbol McDonnell had discontinued as part of an effort to rid the department of potentially toxic imagery.
One of the more immediate issues Villanueva may have to address is a inquiry by the Los Angeles County district attorney's office into a complaint about potential straw donors to his campaign.
Villanueva has said that he believes all the contributions to his campaign were legal and that he is not considering refunding them. Under state campaign finance laws, an individual may not conceal his or her campaign contributions by using another person — a so-called straw donor — to make the payment under the straw donor's name.
Twitter: @mayalau
---
UPDATES:
8:55 p.m.: This article was updated with additional information and comments on the election.
This article was originally published at 5:15 p.m.
The stories shaping California
Get up to speed with our Essential California newsletter, sent six days a week.
You may occasionally receive promotional content from the Los Angeles Times.