'The cheapest buzz you can get on skid row': Officials try to stop homeless from smoking spice after dozens sickened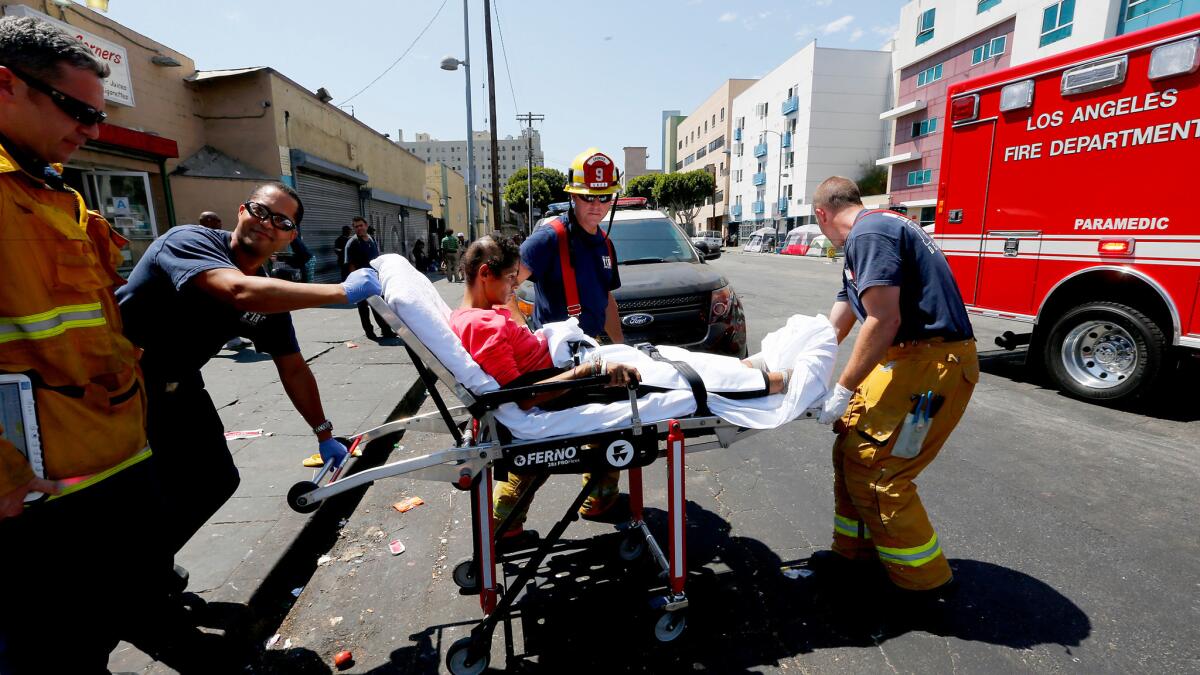 When paramedics arrived at downtown's skid row last Friday in response to a 911 call, they found dozens of people who looked as if they'd overdosed. Many were on the ground, passed out.
Ambulances and police cars flooded the area. Firefighters closed roads and set up a temporary command station at 5th and San Pedro streets to triage patients. The sickest people were lifted onto gurneys.
"I'm walking down the street — it looks like a war zone," said Georgia Berkovich, who works at the Midnight Mission, a block from the intersection.
Thirty-eight people were transported to the hospital, many suspected of ingesting the synthetic drug "spice."
On Monday, it happened again.
Another 911 call, another command station. This time, 14 people were sent to the hospital, their symptoms also thought to be linked to spice.
Now officials are scrambling to warn people about the drug, which can produce effects similar to those of marijuana but is actually a different plant material sprayed with a psychoactive chemical. Health experts say smoking spice is risky because it's impossible to know what's in each batch.
Spice has been available on skid row for years, with several people on San Pedro Street peddling it every day, advocates say. Spice joints go for a dollar or less, making them an appealing fix for addicts — and a challenge for those trying to tamp down sales, said skid row activist General Jeff Page.
"Anybody can panhandle to get a dollar," Page said. "Spice is the cheapest high, the cheapest buzz you can get in skid row."
There was also an outbreak in April, when 15 people on skid row were hospitalized after consuming spice.
Spice, also known as K2, is a synthetic cannabinoid -- called that because it affects the same brain receptors as tetrahydrocannabinol, or THC, the active ingredient in marijuana.
Though spice is often sold as fake weed, it can have much more powerful effects, including heart attacks, hallucinations and seizures, said Dr. Gary Tsai, medical director and science officer for the L.A. County Department of Public Health's Office of Substance Abuse Prevention and Control.
And spice can be fatal, he said.
"That's one of the reasons we're trying to educate the community about the very real risks," he said, adding that none of the recent cases resulted in death.
Community groups began handing out fliers on skid row this week, warning of the dangers of spice. The health department also alerted doctors to watch out for patients with extreme anxiety, vomiting or other possible effects of the drug.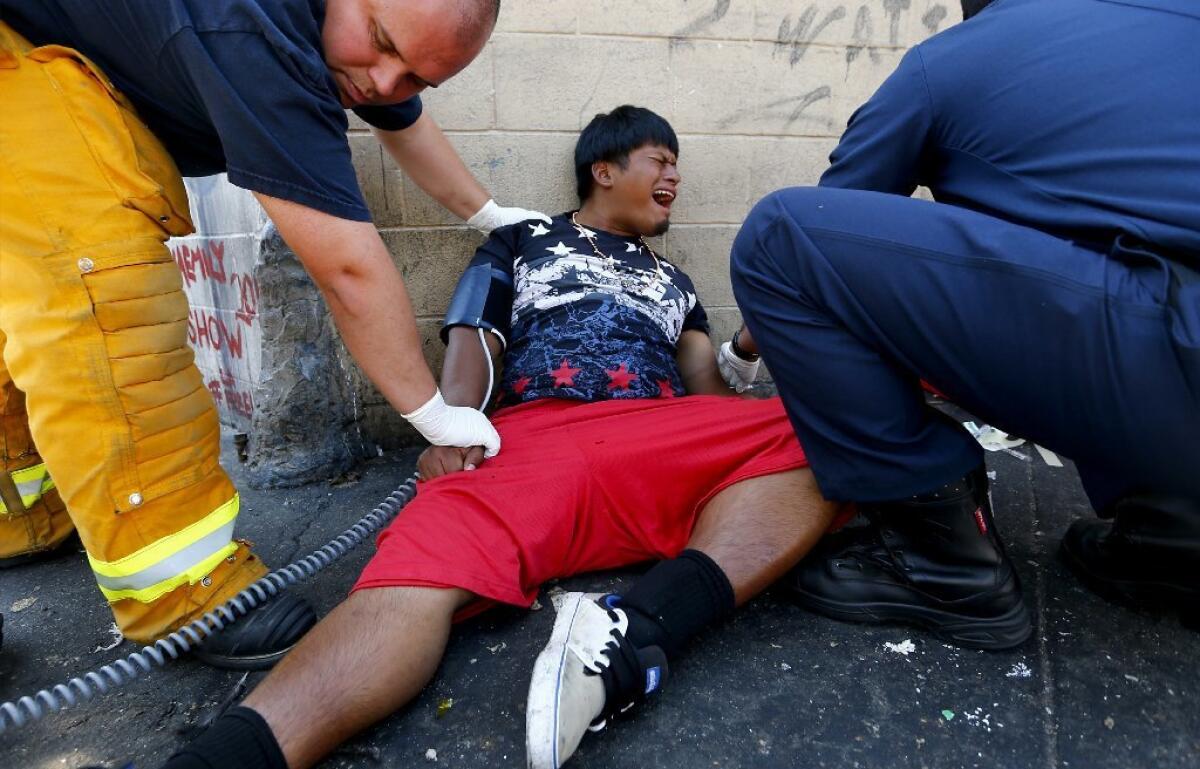 Many who live on skid row didn't want to be quoted about the availability of the drug. But those who did talk said there are overdoses all the time on skid row and they weren't convinced the recent spate was due to spice. They added that spice was too cheap to give up.
Los Angeles city and county officials, local law enforcement agencies and skid row community workers met Wednesday to discuss the outbreak and possible interventions, said city spokeswoman Connie Llanos.
At the meeting, officials distributed a map of substance abuse providers in the skid row area and discussed creating a resource guide to show skid row residents where to find medical attention if they or their friends get sick, Llanos said. The meeting was the first of many aimed at improving crisis response on skid row, she said.
Kevin Michael Key, a community organizer with United Coalition East — which co-hosted Wednesday's meeting with L.A. Mayor Eric Garcetti's office — said it's imperative that people on skid row begin spreading the word among themselves. Nothing will change, "unless you involve the people who are out on the streets," he said.
Staff at the Midnight Mission and other community organizations are trying to tell as many people as possible not to smoke spice, Berkovich said. But she knows that could have an unintended effect.
When people hear about a possible bad batch, they sometimes think, "It must be strong, it must be good. I want to get that because it's going to last longer," she said. "So it's actually an attraction."
Cutting synthetic drugs with more dangerous substances is increasingly common as drugs dealers try to increase profits, said Tim Massino, special agent for the Drug Enforcement Agency in Los Angeles. More than a dozen people died in April in Sacramento from ingesting what they thought was the opiate Norco but was laced with deadly fentanyl.
Officials are unsure whether the spice that recently sent people to the hospital was tainted.
LAPD Capt. Donald Graham said officers are trying to determine the source of this batch and have sent several samples to a crime lab for analysis.
Typically, the chemicals for manufacturing spice come from China to the U.S., where they are processed and packaged, officials said.
Health officials warn that even uncontaminated spice is a hazard, because it's impossible to know what's in it.
"Good batch, bad batch — they're all horrible," Massino said.
Good batch, bad batch — they're all horrible.
— Tim Massino, special agent, Drug Enforcement Agency
Spice first showed up in the U.S. in 2009, and there were no laws at the time that made it illegal. As lawmakers have banned many of the chemical compounds commonly used to make spice, drug makers have sought out new, similar chemicals that aren't technically illegal — making every batch different.
Even at hospitals, doctors don't know which chemicals to look for and can't always confirm through urine samples or drug screens that a patient ingested spice.
That's also made it difficult to regulate sales of the drug, said Kevin Murray, head of the nonprofit Weingart Center, which provides homeless services on skid row. Police can't usually tell whether spice being sold is illegal, because they don't know the chemical origin of a particular batch.
Murray said that using spice is particularly problematic for people on skid row who are on probation. Spice could lead to behavior that could get them arrested and sent back to jail, he said.
"It's had a much broader effect than just the overdoses," he said.
soumya.karlamangla@latimes.com
Twitter: @skarlamangla
ALSO
A mother begs for help identifying son's killer: Slain 4-year-old 'was my everything'
Couple wanted in kidnapping of slain woman's 3 children are caught in Colorado
Illegal drugs are flowing into California's most guarded prisons — and killing death row inmates
Sign up for Essential California for news, features and recommendations from the L.A. Times and beyond in your inbox six days a week.
You may occasionally receive promotional content from the Los Angeles Times.