'Stay home': Monster storm to hit Friday night. Here are warnings, timing, expected impact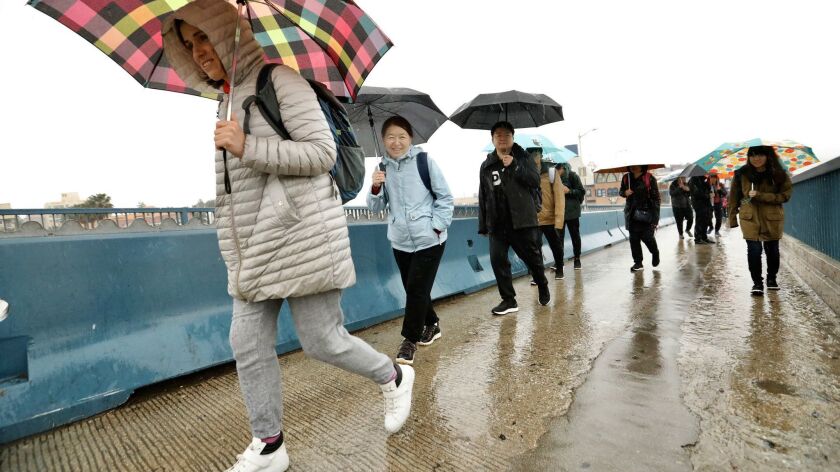 Officials are warning of a powerful winter storm moving into Southern California late Friday night that could bring damaging mudflows and flooding to some areas.
This is "the one where you want to stay home," said Lisa Phillips of the National Weather Service in Oxnard. "The impacts we're looking at are downed trees, travel delays and possible shallow debris flows."
Jetliner and oil refinery hit by lightning as storm moves through Southern California »
Timing
The system is expected to move into the region Friday night. The atmospheric-river-fueled storm has the potential to bring gusty southeast winds of up to 60 mph and dump 1 to 3 inches of rain through Saturday in Los Angeles County. It also may bring snow to higher elevations.
The storm should pass through by Sunday.
Impact
The National Weather Service is forecasting:
Up to 3 inches of rain in coastal/valley areas.
Up to 7 inches of rain/snow in mountain areas.
Snow at levels dropping to 5,000 feet.
Snow possibly in the mountain passes, including along the 5 Freeway.
Gusts of up to 80 mph possible in mountain areas.
Dangerous sea conditions for boaters
Warnings
Evacuations are possible in burn areas in Malibu and Ventura County, where the Woolsey fire burned more than 96,000 acres, and in the Holy fire burn scar in Riverside and Orange counties.
On Friday, the city of Burbank issued voluntary evacuation orders for residents of Country Club Drive above Via Montana, beginning at 5 a.m. Saturday and continuing through at least 4 p.m.
And Santa Barbara County sent an emergency alert at 1 p.m. commanding evacuations for residents in burn areas of the Thomas, Whittier and Sherpa fires. "You are ORDERED to evacuate by 8 PM," the Santa Barbara County Sheriff's Office said.
Flash flood warnings are also in effect for many areas.
In L.A. County, people are urged to "avoid swimming, surfing, and playing in ocean waters around discharging storm drains, creeks, and rivers" because of pollution runoff during heavy rains.
Authorities in Palmdale have warned the public to avoid contact with city streetlight poles during the storms because of wiring problems that could deliver a dangerous electric shock when the lights are on in the rain.
Some canyon roads as well as Pacific Coast Highway in Malibu were closed by a weaker storm Thursday. Officials expect more closures with the coming storm.
---
The stories shaping California
Get up to speed with our Essential California newsletter, sent six days a week.
You may occasionally receive promotional content from the Los Angeles Times.