Prosecutors use aggressive tactics against Suge Knight and his team, sparking civil liberties concerns
As a series of contentious court hearings for Marion "Suge" Knight came to a close, a Los Angeles County judge peered over his glasses at a prosecutor.
It had been a long few weeks for the former hip-hop juggernaut — and virtually anyone in his orbit.
Two attorneys who have represented Knight at various times since he was charged with murder had been arrested, then released. Knight's fiancee was in jail, accused of violating the terms of a plea deal from when she was charged with selling a key piece of evidence to TMZ. Now, the prosecutor was alleging that another of Knight's attorneys might have helped him violate a court order.
"It seems like anyone who represents Mr. Knight will come under scrutiny," Superior Court Judge Craig Richman said.
As Knight's murder trial approaches, prosecutors and Sheriff's Department investigators have taken aim at the rap impresario's attorneys, his associates and even a pair of journalists making a documentary about the iconic record label he co-founded prior to his fall from hip-hop royalty. Law enforcement officials say they find themselves in an extraordinary situation, trying to prosecute a man they allege has intimidated witnesses in the past while contending with a defense team that appears to have engaged in witness tampering, bribery and repeated violations of court orders.
But some legal experts and local defense attorneys uninvolved in the case say aggressive actions taken by law enforcement are butting up against long-enshrined civil liberties.
Under a court order obtained in 2016, sheriff's detectives have been listening to some of Knight's conversations from jail with his attorneys. Last month, investigators obtained a search warrant to review the contents of one of the filmmakers' phones. And questions remain about why investigators made the surprising decision to arrest two defense attorneys if the district attorney's office wasn't prepared to charge them.
"It's an extreme case that raises a lot of troubling questions. It's always concerning when you go after reporters," said Laurie Levenson, a professor at the Loyola Law School and former federal prosecutor. "It's always concerning when you are listening to phone calls between attorneys and clients. It's always concerning when you are arresting members of the defense team."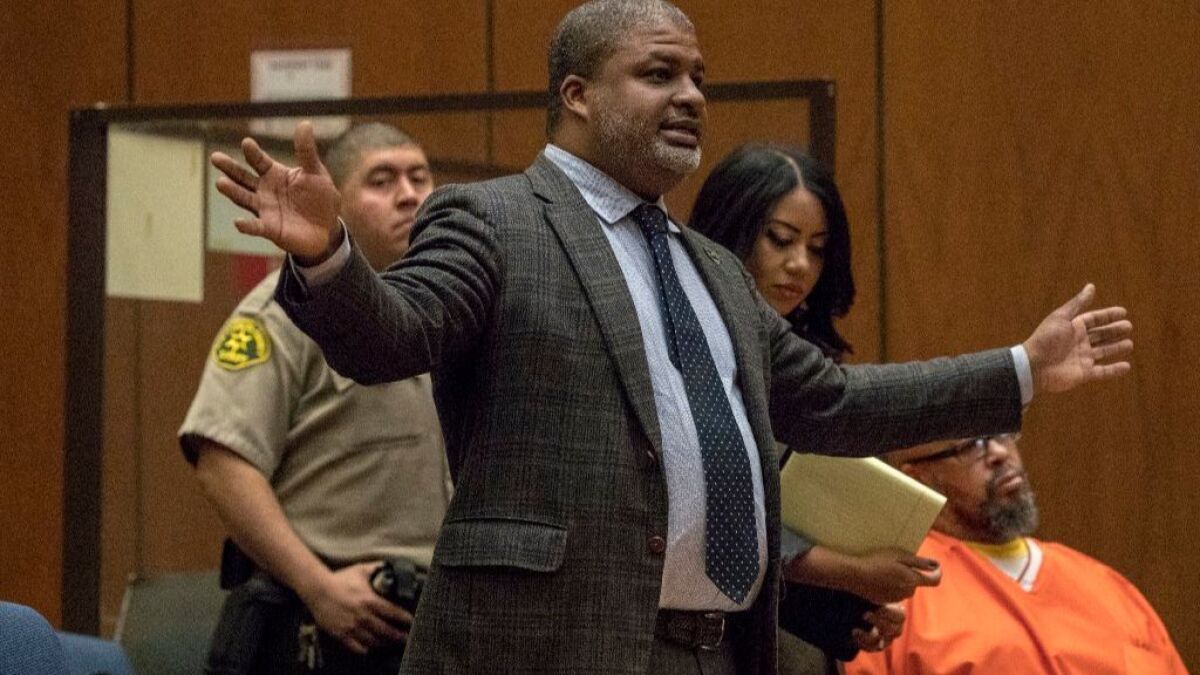 Matthew Fletcher, one of the attorneys arrested and released last month, denied wrongdoing and sharply criticized the action by detectives.
"It scared the hell out of every attorney in the world," Fletcher said.
Shiara Davila-Morales, a district attorney's spokeswoman, said Knight's "case is being handled no differently" from any other. "The district attorney's office expects everyone involved in a case, regardless of their relationship with a defendant, to follow the law and all court orders," she wrote in an e-mail to The Times.
Sheriff's Cmdr. Steven Katz said any suggestion that the department is being unduly aggressive in its pursuit of Knight is wrong.
"The fact that members of the bar have been implicated in misconduct creates a unique set of circumstances," he said.
Knight has remained jailed in downtown Los Angeles since January 2015, when he struck two men with his Ford F-150 truck in the parking lot of Tam's Burgers following a dispute on the set of the N.W.A biopic "Straight Outta Compton." Terry Carter, 55, died of his injuries. Cle "Bone" Sloan, 52, survived.
Knight has pleaded not guilty and claimed he was acting in self-defense. His lawyers contend one of the victims had a gun, a claim prosecutors reject. The murder trial is scheduled to begin in April. Knight has also been charged in separate cases with robbery and with making threats against F. Gary Gray, the director of "Straight Outta Compton."
As Knight has sat in jail, his legal troubles have ensnared those closest to him.
One of the lead investigators obtained confidential information in 2016 that Knight's legal team and his fiancee were "attempting to cultivate witnesses to testify falsely on the defendant's benefit," according to court records.
A judge granted investigators permission to listen to Knight's jailhouse phone calls, unless he was speaking directly to one of his attorneys or a defense investigator. If Knight was involved in a three-way call that included his attorney but also a person who was not a member of the defense team, the judge allowed detectives to listen in.
The restriction was lifted months later when detectives alleged that some of the conversations showed that Fletcher and another defense attorney, Thaddeus Culpepper, were discussing attempts to bribe people for favorable testimony.
Information gleaned during those calls resulted in charges against Knight's fiancee, Toi-Lin Kelly, who was accused of selling surveillance video of the incident at Tam's Burger to TMZ for $55,000. A judge had ordered that the recording not be given to the media. Kelly pleaded no contest, and was barred from having contact with Knight and members of his legal team.
On Friday, a judge concluded she had violated the terms of her probation by helping Knight defy a court order limiting his jailhouse communications. She was sentenced to three years in jail.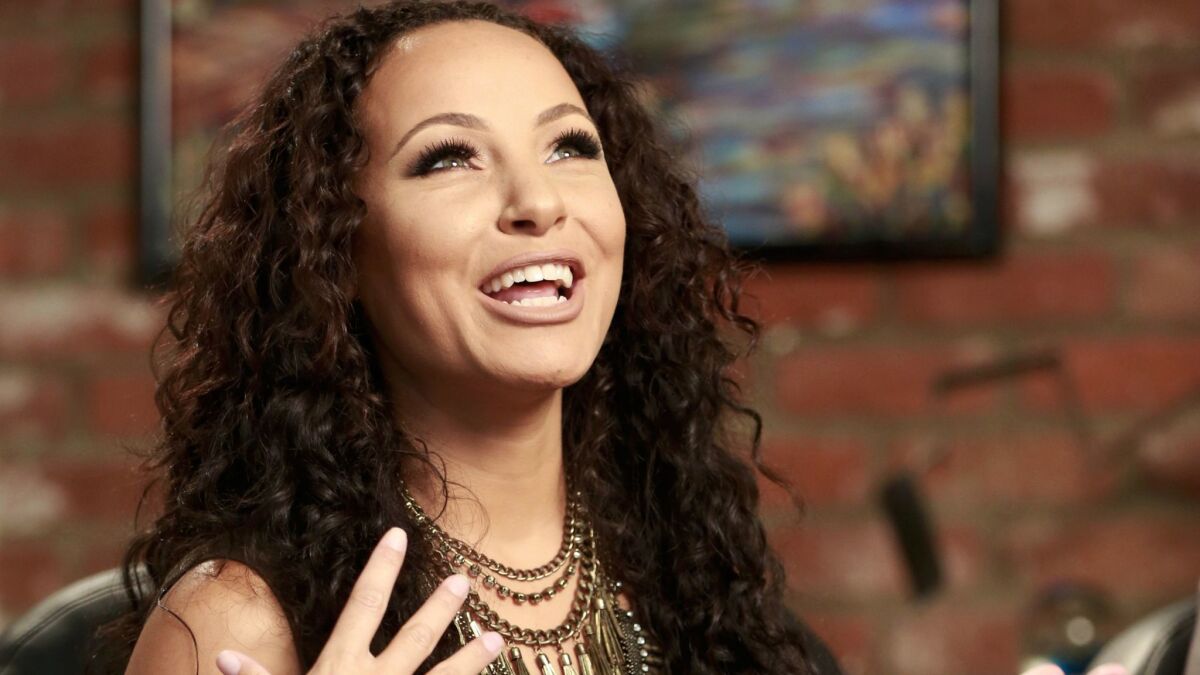 Sheriff's investigators recently discovered that Knight had used another inmate's identification number to make calls from jail to the two documentary makers, Nora Donaghy and William Erb, according to court records. Their documentary, "Death Row Chronicles," is produced by eOne Entertainment and is expected to premiere on BET this month.
Detectives visited the filmmakers' homes late last year, serving them with a subpoena to testify before a grand jury, according to a person with knowledge of the events. The person was not authorized to talk about the investigation and spoke to The Times on the condition of anonymity.
The detectives also seized Donaghy's phone after obtaining a search warrant. Ultimately, investigators returned the phone without searching its contents, Katz said.
The journalists sought to quash the subpoenas, according to The Hollywood Reporter, but it's unclear what happened. A court bailiff ordered a Times reporter to leave a hearing last month where their motion was being considered, and a judge ordered the court paperwork sealed.
California law includes broad protections for the rights of journalists and prohibits search warrants for their unpublished work.
"It bothers me that they're subpoenaing media. I think that raises all sorts of important 1st Amendment issues," said Levenson, the law professor. "But it doesn't surprise me that they desperately want to know what he's saying to the media."
Donaghy, Erb, their lawyer and eOne Entertainment did not return calls for comment.
Asked if the Sheriff's Department had any concerns about seeking a journalist's property, Katz said the agency is "always mindful about searches we conduct and do so based on constitutional requirements."
The Jan. 25 arrest of the two lawyers came months after prosecutors filed court papers alleging that Knight, Fletcher, Culpepper and others appeared to be conspiring to bribe witnesses, suborn perjury and obstruct justice in the murder case. The attorneys have adamantly denied the accusations, and Knight referred to them as "fake news" in court Thursday.
Culpepper decried the detectives' move as a "false arrest." He has said any discussion of money on the phone calls involved "witness fees," such as expenses or expert testimony, not bribery. And he accused authorities of aggressively pursuing Knight's legal team in an effort to deter potential witnesses from coming forward to testify in his favor.
"They are putting in the public … the idea that there is witness tampering," he said. "But it's really witness intimidation."
During their arrest, Fletcher and Culpepper said, investigators told them they had been detained on suspicion of being accessories after the fact to the murder Knight is accused of committing. Both men were held overnight in lieu of $1-million bail. But in an unexpected turn, they were released the next day.
We have lawyers for lawyers. That's how far we've got here."
— Craig Richman, the judge in Marion "Suge" Knight's pending criminal threats trial
"The case is very complex in nature, requiring further review by the Los Angeles County district attorney's office," a Sheriff's Department statement said at the time.
The detectives presented a case to prosecutors for review the same day the lawyers were released, the district attorney's spokeswoman said. The review is pending. Neither agency would comment on the detectives' decision to arrest the attorneys without consulting the district attorney's office.
The move by sheriff's investigators puzzled legal experts, who questioned why detectives did not wait to make the arrests until knowing whether prosecutors would file charges.
"I'd be inclined to bet that they didn't think this was a case the district attorney's office was going to love," said Gabriel J. Chin, a law professor at UC Davis School of Law and former prosecutor and criminal defense attorney.
Lou Shapiro, a Los Angeles-based criminal defense attorney who is not involved in the case, said he was troubled by the way detectives handled the arrests, including the decision to detain Fletcher at a Long Beach courthouse. He said the detectives could have contacted the lawyers in advance to turn themselves in.
"There was no need for the drama, and that bothers everybody," he said.
A hearing last week again illustrated the ever-ballooning legal ramifications for those in Knight's inner circle.
Prosecutors had filed a motion claiming that one of Knight's attorneys in the murder case, Dominique Banos, had helped facilitate Knight's phone calls with the journalists, which would violate the court order limiting his jail communications. If Banos had committed a crime, she might have a conflict of interest representing Knight, prosecutors argued.
Moments later, another attorney appeared in order to represent Banos on the issue of a conflict.
"We have lawyers for lawyers," Judge Richman said, shaking his head. "That's how far we've got here."
Times staff writer Matt Hamilton contributed to this report.
Follow @JamesQueallyLAT for crime and police news in California.
---
The stories shaping California
Get up to speed with our Essential California newsletter, sent six days a week.
You may occasionally receive promotional content from the Los Angeles Times.