L.A. man held in deadly Kansas 'swatting' case now wanted in Canada over similar hoax call to cops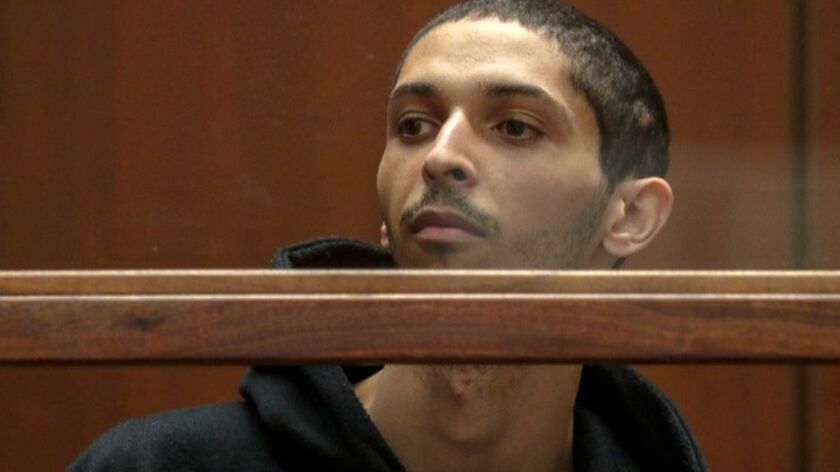 A Los Angeles man accused of making a hoax phone call that caused a fatal police shooting in Kansas is now wanted in Canada for a similar alleged "swatting" call made a week before.
Calgary police have issued arrest warrants for Tyler Rai Barriss, 25, accusing him of targeting the home of a young woman he contacted online on Dec. 22, six days before the deadly police shooting in Wichita, Kan.
The 911 call to Calgary police is eerily similar to the emergency call to Kansas authorities that led to the killing of an innocent man.
The Calgary Police Service alleges that Barriss called 911 around 7:40 p.m. and told an operator he killed his father and was holding his mom and younger brother hostage in the 2300 block of 17b Street S.W.
Calgary tactical officers descended on the neighborhood of the address the caller gave, evacuating the surrounding area before a woman at the home also called police to warn them she believed she was target of a fake call designed to produce a massive police response. The woman came out of the house and officers confirmed that the initial report of a shooting and hostage scenario was false.
In the Wichita case, a caller told a police dispatcher on Dec. 28 that he had shot his father and was holding his mother and a younger brother hostage at gunpoint. A recording of the emergency call released by Wichita police shows that the caller told a dispatcher that he would not put the gun away.
"My dad isn't breathing," the caller said at one point. "It's kind of giving me anxiety and making me, like, paranoid."
Officers were preparing to approach the home at the address the caller gave when a man, later identified as 28-year-old Andrew Finch, exited the front door. After a brief exchange, Finch was shot after moving his hands toward his waistband, Wichita police said.
The deadly shooting highlighted the danger of hoax emergency calls that draw a massive police response — a phenomenon known as "swatting," that has become an increasingly popular tactic among warring factions of online gamers and those who see themselves as hackers.
Barriss has been charged in Kansas with making a false alarm — a felony. He is expected to be extradited to Kansas this month.
Law enforcement sources told The Times that the dispute that led to the Wichita call stemmed from an argument over an online matchup in "Call of Duty: World War II," a recently released first-person shooting game.
Neither Barriss nor Finch was involved in the matchup, according to the sources, who spoke on condition of anonymity because the investigation is ongoing. The sources said investigators believe that someone involved in the dispute contacted Barriss.
Authorities have said Barriss had earned a reputation among online gamers as someone willing to make fake bomb and hoax shooting calls to police.
In recent years, he served time in Los Angeles County Jail after prosecutors charged him with making fake bomb threats that prompted evacuations of a Glendale television station and two schools. Within months of his release last year, the LAPD began investigating whether he was behind recent similar calls.
In Calgary, police said cyber crimes detectives had determined that Barriss made online contact with the female victim of the hoax shortly before the call was made. Canadian authorities are seeking to charge him with public mischief, fraud and mischief, officials said.
"During this incident, a substantial amount of police resources were required to contain the scene and protect the safety of citizens," a Calgary police statement said. "The service takes swatting events extremely seriously and will investigate each incident thoroughly."
Calgary officials added, "It is believed this same suspect was involved in similar swatting calls in other jurisdictions."
Twitter: @lacrimes
---
The stories shaping California
Get up to speed with our Essential California newsletter, sent six days a week.
You may occasionally receive promotional content from the Los Angeles Times.