Terminal Island prison inmates went without heat during the coldest February in decades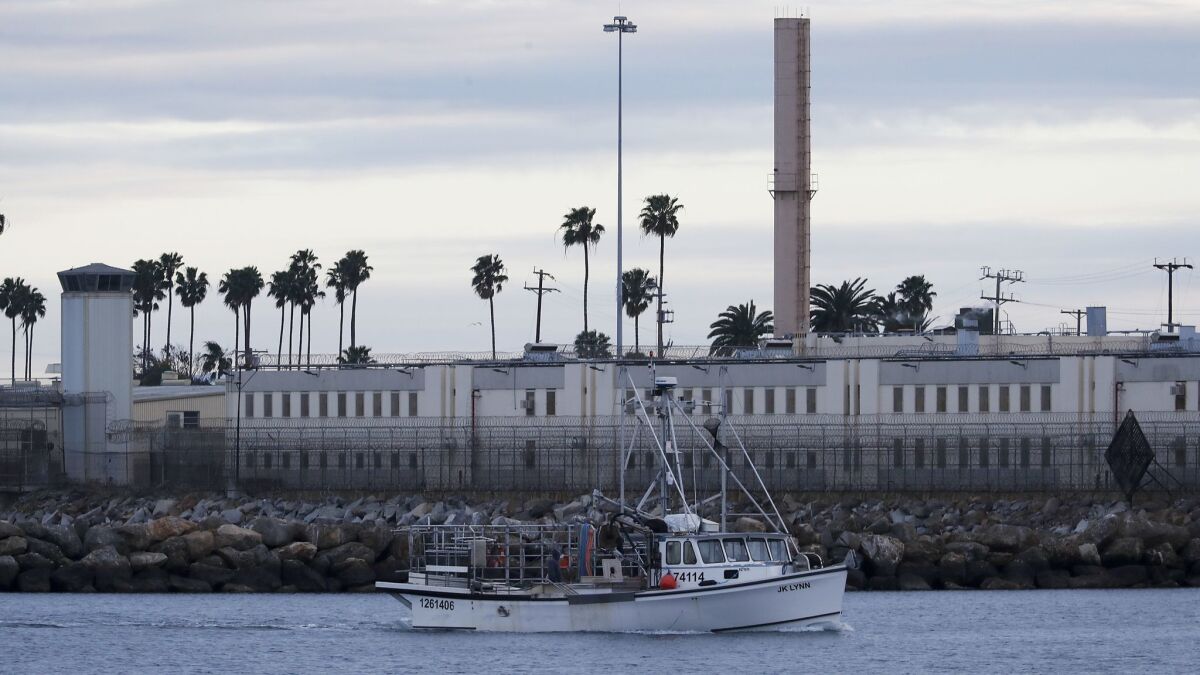 Hundreds of inmates at the Terminal Island federal prison on the harbor front spent one of the coldest periods in decades in frigid cells with no heat and only blankets for warmth before they were transferred temporarily to another facility.
As outside temperatures plunged into the low 40s at night, two units that housed more than 200 inmates lost heat after an underground steam line failed in January at the low-security federal lockup that sits at the entrance to Los Angeles Harbor in San Pedro.
Inmates were provided with extra blankets, officials said. But by many accounts, the blankets were thin and offered little protection against the chilly harbor air, according to people familiar with events who declined to be named for fear of retaliation. Some inmates got sick from the constant cold, said two attorneys representing inmates as well as a friend of an inmate.
After weeks of failing to restore the steam line, the inmates were transferred on Feb. 20 to a federal correctional institution in Victorville until repairs are made.
The Terminal Island prison, originally opened in 1938, houses about 1,100 inmates convicted of low-level offenses such as drug crimes and fraud, mostly without histories of violence.
Officials did not return several calls seeking comment on how they were tackling the heating issues and why it took nearly a month to transfer the affected inmates to another facility.
In an email, the Federal Bureau of Prisons in Washington issued a statement acknowledging the problems and said they were being addressed.
On Jan. 24, "staff discovered that an underground steam line that provides heat to two housing units had collapsed, leaving those two units without heat," the statement said.
About 232 inmates are housed in the units, according to the bureau. "Upon discovery, staff developed a plan of action for repairs and continually monitored weather conditions while repair work was underway."
"Inmates who requested extra blankets were provided them," the statement said.
Inmates were moved to the Victorville prison only after complaints had reached such a level that federal officials outside of the facility learned of the cold conditions, said one source who had knowledge of the events.
The prison initially used inmates and staff for the repair work, another source familiar with the efforts, said.
Inmates reported to their lawyers and family that they had been placed on lockdown and that the move to Victorville came suddenly. The inmates arrived at the high-desert location — which had received recent snowfall — in chains. They are being housed at a medium-security prison, one of several lockups at the Victorville site, which is also home to a high-security facility and a women's prison. The facilities have a history of overcrowding; when immigration detainees were transferred there last summer, the employees' union protested.
This month is the coldest February in Los Angeles since 1962, with an average high temperature at 60.6 degrees as of Sunday, the National Weather Service said. Nighttime lows in San Pedro have repeatedly reached the low 40s and possibly colder.
There was no estimate of when the inmates would be allowed to return to Terminal Island.
"A closed Hydronic Loop Heating System is being installed to restore heat to the housing units," and inmates will return after it is installed, the Bureau of Prisons statement said.
Rich Rust, president of Local 1680 of the American Federation of Government Employees, which represents prison workers, said he expects the heating system to be back on line by as early as next week. Employee areas in the affected housing blocks have had heaters during the repairs, he said.
The episode at Terminal Island is the latest this winter involving a federal jail or prison. In Brooklyn, N.Y., the Metropolitan Detention Center was plunged into cold and darkness for a week after a fire on Jan. 27. Conditions were so bad that inmates banged on windows and walls for help. Like Terminal Island, the Brooklyn facility is near the waterfront.
Lawyers in New York sued the Bureau of Prisons earlier this month over the Brooklyn facility, labeling it a "humanitarian crisis."
Twitter: @lacrimes
The stories shaping California
Get up to speed with our Essential California newsletter, sent six days a week.
You may occasionally receive promotional content from the Los Angeles Times.