Smuggled Bengal tiger cub undergoes intestinal surgery at San Diego Zoo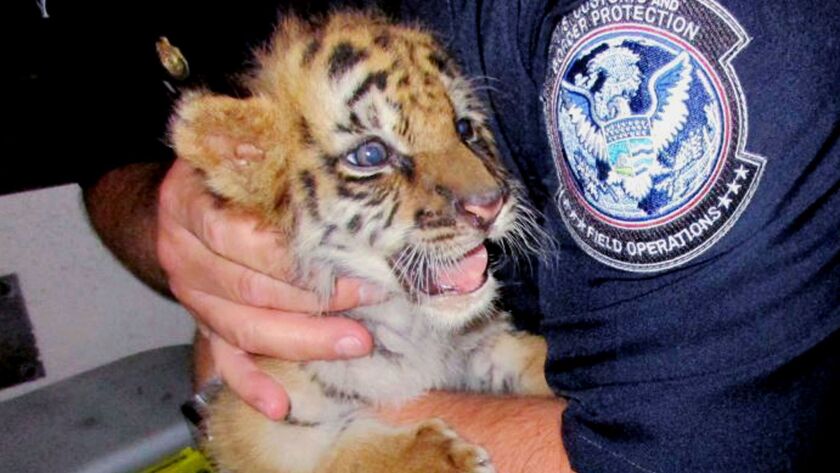 Moka, the Bengal tiger cub rescued from a smuggler last year, underwent surgery this week to fix an intestinal obstruction, adhesions and other complications that apparently arose from his earlier life.
So far, his outlook is good, said Lauren Howard, associate director of veterinary services for the San Diego Zoo Safari Park, where Moka has been living since last summer.
Moka was seen to be acutely ill on Sunday, was examined on Monday and underwent surgery Tuesday.
A veterinary surgeon repaired the damage, and Moka appears to be recovering nicely. He's in observation for another week or so.
"He's not out of the woods yet," Howard said.
Moka's health issues included low kidney function, which was detected shortly after he was confiscated from a smuggler at the Mexican border. His kidneys appeared structurally normal, but abnormal amounts of protein present in the urine meant his kidneys weren't filtering correctly.
This was judged to be bearable because kidneys have redundant capacity, Howard said. A reexamination revealed his kidney function remained the same.
"Clinically, he acts fine," she said. "He's not acting like an animal that's in kidney failure. … Could this shorten his overall life span? Possibly. It's hard to say."
The more extensive complications were discovered after Moka was observed to be dehydrated and underweight for his age. At that point, the animal was removed from the exhibit he shares with his cub companion, Rakan, and examined at the Safari Park's Paul Harter Veterinary Medical Center.
There, the surgeon discovered the obstruction and scarring. In addition, part of his stomach was herniated through his diaphragm. Some of this might have been congenital.
Eating was difficult for Moka because of the obstruction, Howard said. And the injury appeared to be old, likely from the time before the U.S. Fish and Wildlife Service took Moka into custody.
"We believe the abnormal position of the intestines, scarring and adhesions had been present over time and the buildup of food material and whatever else he ate built up to the point where he became acutely ill," Howard said.
Illegal breeders usually don't practice the high standards of care observed at legitimate institutions such as the San Diego Zoo, Howard said. Moka's kidney problems could have been caused by an inadequate diet, for example.
Smuggled tigers are a rarity, she said. Birds and reptiles are more common, although many die before reaching sellers. Females may be worse off because they may be carrying eggs and could be more vulnerable to stress.
Luis Eduardo Valencia of Perris was recently sentenced to six months in prison for smuggling Moka, then just 6 weeks old and weighing 10 pounds.
Valencia portrayed himself as a naive 18-year-old. But text messages indicated he was actively involved in smuggling a variety of animals, prosecutors said.
Fikes writes for the San Diego Union-Tribune.
---
For reporting and exclusive analysis from bureau chief John Myers, get our California Politics newsletter.
You may occasionally receive promotional content from the Los Angeles Times.