Fire extinguished, investigation begins at troubled Torrance refinery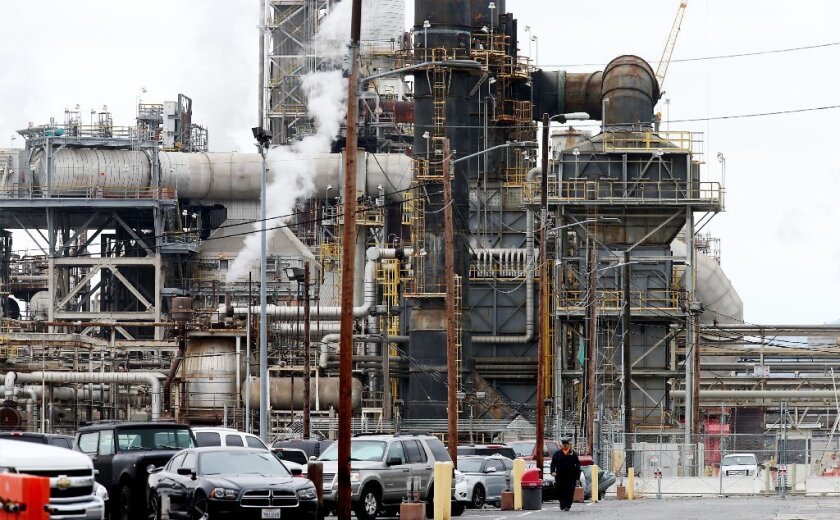 Torrance firefighters are investigating the cause of a fire Saturday morning at the Torrance Refining Co. complex.
Three dozen firefighters were dispatched to the refinery about 6 a.m. after getting reports of an explosion. They extinguished the blaze within a half hour, said Torrance Fire Capt. Robert Millea. City officials later issued an alert saying that there was "no offsite impact."
State and county health officials were also at the site, Millea said.
There were no further details about what caused the fire. Millea said it was unclear whether an explosion had actually occurred.
A company spokeswoman could not be immediately reached for comment Saturday.
The former Exxon Mobil refinery on West 190th Street, now owned by New Jersey-based PBF Energy Inc., has been the site of several incidents over the years, prompting protests from residents over safety and environmental issues. The latest incident occurred on the two-year anniversary of a major explosion at the refinery that shuttered most of its operations for more than a year.
In that incident, a giant piece of pollution-control equipment called a precipitator blew up, filling the air with dust and debris. Federal regulators called the explosion a "serious near miss" that could have resulted in a "potentially catastrophic release" into surrounding communities.
As part of its ongoing investigation, the U.S. Chemical Safety Board released findings that one piece of equipment narrowly missed crashing into a tank in the alkylation unit. The tank contained tens of thousands of pounds of modified hydrofluoric acid.
If the projectile had hit that vessel, the agency determined, it could have released a toxic cloud with "the potential to cause serious injury or death to many community members."
U.S. Rep. Ted W. Lieu (D-Los Angeles) said he would urge the Chemical Safety Board to include Saturday's incident in its probe of the 2015 explosion. He commended the South Coast Air Quality Management District for proposing to phase out modified hydrofluoric acid at Southern California refineries.
"Refineries are not supposed to have explosions," Lieu said, adding that "God may not warn us again."
A local group called the Torrance Refinery Action Alliance had already been planning a rally and march to the refinery Saturday to demand safety improvements when residents were alerted to the fire. Refinery workers had been planning their own demonstration in response, according to the Daily Breeze.
Maureen Mauk, one of the founders of Families Lobbying Against Refinery Exposures, said the timing of the latest incident was ironic.
"Every day it seems we're getting another warning .… What will it take for local, state and federal officials to realize what danger the community is in?" Mauk asked.
ALSO
At least 4 dead amid major flooding and mudslides as biggest storm in years barrels into L.A. area
Downstream from the stricken Oroville Dam, the Feather River Fish Hatchery manages to save millions of fish
Jurupa Valley teachers put on leave after mocking students who joined 'Day Without Immigrants' boycott
---
UPDATES:
1 p.m.: This article was updated with new information about the response to the fire and remarks from U.S. Rep. Ted W. Lieu and refinery protester Maureen Mauk.
8:10 a.m.: This article was updated with additional background.
This article was originally published at 7:52 a.m.
---
The stories shaping California
Get up to speed with our Essential California newsletter, sent six days a week.
You may occasionally receive promotional content from the Los Angeles Times.