Fires, explosions at Torrance refinery have neighborhood on edge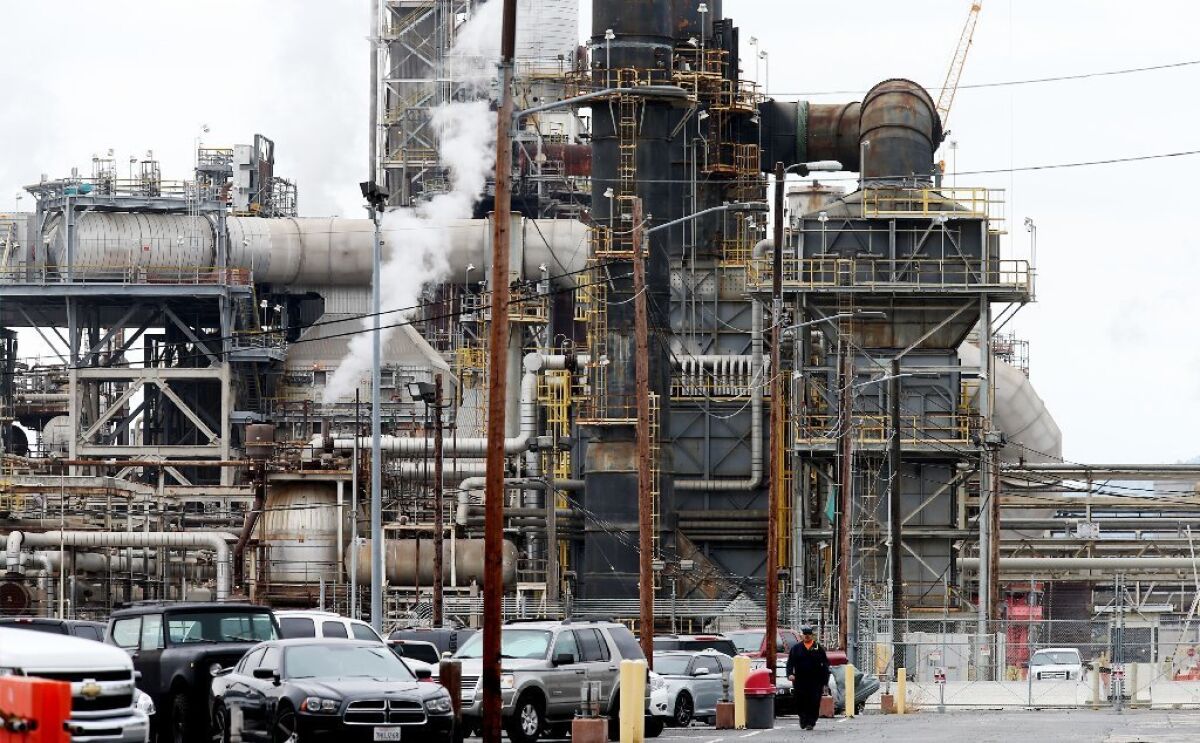 An explosion last year at a Torrance oil refinery spewed smoke and dust into surrounding neighborhoods and alerted residents to the dangers of living near the sprawling industrial complex.
Since then, shutdowns, flaring incidents and a fire that broke out Tuesday have only increased anxiety about the Torrance Refining Co.
"Our concerns have gone from breathing — the lack of air quality — to the very real danger of explosion and catastrophic release," said Elaine Wilson, a community activist who lives on the 750-acre facility's fence line.
In the latest incident, two dozen firefighters were dispatched to the refinery Tuesday after a fire broke out about 4:20 p.m. while maintenance crews were replacing a high-pressure fuel line that is part of its flaring system, Torrance Fire Department Capt. Bob Millea said.
Refineries are not supposed to have explosions, they're not supposed to have massive flaring and they're not supposed to have fires.
— U.S. Rep. Ted Lieu (D-Torrance)
Firefighters and the refinery's fire brigade extinguished the blaze within 30 minutes. Paramedics evaluated three employees for injuries, but none required treatment. The cause of the fire, Millea said, remains under investigation.
In July, New Jersey-based PBF Energy bought the refinery from ExxonMobil. Jeffrey Dill, president of PBF Energy's western region, said the company continues to take steps to respond to the community's concerns, including responding to phone calls and distributing leaflets with information on the fire.
He added: "We definitely have to do better."
Residents' fear stems in part from their growing knowledge about dangerous chemicals at the refinery.
The Torrance Fire Department said the 10-inch flare pipe that burned is "outside the boundary of the alkylation unit," an area where modified hydrofluoric acid, a highly hazardous chemical, is used. Though that unit was not affected, refinery personnel shut it down when the fire broke out, fire officials said.
Nearby residents and elected officials said they were disturbed to learn that the blaze occurred near the alkylation area because it has been a focus of safety concerns in the community since the February 18, 2015, explosion at the refinery, which shuttered most of its operations for more than a year.
In that incident, a giant piece of pollution control equipment called a precipitator blew up, filling the air with dust and debris. Federal regulators have called the explosion a "serious near miss" that could have resulted in a "potentially catastrophic release" into surrounding communities.
As part of an ongoing investigation into the blast, the U.S. Chemical Safety Board in January released findings that one piece of equipment narrowly missed crashing into a tank in the alkylation unit. The tank contained tens of thousands of pounds of modified hydrofluoric acid.
If the projectile had hit that vessel, the agency determined, it could have released a toxic cloud with "the potential to cause serious injury or death to many community members."
In light of the fire Tuesday, U.S. Rep. Ted Lieu (D-Torrance) said he is urging the Chemical Safety Board to examine the recent flaring and fire before completing its final report.
"Refineries are not supposed to have explosions, they're not supposed to have massive flaring and they're not supposed to have fires," Lieu said. "The multiple incidents at the Torrance refinery suggest there is either a management issue or an infrastructure issue or both."
PBF and state energy regulators emphasized that most of the recent troubles, including the shutdown of the refinery twice this fall, were not the fault of the company, but were caused by Southern California Edison power failures.
Dill, the PBF president, said investigators continue to assess the damage from the fire, but he does not expect it to be significant.
"This was, obviously, extremely disappointing," Dill said. "The fire was limited to a very localized area. Production has continued, not necessarily at full rates."
The problems have frustrated the refinery's new owner as the company has worked to establish itself in the California oil and gas market.
Torrance supplies 10% of the state's refined gasoline capacity and 20% in Southern California. Gas price analysts said the fire triggered an initial increase in the wholesale market that appeared to taper off and is not expected to have a lasting effect.
Gordon Schremp, senior fuels analyst for the California Energy Commission, called the market's reaction to the incident "muted" because of ample supply, a result of the switch to the winter blend of gas, which carries less stringent requirements than the summer mix.
"I think the impact on gasoline prices for consumers is going to be very minor," Schremp said.
Meanwhile, the refinery's use of flares — stacks that burn off excess gas when a refinery unit shuts down — has spurred intervention by air quality regulators.
The South Coast Air Quality Management District last month cited the Torrance Refining Co. for causing a public nuisance by billowing, black smoke from its flare for hours when it lost power Oct. 11.
That incident followed two other flaring events deemed excessive by the air quality agency — one Sept. 19 following a power cut, and another July 11 from a software malfunction. The air district is seeking an administrative order to reduce flaring at Torrance and recently pledged stronger regulations to curb the practice at all Southland refineries.
But some residents say their concern about flares pales compared to their fear that a fire or explosion could launch a cloud of hydrofluoric acid over their neighborhoods.
Steven Goldsmith, who lives about a mile west of the Torrance refinery, was playing tennis when ash-like dust from the 2015 explosion began showering down on him.
News of Tuesday's fire reignited his fears. "We didn't know what was going on," he said, and his family considered jumping in their car and fleeing.
"We're all feeling quite anxious because of what we've learned from that initial explosion," Goldsmith said. "Flaring and pollution are chronic, but the problem of hydrofluoric acid is acute…. Thousands of people could have been killed."
After the February 2015 blast, Goldsmith and others formed the Torrance Refinery Action Alliance, one of several new activist groups that are seeking changes at the facility.
The group wants the facility to remain open, Goldsmith said, but has urged its new owners to initiate a plan to switch to a safer alternative to hydrofluoric acid within three years.
Dill, the PBF president, said Torrance's hydrofluoric acid unit includes several features to ensure community safety. One measure saturates the system with water. Another removes the chemical into a containment area, behind a glass wall.
"It's one of the most sophisticated units in the country and in fact in the world," he said.
Those measures are not enough, said Al Muratsuchi, a Democrat who was recently elected to represent the Torrance area in the state Assembly. He has pledged to make improving safety and eliminating the use of hydrofluoric acid at the facility a top priority.
"The people in Torrance have lost confidence in the refinery to run safely," he said. "And we need to do something about it."
---
The stories shaping California
Get up to speed with our Essential California newsletter, sent six days a week.
You may occasionally receive promotional content from the Los Angeles Times.