UCLA, UC Berkeley boost admissions of Californians, including blacks and Latinos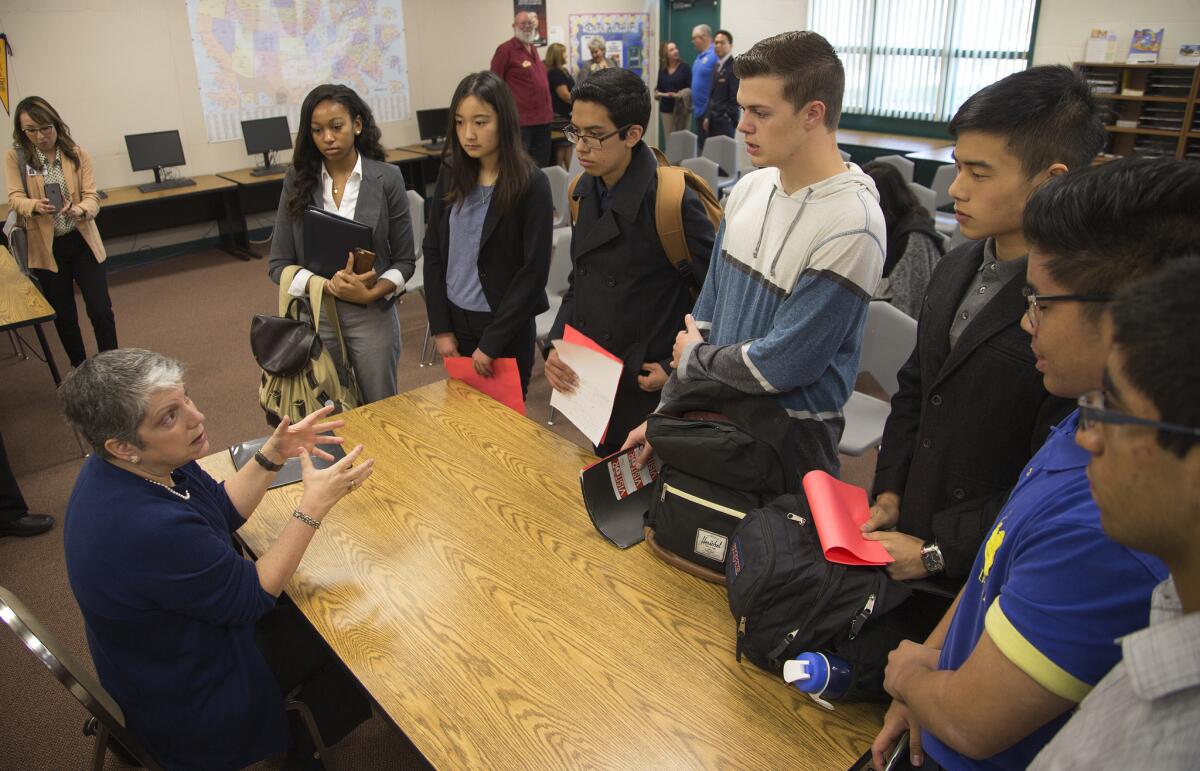 The University of California's flagship campuses have significantly boosted admissions offers to state residents — including the most African Americans and Latinos since voters banned affirmative action two decades ago — officials announced Wednesday.
UCLA and UC Berkeley each admitted an additional 1,000 California freshman for fall 2016, increasing students from all ethnicities for an overall boost of more than 11%.
Both also made striking gains in increasing the number of underrepresented minorities, progress that is likely to ease pressure from state legislators to boost diversity at UC's most elite campuses.
It's such a treat to be able to admit more Californians this year and to see that diversity among our California admitted students has increased as well.
— Amy Jarich, UC Berkeley assistant vice chancellor and director of admissions
A scathing state audit earlier this year accused UC of hurting California students by admitting too many out-of-state and international applicants, who pay higher tuition. Critics have complained that non-Californians have seemed to edge out equally or more qualified state residents at UCLA and Berkeley, with African Americans and Latinos disproportionately admitted to less competitive campuses at UC Merced and Riverside.
But the legislator who requested the audit — and castigated UC on the results — welcomed the new admissions numbers.
"I think it's a significant start, but we still have a long way to go," said Assemblyman Mike Gipson, D-Carson. "California students must come first."
He added that legislators, who had proposed bills to cap out-of-state students and other restrictions, would continue to monitor UC.
UC President Janet Napolitano, who had denounced the audit results as unfair and misleading, said Wednesday that Californians would continue to be the priority. Under a deal with Gov. Jerry Brown and the Legislature, UC agreed to accept 5,000 more Californians this year in exchange for $25 million more in state funding.
"We are happy to welcome to the university so many more Californians, a diverse, high-achieving group of both freshman and transfer students," Napolitano said in a statement. "We have worked with the Legislature to ensure funding to support this boost in admission for California students, and hope to sustain this increased access in the future. Our commitment to serve California by delivering a world-class education to our next generation of leaders, innovators and scholars is unwavering."
UCLA led the system's nine undergraduate campuses in admissions offers to African Americans as a percentage of all students. The Westwood campus offered seats to 624 African Americans, or 6% of all California freshmen, representing a 37.7% increase over last year.
Among Latinos, UCLA admissions offers increased to 2,527, or 24.3% of admitted California freshmen, representing a boost of 20.6%.
The number of Asian Americans offered admission to UCLA increased to 4,115 this year from 3,952 last year, but their share of the campus' admitted freshmen class shrunk from 42.3% to 39.5%. Those numbers may spark continued debate about whether Asian Americans are being held to higher standards than other students in admissions decisions.
The number of admission offers to whites slightly increased at UCLA to 2,561, or 24.6% of all students.
The 10,400 California high school seniors who won admission to UCLA competed for a spot among 97,115 applicants, a record number. Another 5,700 transfer students were offered seats.
In the last four years, UCLA has aggressively recruited promising African-American students, launching mentoring programs with Los Angeles Unified schools and with several Inland Empire black churches. Officials also have increased their appearances at community fairs and Starbucks across South Los Angeles to share information about UCLA.
"I'm really pleased we're making progress and we're showing we can make a difference," said Youlonda Copeland-Morgan, UCLA's vice provost for enrollment management. "It shows we can do this if we have the will."
She added that UCLA does not raise the entry bar for Asian Americans, saying that considering race and gender in admissions decisions at public universities has been banned since passage of Prop. 209 in 1996.
Berkeley also made gains, increasing offers to African American applicants to 401 this year from 342 last year, and Latinos to 1,789 from 1,655 over the same period. Asian Americans remained the largest ethnic group in the admitted California freshman class, making up 43.5%, followed by whites at 27.7%, Latinos at 18.3% and African Americans at 4.1%.
"It's such a treat to be able to admit more Californians this year and to see that diversity among our California admitted students has increased as well," Amy Jarich, UC Berkeley assistant vice chancellor and director of admissions, said in a statement.
California students' improved access to the most competitive UC campuses underscored the importance of political leadership and more state dollars, said Michele Siqueiros, president of the Campaign for College Opportunity, which seeks to expand higher-education opportunities for state residents.
"It can't just be increased admissions at UC Merced and Riverside, but all campuses, especially the flagships," she said.
She added, however, that many more seats will need to be funded in order to prepare more Californians for the state's future workforce needs.
Overall, UC's nine undergraduate campuses admitted 62,873 California residents, an increase of 15% over last year. The system also increased offers to out-of-state and international students, but their numbers are capped at UCLA, Berkeley and UC San Diego.
---
UPDATES:
5:46 p.m.: This article was updated with additional details.
This article was originally published at 1:52 p.m.
Sign up for Essential California for news, features and recommendations from the L.A. Times and beyond in your inbox six days a week.
You may occasionally receive promotional content from the Los Angeles Times.