UC Irvine to readmit all freshmen whose admission offers were withdrawn for transcript problems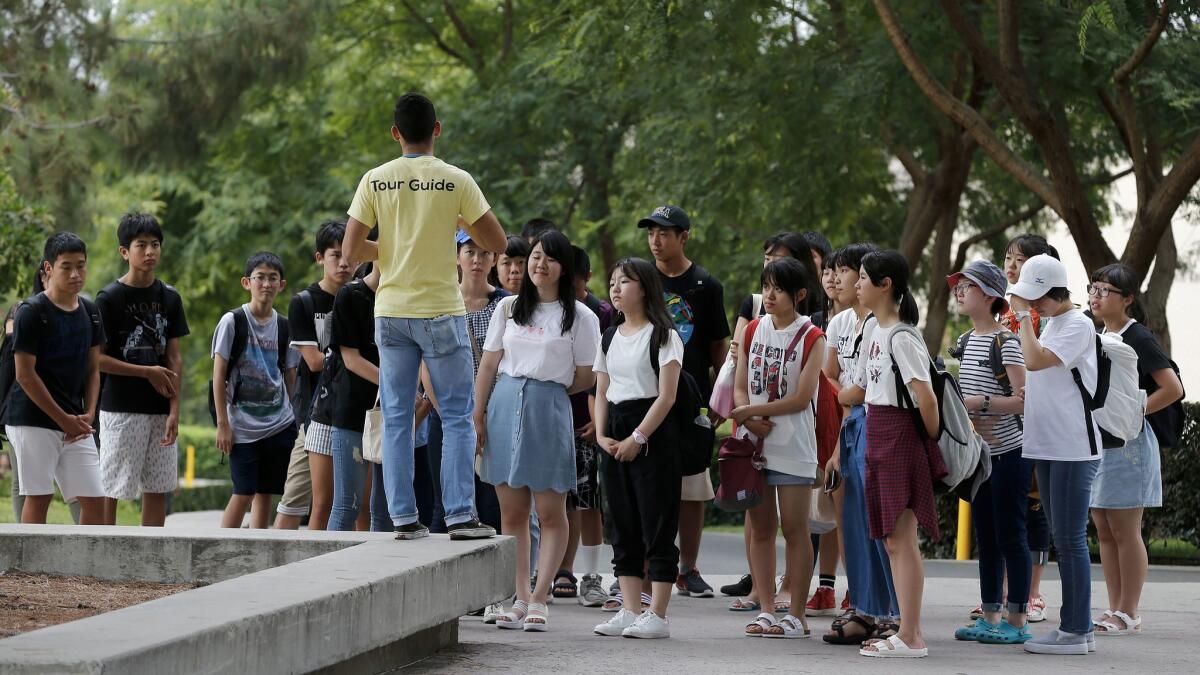 UC Irvine, under fire for rescinding nearly 500 admission offers, announced Wednesday that it would readmit all students who maintained good senior-year grades but whose acceptances were revoked because of alleged paperwork problems, such as missing deadlines to submit transcripts.
Appeals from students whose acceptances were withdrawn because of poor senior grades will be reviewed on a case-by-case basis.
"The stories of our students whose college dreams were crushed by our decision to withdraw admissions to hundreds of students are heartbreaking. And unacceptable," Chancellor Howard Gillman said in a message to the campus community. "We are a university recognized for advancing the American Dream, not impeding it. This situation is rocking us to our core because it is fundamentally misaligned with our values."
Offering his "sincerest apology," Gillman said he had directed the campus internal auditor to review the admissions process to try to understand how officials underestimated the enrollment this year, why students who inquired about the rescissions were poorly treated and how to avoid the recurrence of such problems.
UC Irvine's rescissions created an uproar when many students asserted the campus had unfairly withdrawn their acceptances just two months before the start of fall term for minor reasons or no reasons in order to ease an overenrollment crunch. About 850 more freshmen than expected had accepted UCI's admission offer for this fall.
In an interview this week, Thomas A. Parham, vice-chancellor of student affairs, also repeated apologies for distress caused and acknowledged that campus officials were stricter about enforcing admission requirements this year.
But he reiterated his contention that no acceptances were withdrawn from students who met all enrollment conditions — which include receiving a high school degree, submitting transcripts and test scores by deadlines and maintaining a weighted 3.0 senior-year grade point average with no Ds or Fs in UC-approved courses.
"The rumors on social media is that Irvine had these 800 extra students and they're willy nilly snatching admissions back because they can't accommodate them," he said. "It isn't true. We spend time trying to get kids access, not deny access."
Parham said campus officials were hard at work reviewing appeals expeditiously. As of Tuesday, 112 of the 214 appeals from among 290 students whose offers were withdrawn for transcript-related problems had been granted. The success rate was lower for those 209 students whose offers were rescinded due to poor senior grades; in that category, eight of 132 appeals had been granted.
Gillman said students ousted for paperwork problems who ended up with poor senior grades would not be readmitted automatically. But he said his staff would establish an expedited process to allow students to make the case for extenuating circumstances, and to help them identify other possible pathways into the university.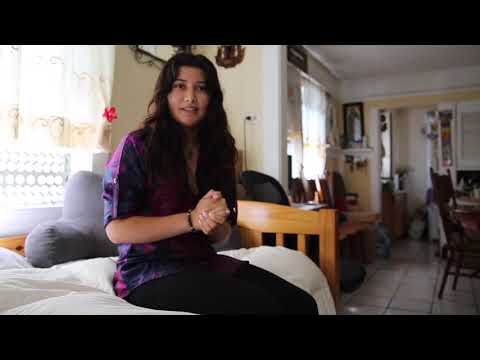 Ashley Gonzalez was sent a letter of admission to UC Irvine. Just weeks before the fall term begins, however, the university has rescinded the offer. On Wednesday the university readmited her.  (Video by Robert Gauthier / Los Angeles Times)
Ashley Gonzalez, a graduate of John Marshall High School in Los Angeles whose rescission was featured in a Los Angeles Times story last week, is one of the lucky students whose appeal worked. Her admission offer was withdrawn because campus officials said a community college transcript had not arrived by the July deadline. But Gonzalez said it had been sent in the same envelope as her high school transcript, which was received on time. She received word Tuesday that she once again was accepted.
The rescission fiasco came after another attempt to reduce the overenrollment fell flat.
The campus launched the Anteater Leadership Academy, billing it as a selective program for California freshman to receive such benefits as a 50% discount on tuition, leadership courses, smaller classes and "exclusive social events."
But students who joined would have to cancel their enrollment as regular freshmen, take a more limited menu of classes in the adult education division and give up access to campus housing and financial aid — details not mentioned in the initial email sent out in May.
"Many students considered it a scam," said Rishi Shah, a graduate of Cerritos High School who initially signed up but withdrew after reading warnings on Facebook about it. "UCI should have been a lot more transparent about the cons as well as the pros."
UCI officials had hoped to divert as many as 500 students into the new academy, which gets its name from the school mascot, deferring their status as regular students for a year to ease the overenrollment crunch. But with the negative buzz, only 100 have signed up.
Parham said he believed the campus was sufficiently upfront in disclosing details of the program.
Sarah Eichhorn, a faculty member in the physical sciences department, criticized the leadership academy for promoting social injustice. By denying access to financial aid, she said, the program gives wealthier students preferential treatment in the form of leadership opportunities and smaller classes.
Parham said he disagreed with that characterization of the program. The aim, he said, is to help middle-income students whose families make too much to qualify for most financial aid but too little to easily afford the full cost of attendance — an estimated $33,000 annually.
Mariano Segovia, a graduate of Gahr High School in Cerritos, represents just that kind of student. His mother, a nurse, earns about $130,000 annually — too much to qualify for any financial aid but a loan, he said. He was drawn to the program's offer of a 50% tuition discount.
"Tuition is pretty expensive and I was willing to do anything to make things cheaper for my family," he said of his decision to sign up for the program.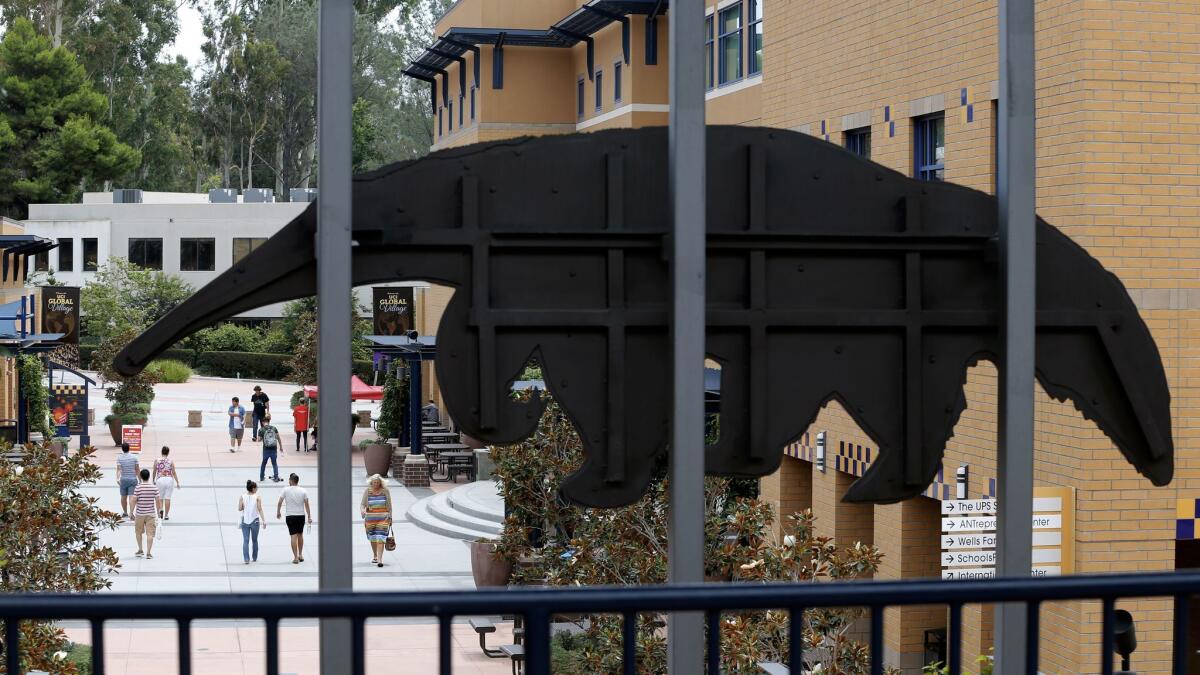 ALSO
UC on track to enroll 2,500 more Californians this fall, but admission offers decline from last year's near-historic gains
UC Irvine's rare distinction: It's an elite research university that's a haven for Latinos
These small, little-known colleges may be more affordable than you think
---
UPDATES:
4:55 p.m.: This story was updated throughout to highlight the university's decision to readmit a large number of students and to include the chancellor's apology.
This article was originally published at 2:25 p.m.
Sign up for Essential California for news, features and recommendations from the L.A. Times and beyond in your inbox six days a week.
You may occasionally receive promotional content from the Los Angeles Times.