UC regents admonish UC President Janet Napolitano for approval of interference in state audit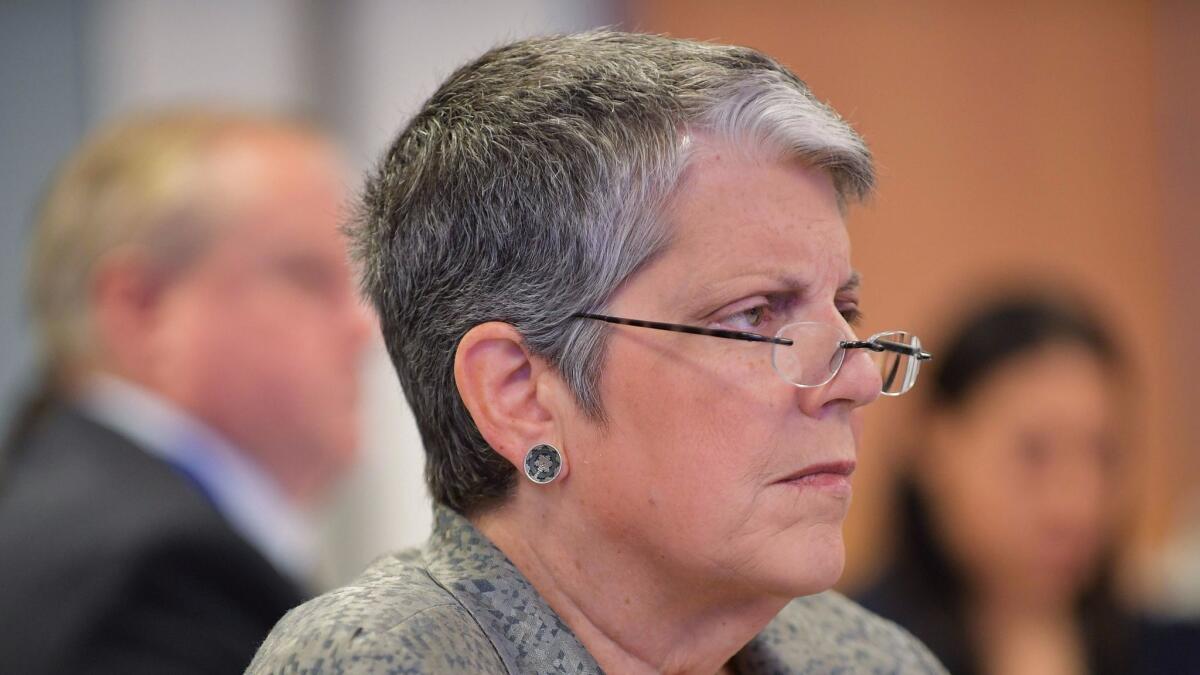 Reporting from San Francisco —
University of California regents meeting on Thursday admonished UC President Janet Napolitano for agreeing to a plan that led to interference in a state audit on the operation of her office.
Her approval of a plan in which top aides would preview campus administrators' confidential survey responses "reflected poor judgment and set in motion a course of conduct that the Board of Regents finds unacceptable," board chairman George Kieffer said in a statement after the regents met behind closed doors for nearly five hours.
But the regents quickly and unanimously agreed to support Napolitano's continued leadership, Kieffer said after the meeting.
The regents asked Napolitano to acknowledge responsibility and apologize, which she did in her own statement right after Kieffer read his. Later, she reiterated that she "exhibited poor judgment in approving an ill-advised approach" to the state auditor's survey and "deeply regret this mistake."
The regents, meeting in San Francisco, were responding to an independent investigation that found Napolitano's top aides had sought to suppress campus criticism of the central office in confidential surveys from State Auditor Elaine Howle.
Napolitano approved a plan to review the surveys about her office's operations and services before they were sent back to the auditor.
After Howle publicly alleged that Napolitano's office improperly interfered, the regents commissioned the investigation by former state Supreme Court Justice Carlos Moreno and the Hueston Hennigan law firm. The investigation found that Napolitano's chief of staff, Seth Grossman, and deputy chief of staff, Bernie Jones, had pre-screened campus responses "with the specific purpose of shaping the responses to be less critical of" the UC Office of the President.
In a conference call with campus administrators, the aides said the surveys were "not the time and place to air dirty laundry," and they also tried to hide their interference from the auditor, the investigation determined.
Though Napolitano knew about the plan to review the survey responses, investigators said there was "insufficient evidence to conclude that she was aware of [the aides'] conduct in purposefully and systematically targeting unfavorable responses."
Although regents backed Napolitano's continued leadership, behind closed doors they sharply disagreed over disciplinary measures. Regent John A. Pérez and ex-officio regent Lt. Gov. Gavin Newsom both said they believed the actions taken Thursday — the board reprimand, Napolitano's apology and statements that Grossman and Jones should have been seriously disciplined — were insufficient. The reprimands of Grossman and Jones were moot, the board majority said, since both men resigned last week.
"I was disgusted," said Pérez of the interference, which he said impeded the ability of the auditor, Legislature and public to get answers to questions about the effectiveness of the Office of the President's operations and services. He said regents should have spent more time exploring a broader range of actions to discipline those involved and deter similar problems in the future.
But he praised Napolitano's sincerity in apologizing and willingness to take responsibility. "I applaud her for taking a very important and difficult first step," he said.
Newsom said through a spokesman that he wanted to see stronger disciplinary action against Napolitano.
"He felt the admonishment was insignificant and there was a lack of accountability," said his spokesman, Rhys Williams. "There is no disincentive for this not to happen again."
The disagreement was one reason the closed-door meeting took nearly five hours. Regents first heard about the investigative process from Kieffer and other members of the board's working group on the issue. Then Moreno and Hueston Hennigan attorneys explained their findings and took questions.
After that, Napolitano left the room while regents discussed possible disciplinary actions. The regents also talked about whether to take action against UC General Counsel Charles Robinson, who gave the legal go-ahead for the survey preview plan, but they ultimately decided not to do so.
Napolitano had earlier apologized for the plan, saying her intent was to make sure the information sent to the auditor was accurate. Her office's relationship with Howle has been "toxic," she told investigators, stemming from an earlier audit last year accusing UC of hurting California students by accepting too many out-of-state applicants. Napolitano denounced that audit as "unfair and unwarranted."
But regents said Thursday they were perturbed that no one felt able to stop the plan to pre-screen the surveys, and underscored the need to make the culture of the president's office more open and collaborative. In remarks after the meeting, Napolitano said she was unaware that her office was perceived as controlling and heavy-handed but wanted to work to change those perceptions.
"This whole episode has caused a lot of self-reflection on my part," she said. "To the extent that some feel they're being micromanaged from (the president's office), I need to know that. Opening up lines of communication is something I'm committed to."
Grossman and Jones have told The Times they did nothing wrong, but they acknowledged to investigators that they made a "bad decision and an error in judgment," according to the report. Grossman has said he cleared all of his actions with university attorneys and internal auditors.
The regents had planned to vote Thursday on corrective measures, including a new policy to bar UC employees from attempting to "obstruct, interfere or in any way attempt to coordinate requests for information in regards to any state audit." But they ran out of time and ended up not doing so.
Kieffer said they will take up the issue again at their January meeting. "There are a series of reforms to come," he said, adding that the regents intended to step up oversight of the president's office.
A new law approved by the Legislature that takes effect Jan. 1 also makes interfering with auditors an offense subject to fines.
The audit that Howle released about the Office of the President in April found that it paid excessive salaries and benefits to its top executives and did not disclose to the UC Board of Regents, the Legislature and the public $175 million in budget reserve funds. The report included 33 recommendations on how to improve financial accountability, which UC officials have accepted and are putting in place.
---
UPDATES:
7:55 p.m.: This article has been updated throughout with additional details of the regents' deliberations and comments from regents.
4:48 p.m.: This article was updated with additional details from the statements.
This article was originally published at 4:30 p.m.
Sign up for Essential California for news, features and recommendations from the L.A. Times and beyond in your inbox six days a week.
You may occasionally receive promotional content from the Los Angeles Times.