In wake of critical audit, UC regents take a close look at president's budget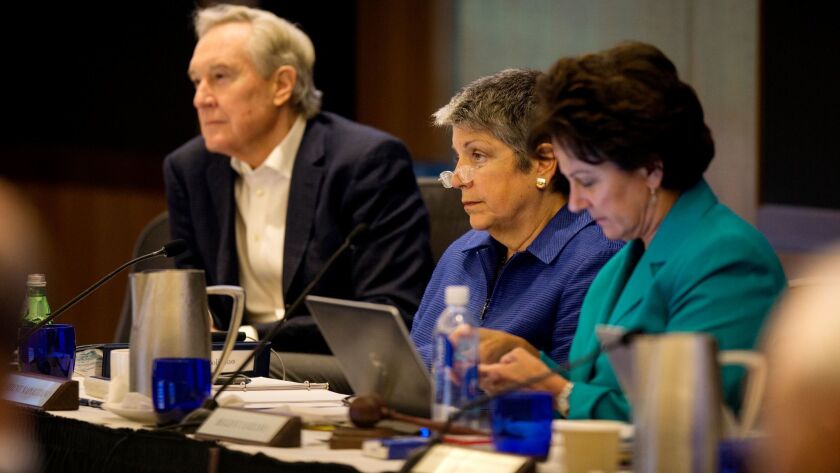 Reporting from San Francisco —
The University of California regents on Thursday stepped up their financial oversight of the president's office, approving its $800-million spending plan only after engaging in deeper discussion and asking for more detailed data than ever before.
The scrutiny was prompted by a critical state audit in April that found the president's office had used "misleading" budget practices and amassed an undisclosed surplus of $175 million.
The findings, disputed by UC officials, have led state lawmakers to exert more control over the university system — including an unprecedented decision this year to fund the president's office from a pool of money that previously had been earmarked for campuses. The regents criticized Sacramento's move as an improper power grab that violated UC's autonomy as guaranteed by California's constitution.
Board Chairman George Kieffer opened Thursday's discussion by noting that the state's action — which he called "very wrong" — would require the university system to make substantial changes in budget management to make sure smaller campuses get their fair share of funds.
"It's the kind of thing that happens when the wrong entity does the work of another entity," Kieffer said. "Most troubling … is the incursion into this board's authority to manage the university, for there is no daylight between legislators setting the [president's] budget and legislators someday setting a particular campus budget."
UC President Janet Napolitano said the system's annual budget, which totals $30 billion, was the most complex she has ever managed — including the $40-billion U.S. Homeland Security spending plan she oversaw as department secretary during the Obama administration.
But, she said, her staff had significantly improved the office's budget presentation to make it "clearer and more transparent than it has ever been."
UC staff gave the regents a detailed accounting of the president's $800-million spending plan for 2017-18, more than half of which will go to systemwide programs and the rest to central administrative services.
Adopting one of the audit's recommendations, the president's budget made clear the sources and uses of the revenue; it also compared the 2017-18 forecast with last year's actual spending.
The regents asked detailed questions about which programs were receiving funding increases, and how those decisions had been made. And they wanted to know how $78 million derived from state tobacco tax revenue would be spent.
The regents also voiced concern over the directive from Gov. Jerry Brown and the Legislature for UC to enroll 1,500 more California undergraduates in 2018-19 — without any guarantee of how much the state would chip in to cover the additional per-student cost of enrollment.
Napolitano called that directive "fairly astonishing," but said the state has asked UC to identify plans to pay for that growth by December.
In the end, the regents unanimously approved Napolitano's budget and praised the staff for its clear and detailed presentation.
"This is miles from what we've ever seen before," regent John A. Pérez said.
In other action Thursday, the regents approved a proposal to allow all campuses to invite letters of recommendation for up to 15% of applicants in cases where more information is needed to make an admissions decision.
Twitter: @teresawatanabe
---
The stories shaping California
Get up to speed with our Essential California newsletter, sent six days a week.
You may occasionally receive promotional content from the Los Angeles Times.