UC Board of Regents adds experts in sports management, media, arms control, finance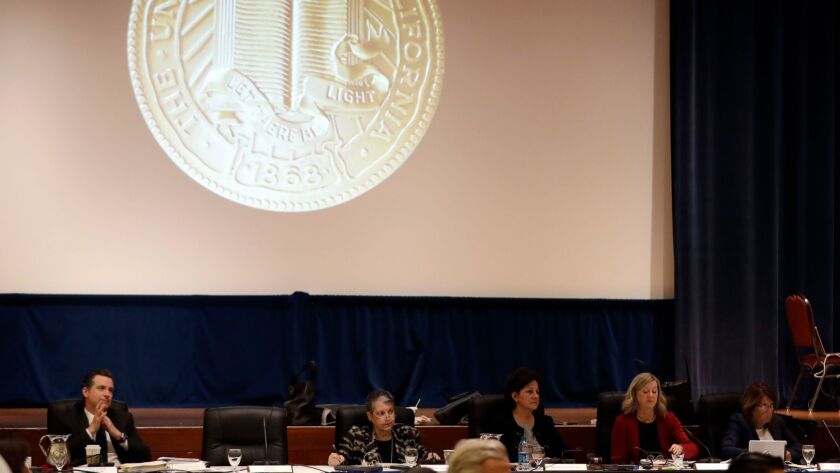 Gov. Jerry Brown's newest appointees to the University of California Board of Regents offer media pizazz, policy expertise and political skills at a time when the university system is facing major challenges.
The 10-campus system is scrambling for more dollars to offset years of state budget reductions. Enrollment demands are surging with record numbers of applicants — 210,000 last fall. And Sacramento lawmakers are moving to assert more control after two critical state audits of UC operations.
The four appointees, who bring the 26-member board back to full strength for the first time in two years, will make their first collective appearance at the regents meeting this week in San Francisco. They may serve for up to one year after their appointment pending state Senate confirmation.
RELATED | UC regents, with four new members, plan to debate budget, admissions »
Here's a rundown:
Howard Peter Guber
Millions of basketball fans saw Howard Peter Guber rush to the court when the Golden State Warriors, which he co-owns, won the NBA championship last month. Guber, 75, is also chairman and chief executive of Mandalay Entertainment Group and formerly headed Sony Pictures Entertainment, Columbia Pictures and other film and record companies. The Boston native earned his law degree from New York University.
But the first thing Guber mentioned in a recent interview was his love of education and lifelong learning, expressed in part through more than 35 years of teaching business and media classes at UCLA. He said he hopes to be an "imagineer" to help dream up new ways to use innovation and technology to expand access to education and keep UC the preeminent public research university in the nation.
He stressed, however, that he had much to learn from other regents and would approach the job wide-eyed. "I'm an advocate of looking at everything as if for the first time," he said.
Ellen Tauscher
Ellen Tauscher is known as a skilled politician who managed as a Democrat to win a seat in what had long been a Republican district, the 10th Congressional District covering the northern San Joaquin Valley. A few years ago, she launched an effort to reform gerrymandering so as to elect more moderate candidates and reduce partisan polarization. Her political skills will come in handy as UC faces escalating tensions with state lawmakers.
Tauscher, 65, also will provide experience and expertise working with some of UC's biggest enterprises: two national laboratories and five medical centers. She is a board member of the National Comprehensive Cancer Network of 29 major hospitals, including UC San Francisco. She also has served on boards of the companies that manage Lawrence Livermore and Los Alamos labs and was undersecretary of state for arms control and international security affairs under President Obama. She has been a strategic advisor at Baker, Donelson, Bearman, Caldwell and Berkowitz since 2012.
Tauscher, a New Jersey native who majored in early childhood education at Seton Hall University, said she is eager to serve where she can.
"My agenda is to get up to speed and add value as soon as I'm able," she said. "I'm a little like a utility infielder: Tell me where you want me to go."
Maria Anguiano
Maria Anguiano says her own life experiences have shaped a passion to expand access to a UC education and keep it affordable. Anguiano, 38, was raised by a single mother with a sixth-grade education who immigrated to the United States from Mexico. Her mother's emphasis on education as a path to success motivated Anguiano to excel in school, earning a full ride from Claremont McKenna College and an MBA from Stanford University.
A financial expert, Anguiano worked at Deloitte and Barclays Capital before joining the UC Office of the President as a top administrator. She moved to UC Riverside and developed a cost-analysis program as vice chancellor of planning and budget. This year, she became chief financial officer at Minerva Project Inc., a for-profit educational organization that has helped launch an undergraduate program that features digital learning in several countries. She said she wants to explore how to use technology more efficiently to expand access to UC.
"I know technology is not a silver bullet, but UC has a real infrastructure issue — it can't afford to build a lot more classrooms," she said.
Lark Park
Lark Park is known for her policy chops, with 15 years of work in Sacramento. She is Gov. Jerry Brown's senior policy advisor and previously worked as his deputy legislative affairs secretary. She also was a consultant to the state Senate's human services and health committees and worked for then-state Sen. Gloria Romero and State Assemblyman Joe Simitian.
Park, 47, is a Korean immigrant raised mostly in the San Fernando Valley who says her parents taught her the value of education and hard work. She earned an undergraduate degree at UC Berkeley and a Master of Arts degree in English and American literature from Georgetown University.
Park is the only Asian American regent, although students of Asian and Pacific Islander descent are the largest racial and ethnic group at UC. Park said she hopes to focus on access, affordability and quality for all students.
"Many groups at UC face challenges, including API students, and the regents have been very attentive to issues of diversity, underrepresentation and inclusion," she wrote in an email. "These are important conversations to have, both at UC and in our broader society, and the more we can focus on shared values and shared goals, the better."
Already a subscriber? Thank you for your support. If you are not, please consider subscribing today. Get full access to our signature journalism for just 99 cents for the first four weeks.
---
The stories shaping California
Get up to speed with our Essential California newsletter, sent six days a week.
You may occasionally receive promotional content from the Los Angeles Times.