UC regents panel backs limited use of letters of recommendation at campuses systemwide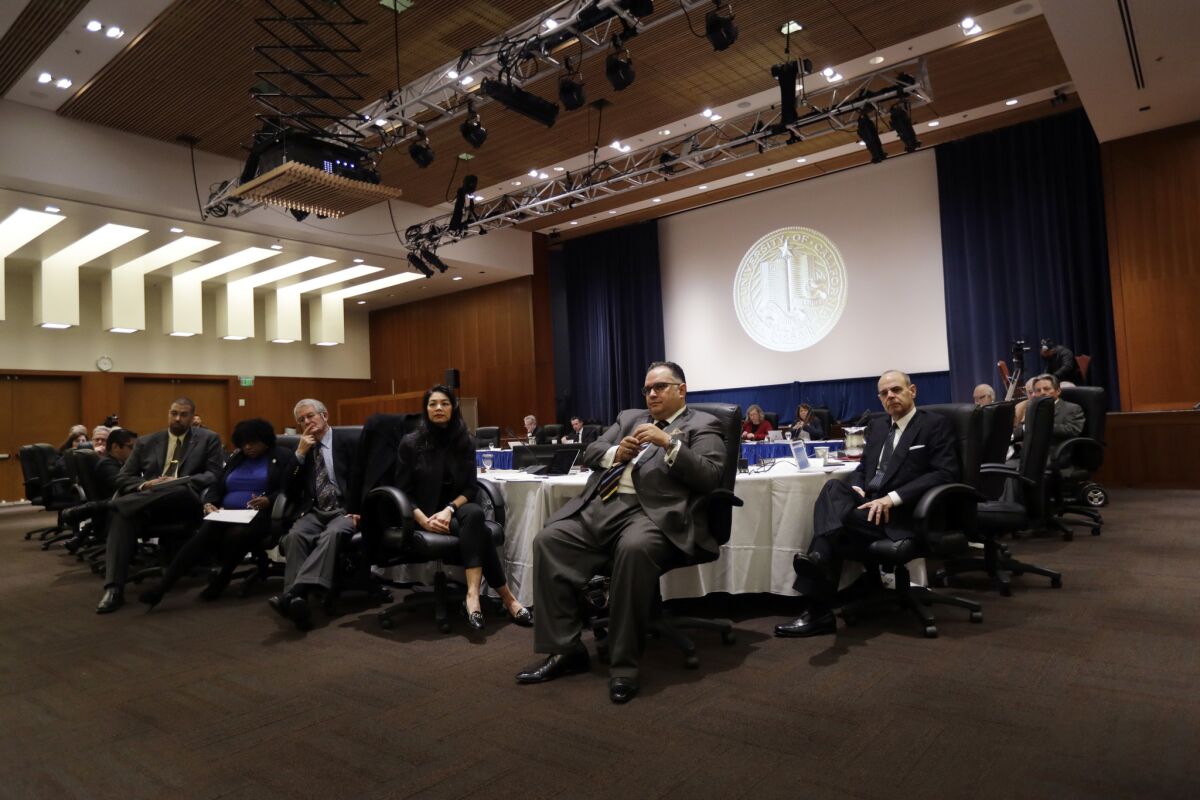 Reporting from San Francisco —
The University of California is headed toward allowing all campuses to use letters of recommendation in admissions decisions for the first time, despite concerns that the policy could hurt students who have less access to teachers and counselors who could artfully write the endorsements.
As the system's nine undergraduate campuses grapple with a record number of applicants — nearly 210,000 last fall — UC Berkeley has sought to invite letters from all prospective students.
But a systemwide proposal approved Wednesday is far more limiting, preventing campuses from inviting more than 15% of freshman applicants to submit letters, and then only when schools need additional information to make an admissions decision.
Under the proposed policy unanimously approved by a UC regents' committee, campuses also may use senior-year grades received after the applications are submitted in the fall as well as a questionnaire inviting students to elaborate on special talents, extraordinary circumstances and other considerations.
If approved by the full regents board Thursday in San Francisco, the policy will take effect when the application season for fall of 2018 begins, on Aug. 1. Letters will likely be used sparingly, since UC officials say 98% of admissions decisions are made using grades, courses, test scores, activities and essay responses on standard applications.
But the issue sparked long and lively debate among regents — and disagreement between the system's two most competitive campuses, UC Berkeley and UCLA.
UC Berkeley began a pilot program inviting letters two years ago, which prompted UC President Janet Napolitano to ask the UC Academic Senate to develop a systemwide policy.
"We have very competitive programs, and we believe better information will help in our efforts to have a diversified student body that mirrors the population of California," said Robert Powell, chairman of the UC Berkeley Academic Senate.
UCLA, which became the first university in the nation to receive more than 100,000 freshman applications last year, said it doesn't need letters.
"It's not a good idea," said Susan Cochran, chairwoman of the UCLA Academic Senate. She said she works with students trying to transfer to the Westwood campus, and asking them to seek out someone for a recommendation letter could be a burden.
Similar concerns surfaced among regents Wednesday. Regent Eloy Ortiz Oakley asked what useful information the letters offered and expressed concern that students with savvy counselors and teachers could have an unfair advantage.
Regent John A. Pérez questioned whether the new policy could have unintended consequences by throwing students who were on track to be admitted into a pool with students being asked for letters.
But Regent Sherry Lansing said letters could illuminate hardships and talents a student might otherwise be too reticent to share. Lansing, who formerly taught math and English in Watts, objected to the perception that teachers in low-performing schools would not write high-quality letters.
"Some of our best teachers are in underserved schools," she said.
But some high schools have fretted that widespread requests for letters could impose a "huge burden" on them, said Stephen Handel, UC vice-president of undergraduate admissions.
Carol Christ, Berkeley's new chancellor, said more information would be helpful to make extraordinarily difficult choices among the bulk of applications that are "virtually indistinguishable." Berkeley received more than 103,000 freshman and transfer-student applications for this fall.
Under Berkeley's pilot program, letters were requested from about 40% of applicants in 2015-16 and 30% in 2016-17, Powell said.
Two studies of the program found that letters did not hurt underserved students and likely helped them. The studies also found that those students were more likely not to submit a letter, but that the positive impact outweighed the negative.
Campus officials shared excerpts of letters they said made a difference, highlighting students' empathy, persistence and love of learning.
James Chalfant, the Academic Senate chair, said the proposed policy represented a compromise and would be monitored and tweaked as needed.
The stories shaping California
Get up to speed with our Essential California newsletter, sent six days a week.
You may occasionally receive promotional content from the Los Angeles Times.