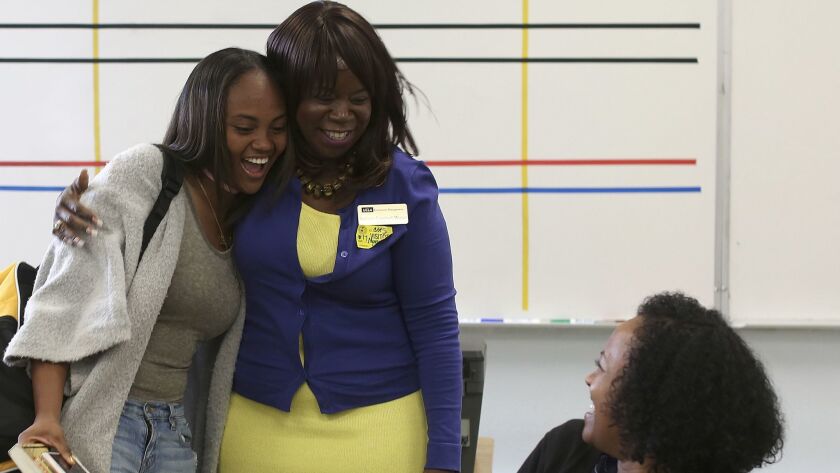 Crenshaw High School senior Jarrin Brown was pretty sure he wanted to leave Los Angeles to attend the University of Wisconsin. His classmate, basketball standout Ramone Wagner, was considering playing ball at a community college. Dorsey High School's Martin Recendez was leaning toward UC Merced.
Then they met Youlonda Copeland-Morgan, UCLA's vice provost of enrollment management.
The top evangelist for the Westwood campus delivered a powerful sales pitch Thursday to 11 students at Crenshaw and Dorsey as to why they should accept UCLA's offer of admission for this fall. The university sent out letters of acceptance to about 16,000 high school seniors last month and is now working to seal the deal with enough students to fill 4,350 freshman seats.
Last year, 37% of those offered admission accepted, a yield rate topped only by UC Berkeley among the University of California's nine undergraduate campuses.
Copeland-Morgan told the students they were elite scholars who were selected from a record 102,000 applications from all 50 states and 80 countries. She told them they deserved to attend UCLA, what she described as one of the world's top 15 universities. She also tried to ease their worries that they might not fit in and feel comfortable. The campus is richly diverse, she told them and their parents, with more than a third of its students low-income, underrepresented minorities and the first in their families to attend college.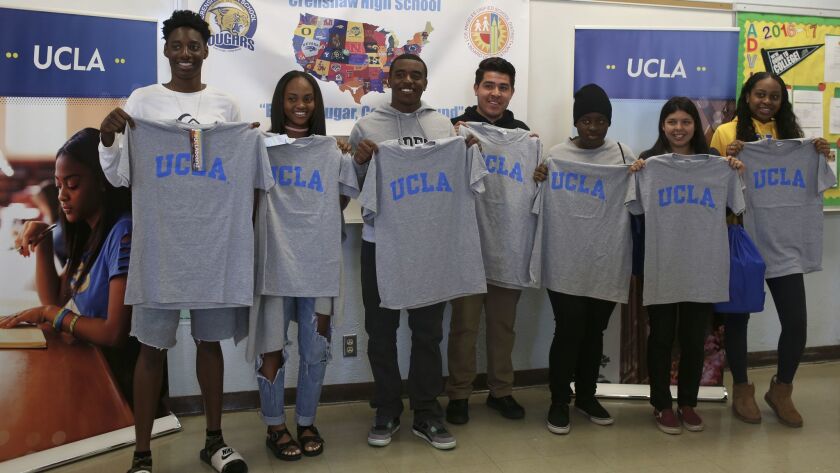 She said UCLA's top-notch faculty and staff included people who would help them find classmates to connect with — and keep them on the right path. "If we see any of them acting crazy, we're going to talk to them like our own children," Copeland-Morgan said, prompting one dad in the audience to give her a smile and thumbs up.
Other staff members talked up UCLA's food, three years of guaranteed student housing, 1,000-plus student organizations and elite athletics, with its teams boasting 113 NCAA championships.
"You've worked hard to go to a world-class institution," Copeland-Morgan told the Dorsey students. "My goal is to get all of you to become Bruins."
By the end of the pitch, Wagner was leaning toward academics at UCLA over basketball at a community college. Brown seemed less certain about Wisconsin. And Recendez announced he would become a Bruin.
The son of Mexican immigrants with elementary school educations, Recendez wants to major in atmospheric science and become a hurricane specialist. But he said he never imagined he was good enough for UCLA, despite his 4.3 GPA, eight Advanced Placement courses and work as an advocate for educational equity and as an LAPD cadet. But the UCLA presentation changed his mind.
Students offered admission to UCLA speak about their decisions to attend the university. UCLA has pushed to improve personal outreach to its admitted students, which has boosted its yield rate, especially among minority, low-income and first-generat
"I was nervous about UCLA because it's so prestigious and because of my status as a minority," he said. "But the staff seemed so friendly and caring. I can see myself walking onto the campus as a Bruin."
It's unusual for top university administrators to go on these kinds of high school visits. But Copeland-Morgan said she jumps at the chance to make a personal pitch to students who can help UCLA fulfill its mission to reflect the diversity of Californians.
She and her staff also have stepped up, and enlisted faculty members to help with, what she called "culturally relevant" programs to give admitted students and their families a chance to get a feel for the campus. Recently, they sponsored an event, "Your Future is Bruin," for Latino students, offering Spanish for monolingual parents and play spaces for siblings.
"UCLA has an obligation as an anchor institution in the city to give back in different ways to the community," Copeland-Morgan said. "This is my passion. This is my ministry."
The work seems to be paying off. Since Copeland-Morgan joined UCLA in 2011 to revitalize campus outreach, enrollment and financial aid strategies, more students offered admission are enrolling.
The progress is particularly striking among underrepresented minorities. The yield rate for African American freshmen rose to 50% last fall from 44% in 2014, by far the highest among UC campuses.
At UC Berkeley, by comparison, the rate fell to 37% last year from 47% in 2014. UC Santa Barbara's rate was 23%; UC Santa Cruz, 17%.
UCLA also increased its Latino yield rate to 52% last year from 49% in 2014 and its first-generation rate to 54% from 49% over that same period.
Copeland-Morgan, who previously played a similar role at Syracuse University and Harvey Mudd and Occidental colleges, said much of the success comes from forging personal connections.
At Crenshaw, she greeted students with hugs and high-fives and told them she was a Cougars alumna who just attended her 40th reunion. She told them to think of her not as an intimidating university official but as an approachable aunt.
"Reach out to us," she said. "Imagine we get up in the morning in pajamas."
---