Alleged conduct by former USC dean 'horrible and despicable,' med school head tells angry students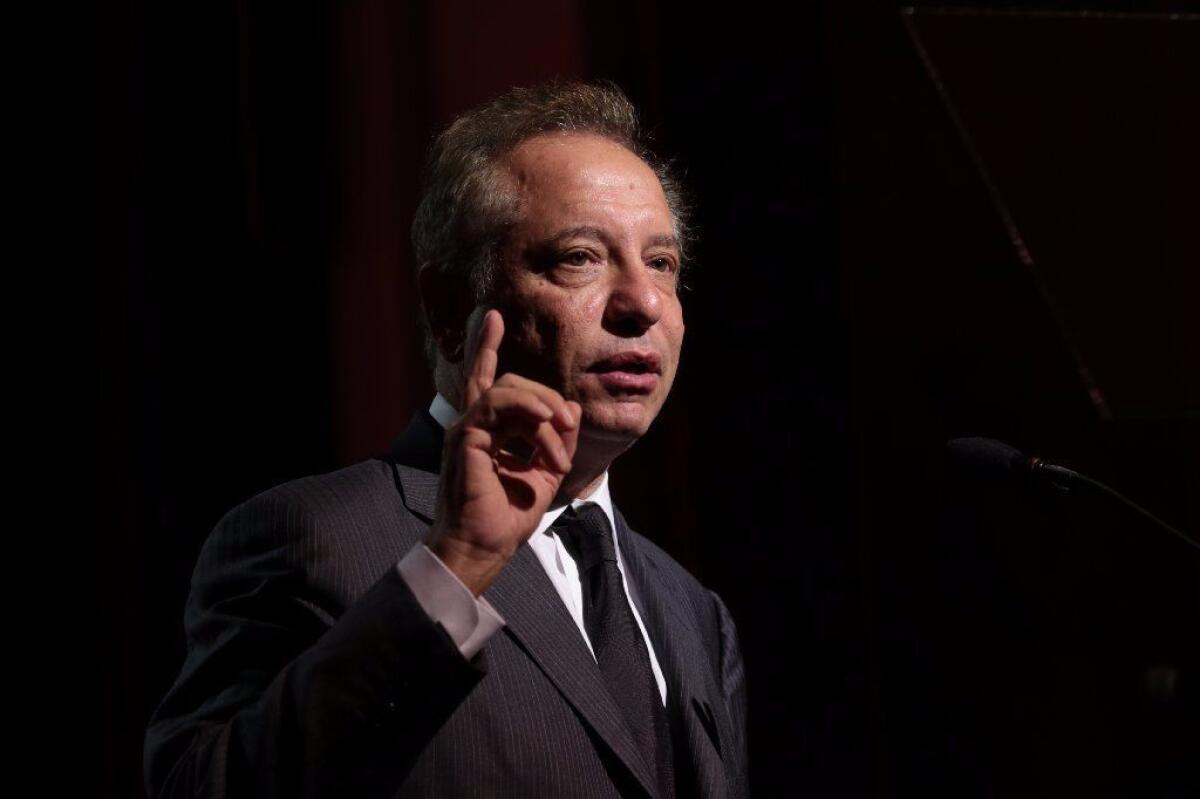 Addressing scores of bewildered and at times angry students, the dean of USC's medical school said Wednesday that the university had launched multiple internal investigations into the conduct of his predecessor after The Times reported that he associated with criminals and drug abusers who told of using methamphetamine and other drugs with him.
"These allegations, if they are true, they are horrible and despicable," Dr. Rohit Varma told the gathering of scores of medical scholars and graduate students at the Keck School of Medicine in Boyle Heights, who were summoned to a town-hall-type meeting to discuss The Times' article about Dr. Carmen A. Puliafito. The newspaper obtained a recording of the meeting.
"He's a man who had a brilliant career, all gone down the drain," Varma said. "I'm standing in this place where my predecessor now has this taint. ... It is sad."
He also said Puliafito, who stepped down as dean last year, had sought treatment in the past for alcoholism, but that the allegations in the article that he used drugs "came as a complete shock to us."
On Monday, when The Times' lengthy investigation was published, USC announced that Puliafito, 66, had been placed on leave from his positions as a faculty member and Keck eye surgeon, and was no longer treating patients. The school has been struggling to contend with the fallout from the accounts that the renowned ophthalmologist, who headed the medical school for nearly a decade, led a second life involving meth and other drugs he used with a circle of much younger people.
At the meeting on the Keck campus, students — some wearing hospital scrubs — said university administrators should have known more about Puliafito's troubling behavior, including reports that he appeared drunk or otherwise intoxicated at campus events. One woman said that it "seems shocking that no one has been able to figure anything out in the last 10 years. ... People are now going to be questioning our professionalism."
Another student said, "It's pretty unfathomable to believe there was … no one in the loop and that no one had any idea and that everyone is completely blindsided. … We want to be assured that there will be people held accountable that this was allowed to take place."
Puliafito resigned his $1.1-million-a-year dean's post in March 2016, in the middle of the spring term, saying he wanted to explore outside opportunities.
He did not mention that three weeks earlier, a 21-year-old woman had overdosed in his presence in a Pasadena hotel room. The woman was rushed to a hospital, where she recovered. Police found methamphetamine in the hotel room, according to a police report, but made no arrests.
Want more local investigative journalism like this? Support L.A. Times reporters. If you're not already subscriber, join today. »
A tip about the episode prompted The Times to investigate. The newspaper interviewed six people who said they partied and used drugs with Puliafito in Pasadena, Huntington Beach and Las Vegas, as well as at USC. They ranged in age from the late teens to late 30s. None were USC students.
Members of the group captured their exploits in photos and videos shot in 2015 and 2016.
In one video, a tuxedo-clad Puliafito displays an orange pill on his tongue and says into the camera, "Thought I'd take an ecstasy before the ball." Then he swallows the pill.
In another, Puliafito uses a butane torch to heat a large glass pipe outfitted for methamphetamine use. He inhales and then unleashes a thick plume of white smoke. Seated next to him on a sofa, a young woman appears to smoke heroin from a piece of heated foil.
Near the end of his remarks Wednesday, Varma said he had recently spoken with Puliafito, and he asked those present in the auditorium not to share with others the "personal interaction" he had with the former dean.
An overdose, a young companion, drug-fueled parties: The secret life of USC med school dean »
"He called me yesterday and he apologized for what had happened and for putting me and the school and SC through what has happened, and he informed me that he's going to go and get help."
USC has declined to say when it first learned about Puliafito's alleged conduct or how it responded. Varma said at Wednesday's meeting that USC Provost Michael Quick told him that Puliafito had resigned because "he cannot continue his activities here anymore as dean."
Varma said Quick provided no other information about the resignation. "That is what was communicated to me," he said. "There were no other additional aspects."
A witness to the incidents phoned the office of USC President C.L. Max Nikias and told two employees about Puliafito's role. The witness spoke to The Times on the condition of anonymity.
Phone records confirm that the witness made a six-minute call to Nikias' office on March 14, 2016, 10 days after the overdose.
A third student at Wednesday's meeting said that if Nikias did receive the call, his handling of the affair needed further scrutiny.
"If this is true, if it turns out that it is a cultural problem with the university, with President Nikias, will you fight for President Nikias to be let go, so we can bring in another president who wouldn't let this happen?" the student asked.
Varma told the students that university officials had not corroborated that the call had been placed. "There was no evidence particularly of that phone call," he said. "There is a full-on series of investigations."
Nikias did not respond to an interview request.
The Medical Board of California said Wednesday that it had opened an investigation into Puliafito.
In a statement Wednesday, USC said "we have multiple investigations ongoing, and much of this situation is complicated by confidentiality. The university also said that Varma held the meeting with "good intentions" but did not intend it as a public statement.
The university has been trying to address widespread concern on campus and off about The Times' article and how USC handled the former dean.
In a letter to USC faculty on Wednesday, Quick said that "all along we have taken this matter very seriously, that we made what we felt were the best decisions we could make, as swiftly as could be done in a prudent and thoughtful manner, and given the information we had at any given time."
Quick provided no details and said that the university has to follow "established processes in a deliberative and careful manner."
"I know it can be frustrating, especially given the extent of the allegations in the present case, to not be given all the information you may want to have in order to know that the university is living up to its core values," he wrote.
Read The Times investigation: The secret life of a USC medical school dean »
Want more local investigative journalism like this? Support L.A. Times reporters. If you're not already subscriber, join today. »
sarah.parvini@latimes.com | @sarahparvini
paul.pringle@latimes.com | @pringleLATimes
matt.hamilton@latimes.com | @MattHjourno
adam.elmahrek@latimes.com | @adamelmahrek
ALSO
They discover, they gentrify, they ruin: How 'progress' is wrecking Los Angeles neighborhoods
Aliso Canyon natural gas facility that was site of massive leak can reopen, state says
Vandal targets coffee shop at center of anti-gentrification protests in Boyle Heights
---
UPDATES:
5:30 p.m.: Updated with Michael Quick comments.
Sign up for Essential California for news, features and recommendations from the L.A. Times and beyond in your inbox six days a week.
You may occasionally receive promotional content from the Los Angeles Times.