USC students explore civil rights, national security in university's first history class on WWII internment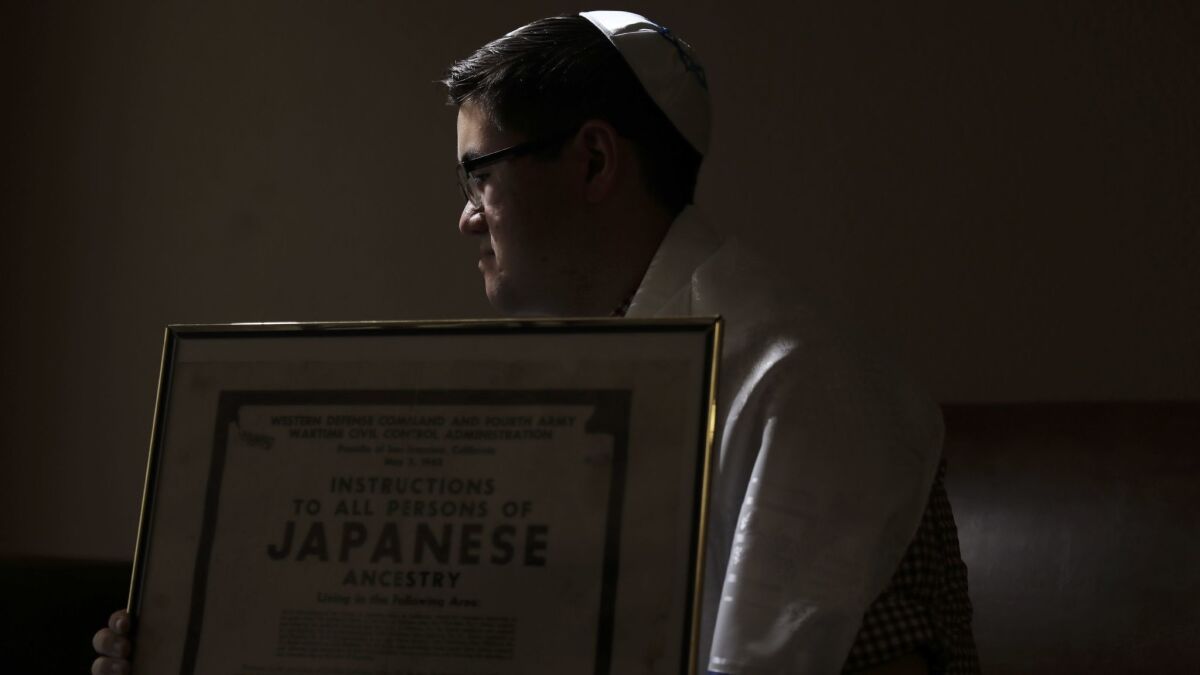 USC faculty member Susan Kamei was struck by discomforting moments of deja vu during the 2016 presidential campaign.
As some calls rose for restrictions on Muslims and Arab Americans, purportedly to protect national security, Kamei thought of her parents. Exactly 76 years ago Monday, President Franklin D. Roosevelt signed Executive Order 9066, which paved the way for the incarceration of Kamei's parents and about 120,000 others of Japanese descent, most of them American citizens, following Japan's 1941 attack on Pearl Harbor.
Kamei had helped right that wrong as a legal advocate for the successful 1988 effort to win an apology and monetary reparations from the U.S. government to those incarcerated. But after President Trump's election, she feared that any lessons learned were being forgotten.
"Between the election and President Trump's inauguration, there were things in the press about the Japanese American internment being a precedent for what various people were proposing...like a Muslim registry," Kamei said. "We thought: 'Wow, we thought we won on this 30 years ago. And here we are again talking about this and fighting the same misconceptions and prejudices.' "
Now Kamei is leading a new generation of students to plumb that past in USC's first-ever history course on the Japanese American internment, the constitutional issues raised and the relevance today amid the war on terror.
"I want students today to have an opportunity to appreciate the importance of the issues around the constitutional tension between national security and civil liberties," said Kamei, a lecturer in history and managing director of the USC Spatial Sciences Institute.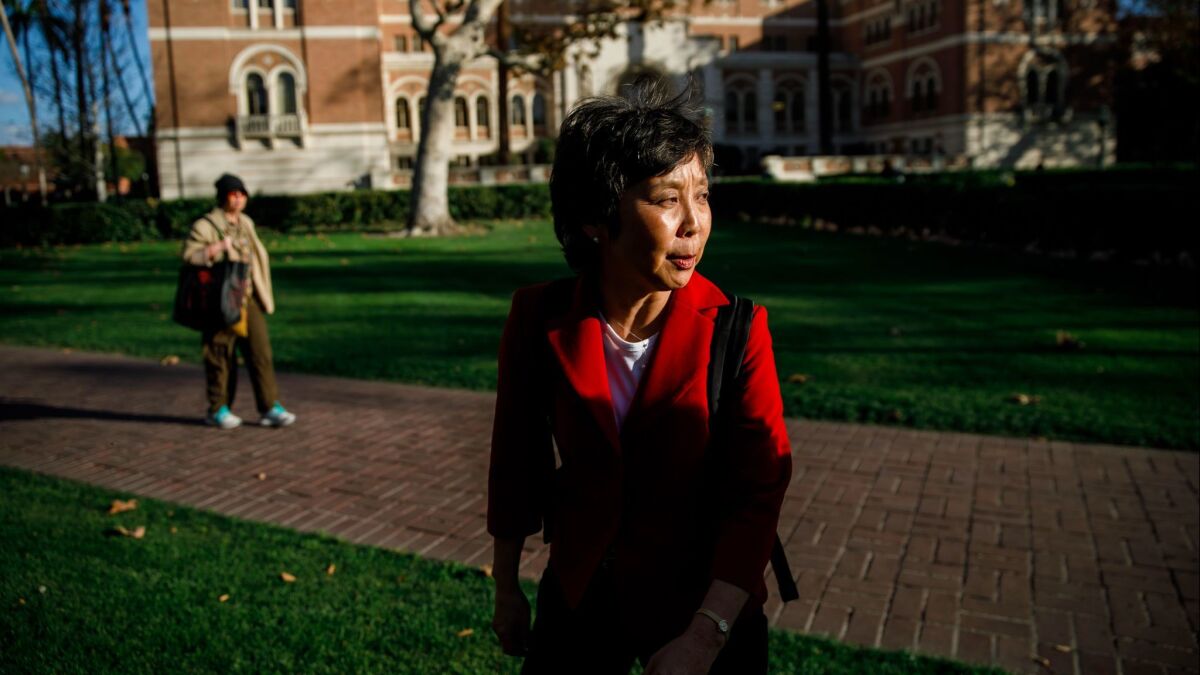 In 2004, UCLA launched the nation's first endowed academic chair focusing on the internment; but most universities that cover the subject do so in broader classes on Asian American studies, U.S. history or constitutional law.
Kamei said that USC history professor Lon Kurashige approached her about the course as a timely offering for a new major in law, history and culture. She was particularly well-suited to teach it, he told her, because she had served as national deputy legal counsel for the Japanese American Citizens League in the successful fight for redress.
Philip J. Ethington, chairman of the USC history department, said it was not surprising that a separate history course had never been offered about the internment because it was a specific set of events in the "gigantic" context of World War II. But times have changed, he said.
"The whole story of the internment and the disavowal of it by the U.S. government officially through the reparations is a very important case study in recognizing and undoing injustices," he said. "It's not just a thing that happened. It's an example of something that still could happen...as America reckons with its troubling past."
The multidisciplinary course, War, Race and the Constitution, is an intimate seminar of about a dozen students — some of whom had never before learned about those wartime events.
Henry Fusaro, a USC sophomore, grew up in Arizona and learned about the internment in a law class only last year. He became fascinated by the overarching issues of civil liberties and national security it raised.
Matthew Weisbly's interest in World War II is more personal. His Jewish relatives suffered the horrors of the Holocaust and his Japanese American family members were interned in one of the government's 10 prison camps in Gila River, Ariz.
Laura Dominguez is a doctoral student researching Western American and Chicano history. For her, the Japanese American internment offers a chance to study memories of oppression among both ethnic groups.
"It couldn't be more timely now to dedicate a full semester to this, given where we are in the U.S. today with questions of exclusion, citizenship and who belongs and who doesn't," Dominguez said.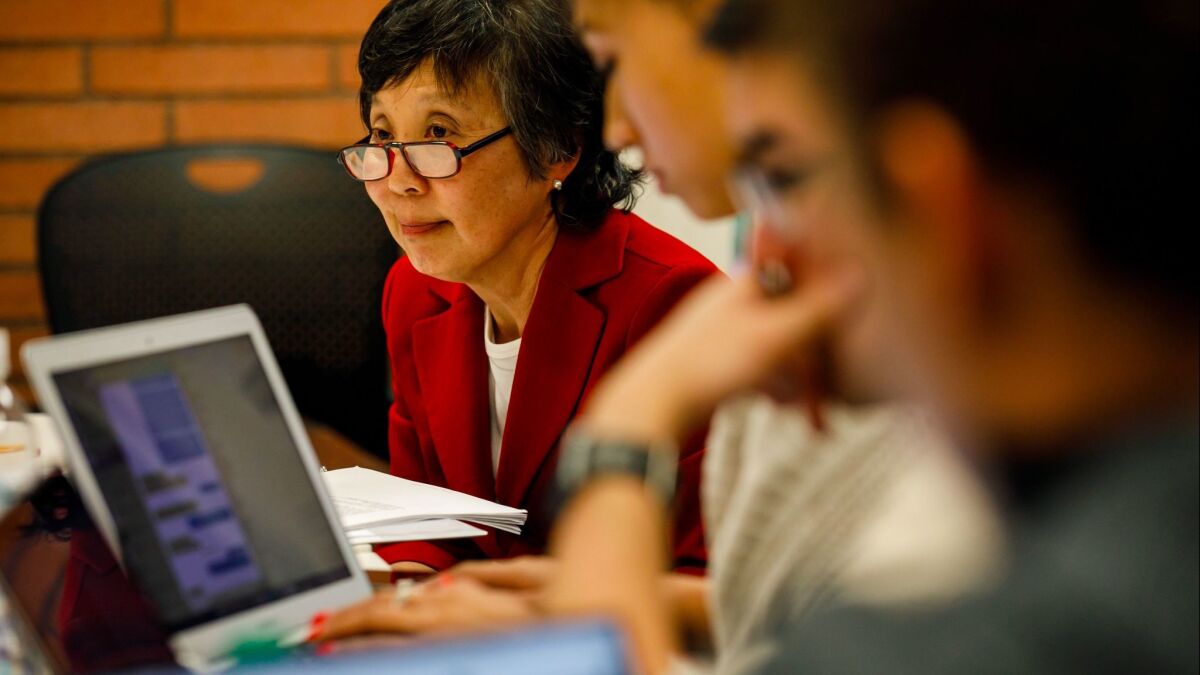 The students are examining the cases of three Japanese American men who violated the wartime curfew and evacuation orders in order to challenge their constitutionality. The U.S. Supreme Court, in a divided vote, upheld the orders as justified by "military necessity." In the 1980s, the men's convictions were vacated after Peter Irons, then a UC San Diego political science professor, discovered that government attorneys suppressed evidence refuting allegations of Japanese American disloyalty.
In one class session, students watched a documentary about one of the plaintiffs, Minoru Yasui. Then they met his daughter Holly, who made the film, and Jay Hirabayashi, the son of another plaintiff, Gordon Hirabayashi, via video hookup.
How have your family experiences influenced your views on current immigration cases, one student asked, referring to Trump administration policies.
"I live in Canada...and we look south to the United States in horror," Hirabayashi replied. "The difference between Canada's acceptance of refugees and immigrants and people trying to get into the U.S….is really disturbing to us."
Students also have explored the history of Japanese immigrants to the United States, the racism against them and the Pearl Harbor bombing. They visited reconstructed camp barracks at the Japanese American National Museum in Little Tokyo and learned about the hardships of camp life, including a lack of antibiotics that led to some deaths and depression that sparked some suicides.
One of the liveliest sessions, Kamei said, was a look at the visual archives of the era: photographs of camp life by Ansel Adams, Dorothea Lange and Toyo Miyatake; art by those interned, newspaper photos and their inflammatory captions.
The course also covers the U.S. military experiences of second-generation Japanese American soldiers, draft resisters, the community's postwar resettlement and the redress campaign. Students will study legal cases involving Muslims who are disproportionately affected by Trump's travel ban and "enemy combatants" detained without specific charges under President George W. Bush.
Students say the course, so far, has been sobering.
"Knowing that there was no evidence as to whether there was sabotage or espionage and they still went through with [the internment], that did shock me," Fusaro said. "The more we dive into the nuances, the more I see how ridiculous it was."
Emily Summers, a junior, said she never learned about the internment at Whittier Christian High School in La Habra. On her own, she read about similar wartime experiences of Canadian citizens of Japanese descent in the book "Obasan."
"I was like, 'Why have I never learned about this in my history classes?' " Summers said. "It's blatant racism against a certain group of people in America and it should be discussed. In the political climate that we're in today, it's important to look back and see how we can prevent this kind of thing in the future."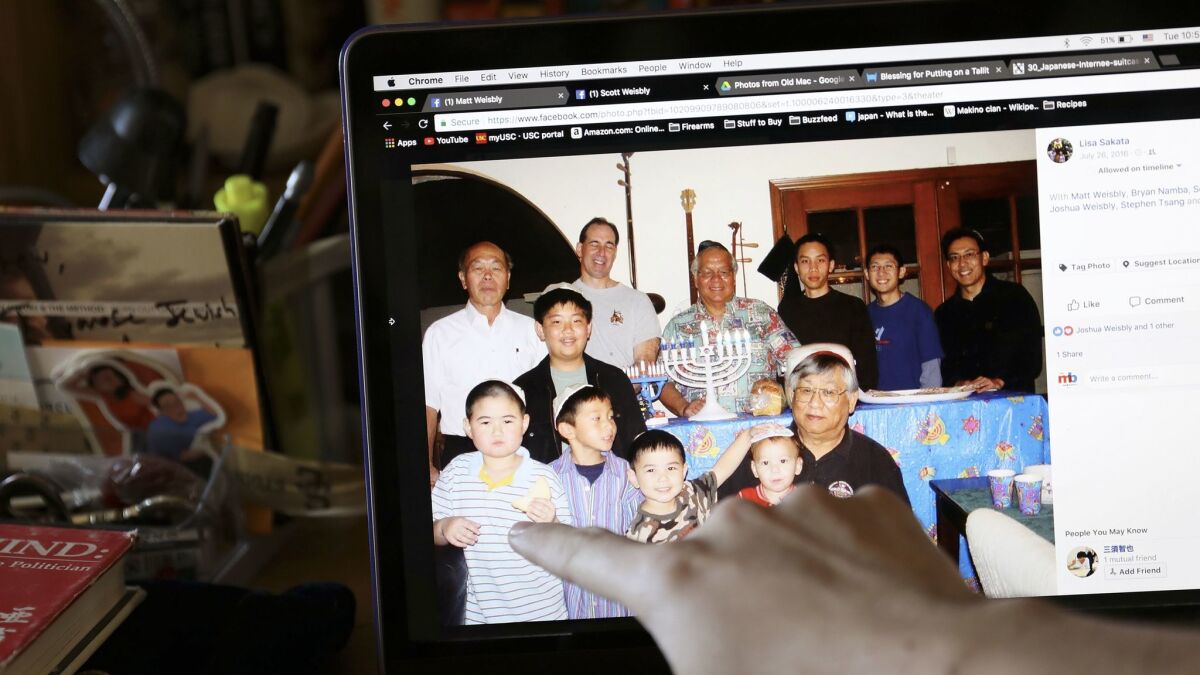 Weisbly, a junior who grew up in Oregon and Arizona, learned about the Holocaust at an early age from relatives, who shared stories of family members sent to the Auschwitz concentration camp. But no one told him that his Japanese American grandfather had been incarcerated during the war until he saw a feature film about the internment when he was 12 and began to ask questions.
He dove into research about it — and jumped at enrolling in the USC class.
"Ever since 9/11, people have been singling out people of the Islamic faith," Weisbly said. "Something like that happened to both sides of my family in different ways, and both were horrible. I don't want to see something like that ever happen again."
Twitter: @TeresaWatanabe
---
The stories shaping California
Get up to speed with our Essential California newsletter, sent six days a week.
You may occasionally receive promotional content from the Los Angeles Times.