How do I vote? A resource guide for Tuesday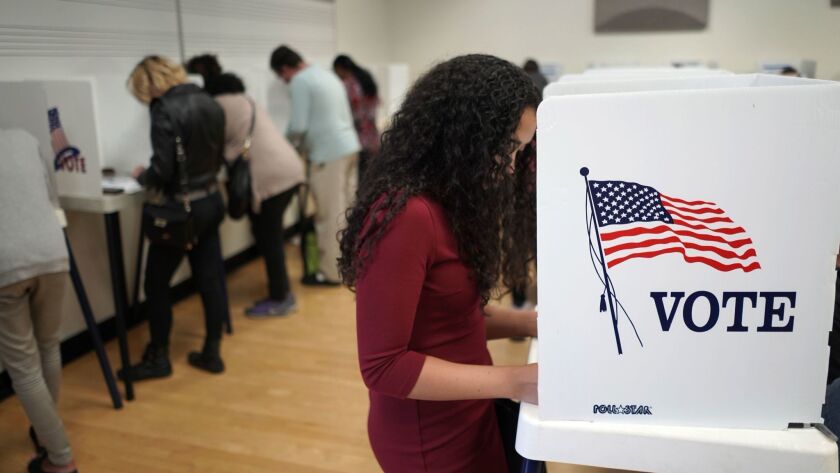 Questions about voting on Tuesday? Here are some answers.
How to find your polling place: Visit the California Secretary of State's website, www.sos.ca.gov/elections/polling-place, and enter your address. You can also find your polling place by calling the state's Voter Hotline at (800) 345-8683.
What time polls open: Polling places will be open from 7 a.m. to 8 p.m.
If you are in line at 8 p.m., do not get out. Under California law, any voter — including one dropping off a vote-by-mail ballot — who is in line at 8 p.m. is allowed to cast a ballot. If there is a line when the polls close, a poll worker should stand at the back to let people who arrive after 8 p.m. know that they are too late.
Vote-by-mail ballot options: Vote-by-mail ballots must be postmarked on or before election day and received by your county elections office no later than three days after election day. If you are not sure your ballot will arrive in time if mailed, you can take it to any polling place in your county between 7 a.m. and 8 p.m.
If you have problems voting: You can report any possible illegal or fraudulent election activity to the Secretary of State by calling (800) 345-8683, or by emailing elections@sos.ca.gov.
If you aren't registered to vote: You can still vote on Tuesday through what's known as conditional voter registration. Instead of a polling place, these voters will cast their ballots at their county elections office or a designated satellite location. To find out where you can vote conditionally, visit caearlyvoting.sos.ca.gov.
— Los Angeles Times
---
The perils of parenting through a pandemic
What's going on with school? What do kids need? Get 8 to 3, a newsletter dedicated to the questions that keep California families up at night.
You may occasionally receive promotional content from the Los Angeles Times.