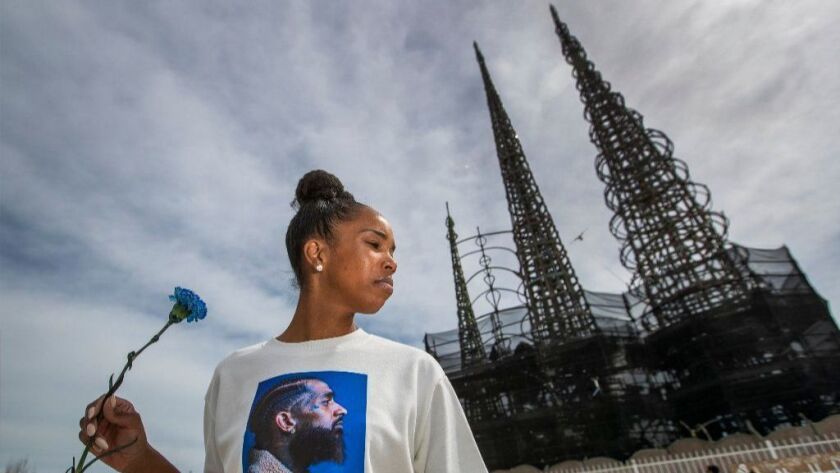 A small altar bloomed in the shadow of the Watts Towers, beneath a large butcher-paper sign painted with the words "From Watts with love: RIP Ermias Nipsey Hussle Asghedom."
Kneeling on the pavement, a little girl with a fluorescent green bow in her hair delicately burned a smudge stick around the framed photos of Hussle, the flowers and the candles.
"Sage is normally used for cleansing of spirit," Elizabeth Paredes, 30, said as her daughter tended to the altar, which also included a small green ceramic skull, a 40-ounce bottle of Miller High Life and assorted knickknacks.
Paredes put the altar together Sunday with her friends Sylvia Urdiano, 30, and Venecia Yanez, 31. Urdiano and Paredes had been friends since their days at Watts' Markham Middle School, which locals say Hussle also attended as a young student.
Urdiano, a graduate student and community organizer, said her parents still lived four blocks away from the towers in a home they had purchased 30 years ago. Unlike many others who gathered across Los Angeles to memorialize Nipsey Hussle, she did not identify herself as a superfan.
"Did I listen to his music? Yes. Do I know the names of his songs? Probably not," she said. The music wasn't what motivated her to create a small altar for the slain rapper; it was Hussle's role in the community that moved her.
"I looked to him from a distance from a community organizer stance," she said. Hussle's work gave her hope and encouraged her to keep pushing forward to make change in Watts. "This is where I'm from. And I'm never going to run away from this place," she said. "I'm always coming back."
In the minutes before Nipsey Hussle's funeral procession made its way past the Watts Towers, Reggie Stoneham, 32, took to the open street to dance while the crowd cheered him on. "I just felt the music," Stoneham, who has the words "Watts Life" tattooed across his stomach, explained later.
The flags outside the Watts Towers Arts Center were flying at half-staff, but there was a block party atmosphere in the park and on the street, where everyone seemed to know one another. More than a few were dancing to the music booming out of Monica Collier's speakers. Collier, a 52-year-old retiree who was raised in Watts but has since moved to Orange County, had been at the edge of the park playing music from her speakers through a flash drive since just before noon.
Hussle wasn't from Watts, but he had ties to the community where more than 100 people gathered at the southern tip of the procession route to pay their respects.
"In his trajectory to success, this was one of his destinations," Daude Sherrills, a member of the Watts Neighborhood Council, explained. An image of Hussle in front of the Watts Towers was framed at a small shrine outside the towers and adorned several homemade shirts.
"Nipsey represents the same thing that these Watts Towers represent: liberation, care and love," Sherrills continued, waving his arm toward the iconic spindles looming directly above him.
Citing recent violence in the neighborhood, community intervention workers from Soledad Enrichment Action were also been in the park since early in the day, passing out pizza and keeping the peace.
"You see some law enforcement, but you don't see too many because we told them we wanted to handle it ourselves," the nonprofit group's Leonard Clark said as a passing woman asked him to take a picture of her and her family in front of a small shrine erected in Hussle's memory.
"This is heartfelt. This is touching everybody. It's bigger than gang violence," said Ron Preyer, a 48-year-old who lives just down the street from the towers. "Some people are out here just celebrating life. You have to celebrate while it's alive."
Standing at the edge of the park in a denim vest with little baby curls delicately gelled to each side of her temple, Mary Anne Duran, 32, tried to explain why three generations of her family had come from Compton to see Hussle's funeral procession.
"He was a positive energy," she said. "He was trying to provide for the community," she continued as someone called her name from a passing car.
"For the community" was like a mantra on the corner of East 107th Street and Santa Ana Boulevard, held reverently and repeated again and again in reference to the slain rapper. Everyone had their own phrasing, but the sentiment remained the same: Hussle cared about where he was from, and he cared about us.
Girls holding blue flowers, men drinking pineapple Fanta out of foam cups and spitting sunflower seeds, and gang intervention workers all spoke about what community meant to Hussle, and what he meant to them.
"He done a lot of things for his community," Passion Mason, Duran's 13-year-old daughter, said. "I'm here to pay my respects."
---