Must Reads: Ex-inmate Susan Burton goes back to prison to lead out women she left behind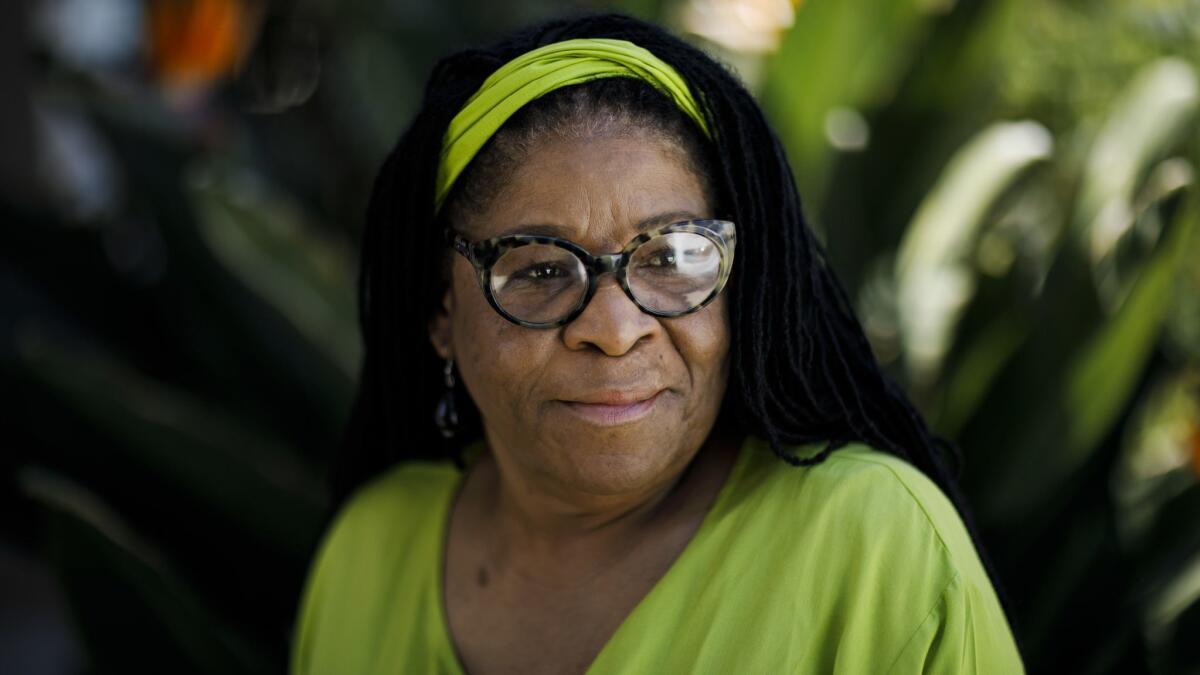 Susan Burton took the bus home from prison six times, with "a buck-fifty left in my pocket," she said, no ID and her worldly possessions in a box.
In the two decades since her last Greyhound lap, Burton and her Watts-based group, A New Way of Life Reentry Project, have thrown a lifeline to around 1,000 other women to interrupt the incarceration cycle that held her for 20 years — the project operates homes to help women leaving prison get back on their feet. Her memoir, released last year, pushed her to the forefront of the criminal justice reform movement.
But last month she jumped at the chance to go back to the California Institution for Women in Chino, where she spent four of her six prison terms.
"There is no place I'd rather be than here with you," she said before signing copies of her book for more than 100 inmates. "Your life matters."
Burton's memoir, "Becoming Ms. Burton: From Prison to Recovery to Leading the Fight for Incarcerated Women," written with author Cari Lynn, tells a story of unspeakable abuse and violence. She says it's not an uncommon story among incarcerated women.
Growing up in Boyle Heights projects and South Los Angeles, Burton was molested at age 4 by the boyfriend of an aunt who called her "dirty little girl" and swore her to secrecy, the book says. She was sexually abused again by a man she met going door to door for the Woodcraft Rangers program for underserved children. He gave her and her family money.
Gang-raped at age 14, she gave birth to her daughter. The death of her 5-year-old son, Marque, run over by an off-duty LAPD officer, plunged her into deep depression and substance abuse that led her to prison, she said.
Most of her charges were for drugs, but she never received substance abuse treatment. "The Police Department never even apologized," she said of her son's death.
Burton recovered at a treatment center in predominantly white Santa Monica, where she said she found counseling and resources unheard of in the black community. "People are treated differently in Santa Monica than they were in South L.A.," she said during her prison talk, drawing "um-hums" from the largely black and Latino audience.
A New Way of Life's first house has grown to five residences, with a staff of 25, including attorneys, a social worker, public policy advisors and organizers working on political issues as well as direct services. Burton has become a major voice in the movement against long prison sentences and for full restoration of ex-felons' civil rights, including the right to vote.
Her book tour took her to prisons and cities across the country, and she made the late-night television and radio circuit. Admirers have called her a modern-day Harriet Tubman, and she doesn't shy away from the comparison.
"I try to be humble, but I want you to know I know I am powerful," she told the Chino inmates. "I feel like I'm building an underground railroad."
In seeking reform, she is bucking the Trump administration, which has called for maximizing drug sentences and eliminating federal prison halfway houses.
But California voters are leading the way nationally in easing drug penalties. And Los Angeles County has embraced prisoner reentry programs, with an eye to bringing down the numbers of homeless and mentally ill people — about 5,000 — crowding the jails.
Peter Espinoza, director of the Los Angeles County Office of Diversion and Reentry, said he hopes to collaborate with Burton's group.
"What is really compelling about Susan is how she translated her story into her life's work,' said Espinoza, a former L.A. Superior Court judge.
But Burton said casual cruelties in the prison system and what she called "a wall of nos" still cloud women inmates' futures. Ex-felons can be discriminated against legally for jobs and housing.
Burton visited the Chino prison through Just Detention International, a nonprofit for victims of sexual abuse in prison, because her gate pass had been revoked. Lt. Rosie Lopez, the prison's public information officer, said it was against department policy for ex-felons to have volunteer passes.
Female inmates still struggle to get adequate sanitary hygiene products, Burton said. Lopez said sanitary products are available in the prison "at all hours of the day," but inmates murmured in recognition as Burton described her sanitary hygiene products disappearing when guards tossed her locker.
And women still arrive at A New Way of Life without identification, including Patrice Wallace, who was let out of prison after serving 20 years of a life sentence for a three-strike case. Her first two convictions were for robbery and the third for possession of less than a coffee sweetener packet's worth of cocaine.
"I had to ask a friend in New Orleans to bring her mother to the vital records bureau" to track down Wallace's identity records, Burton said.
A New Way of Life dispenses with the rules and restrictions that make some halfway houses feel like prison, Burton said. There are few preconditions, you can bring your children — A New Way of Life attorney will help you regain custody — and visitors are fine.
But Burton said the women are not coddled; sobriety is mandatory, and residents are up by 8 a.m. for meditation circle, then off to school or work.
The houses have a family atmosphere, with barbecues and birthday celebrations, and Burton said she is developing the women as advocates and leaders.
"Most places tell people they need fixing," Burton said. "We tell people they had a normal response to a violent society, and we can help them become knowledgeable and better people."
This month, Shenika Green popped her 4-month-old daughter, born in prison, into a bouncy chair in front of an infant video as Burton fussed over a small spot on the floor. The walls were hung with pictures of Gandhi and Martin Luther King and political slogans.
Green said she was released from a California women's prison in March with nothing but a list of shelters and programs.
"I don't call that help, especially when you have children," Green said. Lopez said the prison offers service provider fairs, reentry counseling and a kiosk where inmates can search for programs by ZIP Code.
Wallace said that like Burton, she took that lonely bus home from prison several times, only to land back in the streets.
"This is the first program I entered," Wallace said. "I intend to complete it successfully and begin living life like I should have."
Twitter: @geholland
Sign up for Essential California for news, features and recommendations from the L.A. Times and beyond in your inbox six days a week.
You may occasionally receive promotional content from the Los Angeles Times.