Yamashiro, a century-old Japanese-style castle in Hollywood, tests limits of cultural appropriation debate
The Reclining Buddha Roll arrived on a spare white plate, a chilled log of rice and shrimp sliced and stacked to approximate the lumpy outline of a Buddha on his back, each piece dotted with what appeared to be Sriracha sauce.
I looked at the waiter, feeling as though there were some joke I didn't understand. Was this sushi? Was I in a Japanese restaurant, as I had assumed when I booked a reservation here for my girlfriend's birthday dinner? Should I apologize to my girlfriend?
Yamashiro is a century-old Los Angeles landmark that once served as a social club for Hollywood's early elites. It is an utterly unique piece of architecture that incorporates American materials with pieces lifted from ancient Japan and pan-Asian architectural flourishes.
It is also an inauthentic fantasy of Japanese culture that has generated profits exclusively for non-Japanese people, protected by a listing on the National Register of Historic Places while longtime businesses in Little Tokyo face displacement.
Outcries over cultural appropriation are a regular presence in our news feeds. Every industry seems to be debating how we should portray and profit from other cultures — a natural outcome in a world where social media allows people to give feedback in real time. Most recently, critics including the Los Angeles Times' Justin Chang pointed out how Japanese culture and people seemed to be a silent, decorative backdrop in Wes Anderson's new film "Isle of Dogs."
Amid all this, I wondered: How should I feel about Yamashiro?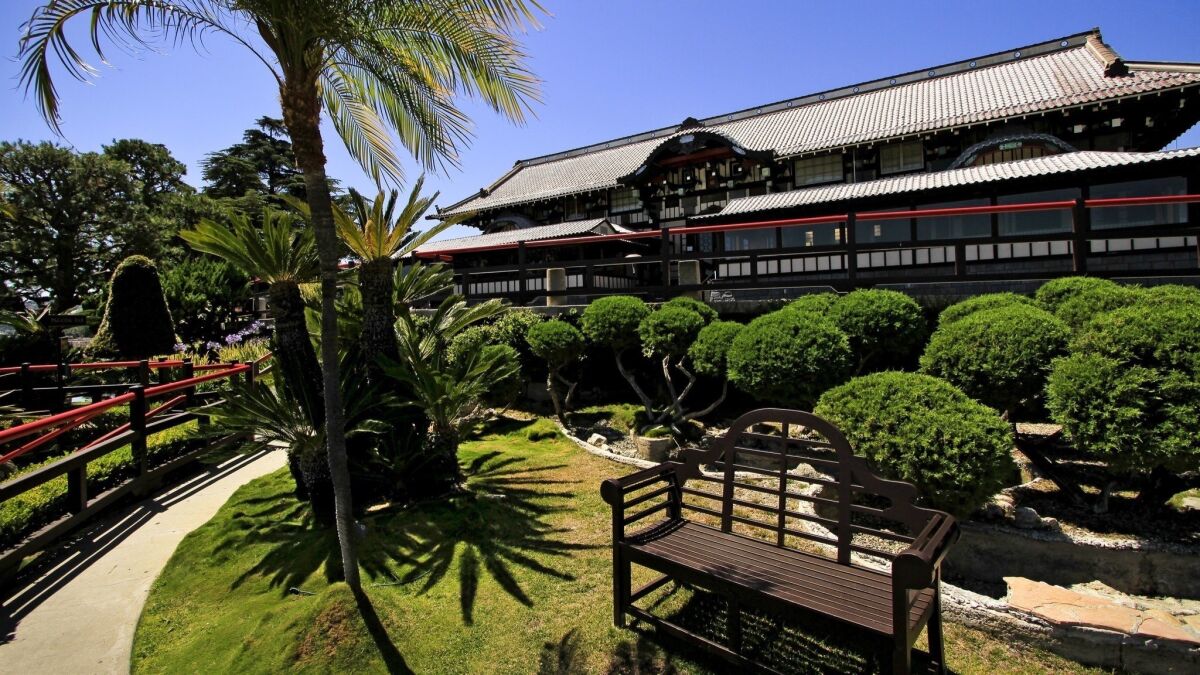 A few weeks later, I returned to Yamashiro, accompanied this time by Michael Okamura, a Little Tokyo historian, and Bill Watanabe, a former president of the Little Tokyo Service Center and community leader. I thought they might be able to help me determine whether Yamashiro's claims to authenticity had any merit.
We quickly found that at Yamashiro, authenticity was a slippery concept. The hostess stand seemed to be an authentic Japanese tansu, or cabinet, with good construction, noted Okamura. The bathroom signs featured the Japanese words for male and female, observed Watanabe. But next to it were the English words written in chop suey font, a style that in recent years has been derided as overly exoticizing.
And the pink and reddish mood lighting, however, defied analysis. As did the plaster and wood beam interiors, which to Okamura suggested borderline Swiss Chalet-style architecture. And in the Japanese garden that was built as Chinese garden and later converted, a fish sculpture with a dragon's head hides among some rocks and paper lanterns.
"That should be on a roof," Okamura said of the sculpture. "Actually, I'm not sure what that's supposed to be."
The chaotic jumble of cultural references at Yamashiro are a product of its long and convoluted history. The building, named for a historic town in Japan's Kyoto prefecture, was built in 1911 as a private residence by the Bernheimer brothers, German-born cotton barons of Jewish descent who needed a place to house their extension collection of Asian art. They used Chinese laborers and imported Japanese materials to build their mansion, which was designed by an American architect.
It later became the home of the 400 Club, an exclusive early social club for the film industry in Hollywood that historians say helped raised the profile of the then-nascent industry.
The building became so strongly identified with actual Japanese culture that it was vandalized during World War II, when anti-Japanese sentiment was high. In response, the owners painted the structure black and converted it to student housing, until it changed hands again. In 1948, Thomas O. Glover restored Yamashiro's Asian architectural flourishes and marketed it successfully as a sushi restaurant and tourist destination.
It became well known enough that both Okamura and Watanabe had been there at least once before. After they finished a meal of orange soy-glazed sea bass topped with a grilled zucchini ribbon, I asked them whether they were offended by the way the restaurant portrayed Japanese culture or food.
The answer from both men was no. The restaurant, they agreed, was a dizzying combination of cultural appropriation and authenticity. But after a lifetime in the U.S., they have grown accustomed to consuming imprecise American renderings of Asian culture. And cultural appropriation is a relatively small sin in a history that includes Japanese internment camps.
If Yamashiro has had any effect on the struggles of Japanese people in the United States, it was likely a positive one, Watanabe mused — introducing non-Japanese people to Japanese culture and perhaps sparking their interest in it.
::
Even those that have argued to preserve Yamashiro as a historical property did not seem to have the question of its cultural value resolved. In the 2012 application to the National Park Service arguing for Yamashiro's inclusion, an account of its history veers between emphasizing authenticity and claiming modern interpretation.
Building features are described as "original and traditional" but also "Japanese-inspired" in the same sentence. The application boasts of authentic Kaerumata, or "frog leg" brackets and the origins of a 17th century pagoda, while calling Yamashiro an example of revival architecture, which is supposed to bring new meanings to bygone eras of architecture.
It was all very confusing. What was the difference between revival architecture and cultural appropriation, if any? I asked Alice Tseng, a professor of Japanese architecture at Boston University, to take a look.
"I'm kind of speechless looking at it," Tseng said. "There are bits and pieces that look Japanese but they don't add up to anything. To call it a revival would be generous."
Though the application argues Yamashiro is modeled after a famous temple, Tseng was skeptical of that claim. Architects building Japanese styles during the early 1900s often used picture books sold in Japanese tourist shops as their textbooks — depictions that Tseng says were sometimes inaccurate.
If Yamashiro was not authentically Japanese, then perhaps it was authentic to Los Angeles. I called Alan Hess, an architect and critic known for his appreciation of Googie architecture and other Los Angeles cultural oddities.
Yamashiro, Hess conceded, is not considered great architecture. But it illustrates something that has been a part of Los Angeles's story since the film industry took root, he said. Early Los Angeles was a place where you could imagine something and build it, free of the boundaries of cultural conventions and good taste. A huge demand for novelty, thanks to Hollywood's proximity, produced a wild variety of vernacular architecture that is today one of the city's most defining visual qualities, Hess said.
In a city famous for the mass production of make-believe, Yamashiro's fantasy of Japanese culture is worth preserving, Hess said.
"People came here because they were allowed to do things they could not do anywhere else in the world. This expresses that part of our history," Hess said.
I had to agree. I couldn't imagine a Los Angeles without the wildly imaginative Clifton's Cafeteria, or a building shaped like a tamale that serves tamales, or the giant doughnut sculpture atop Randy's Donuts by Los Angeles International Airport.
But I also couldn't imagine Los Angeles without Little Tokyo, where rising rents threaten longtime Japanese American businesses that cannot enjoy the same protections that historic properties like Yamashiro do. Some of the buildings in Little Tokyo are protected by a historic district, but the businesses and the people are not. A legacy business program could provide tax breaks and other protections for longtime businesses struggling to keep up with rising rents and property values, but no such program exists in Los Angeles.
"We're worried that Little Tokyo is going to become Little Tokyo in name only," said Justin Saka, an organizer in Little Tokyo who is trying to preserve the neighborhood's businesses.
Cultural neighborhoods like Little Tokyo, Chinatown, Leimert Park and Boyle Heights often struggle to attract the same kind of architectural interest that places like Yamashiro commands, Tseng said.
Academics tend to focus on expensive buildings owned by rich, often white people, because those are the properties for which documentation exists, Tseng said. Without that scholarship, it's hard to make historical arguments for ethnic neighborhoods to be preserved.
"There are places that are not well studied because they started out as cheap property and they tend to get forgotten," Tseng said.
How should we feel about the fact that a beloved facsimile of Japanese culture sits protected on a mountain top overlooking Hollywood while Japanese American people elsewhere in the city struggle to preserve their culture, identity and neighborhoods?
The answer always seems to depends on who you are and what you've experienced. I've changed my mind three or four times at this point, and I'm starting to get a headache.
But if you look around Los Angeles, you will find checkered histories and cultural oddities everywhere you turn. The 626 Night Market takes place on the Santa Anita Racetrack, which once housed a Japanese internment camp. In Koreatown, restaurants serve Korean versions of Chinese dumplings, and on Sawtelle, Japanese restaurateurs sling Chinese-inspired ramen dishes.
Calling something cultural appropriation, and the repetitive, polarizing debate that label always sparks, often obscures important history, writes Minh-Ha Pham, a media studies professor at the Pratt Institute.
When we argue about cultural appropriation, we don't learn anything about history, she said. And the history of how we have reproduced, adapted and integrated other cultures in this country is far more complex and interesting than that debate allows for.
Arguing about what to be offended over — or whether Sriracha on sushi is appropriate — misses the point. What we're actually debating is which stories to tell about our cultures, and whose perspectives should be included.
The question we should be asking is whether we know the full story. And in the case of Yamashiro, it's important to take the time to learn the details.
I looked down at the Reclining Buddha Roll, fixed a vision of a harmonious, multicultural society in my head, and tried to note its positive qualities.
The roll was quite firmly wrapped, even though it used rice paper instead of seaweed and tasted more like a Vietnamese spring roll. The menu describes the restaurant's food as California Asian fusion food, and that was certainly accurate. The rice was well-cooked, firm, not mushy or hard. The vegetables were crisp and the shrimp was fresh.
I took one bite, and then another. Before I knew it, I had eaten the whole thing.
Twitter: @frankshyong
The stories shaping California
Get up to speed with our Essential California newsletter, sent six days a week.
You may occasionally receive promotional content from the Los Angeles Times.