Mystery surrounds Super Bowl Sunday plane crash that killed 5: Here's what we know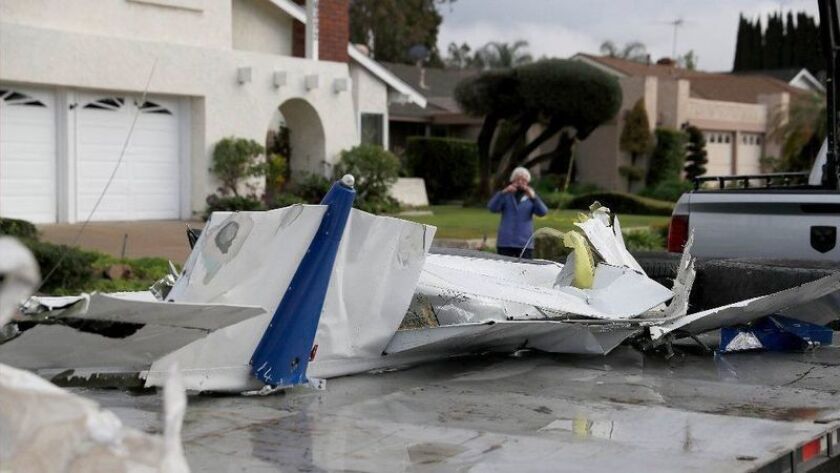 It was a few hours before the Super Bowl on Sunday afternoon, and residents in one Yorba Linda neighborhood were preparing for parties.
Shortly before 2 p.m., neighbors heard a horrifying noise. Seconds later, a plane plummeted to the ground, slamming into a home and killing everyone inside.
Three days after the crash, authorities are still searching for the cause of the disaster, in which the plane seemingly broke apart in midair.
In recent days, questions have been raised about the background of the pilot, who also was killed.
What do we know about the crash?
The Cessna plane took off from Fullerton Airport around 1:35 p.m.
It had flown about 10 miles, reaching as high as 7,800 feet, when witnesses saw it coming through the clouds in one piece, authorities said. Moments later, its tail came off. Then its wings.
The plane plunged into a two-story Yorba Linda home at 1:45 p.m., setting it on fire and killing everyone inside. Debris was strewn across four blocks of the residential neighborhood, among as many as 16 homes.
At one home, a piece of the plane's engine knocked down a pillar on the front porch and torpedoed through a first-floor window, flying through two rooms before landing in a bathroom. Fragments of exhaust pipe crashed through a second-floor window and melted into the carpet. A propeller thumped onto the driveway.
A source familiar with the investigation said it appears the plane broke apart in midair, and there is nothing to suggest foul play or that the crash was intentional.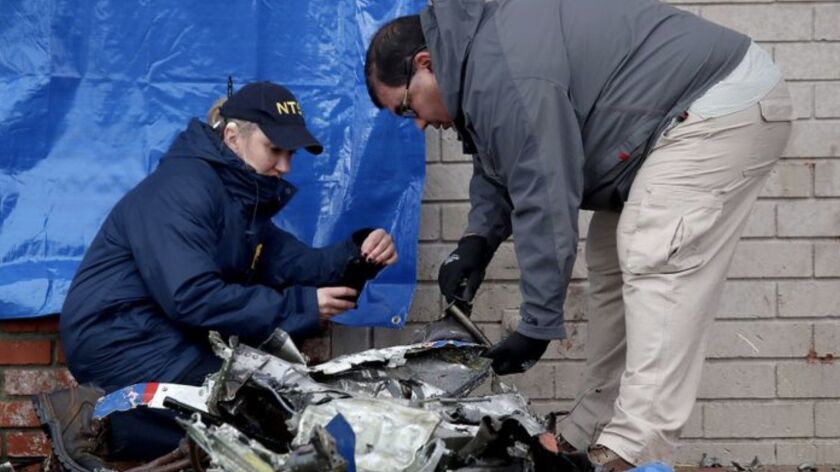 Who was killed?
The plane's pilot was identified as 75-year-old Antonio Pastini of Nevada.
The two women and two men killed on the ground have not yet been identified. Authorities said the bodies are badly burned, so DNA testing and dental records will be required to identify them.
What is the focus of the investigation?
Investigators with the Federal Aviation Administration and the National Transportation Safety Board combed through the wreckage Monday and collected pieces of the aircraft, which were being taken to a Phoenix storage facility.
NTSB officials said the investigation could take 18 months.
Who was the pilot?
According to records, Pastini previously owned a restaurant, Kim Lee's Japanese Restaurant and Sushi Bar, in Gardnerville, Nev., south of Carson City.
Julia Ackley, a Torrance resident and one of Pastini's daughters, told The Times that her father was a veteran pilot who regularly flew to Southern California to visit her family from Oregon or Nevada, where he was a restaurant and business owner.
Pastini was initially identified by California authorities as a retired Chicago police officer. But a spokeswoman for the Chicago police said Pastini was never employed by the department and was carrying a Chicago police badge missing since 1978.
Carrie Braun, a spokeswoman for the Orange County Sheriff's Department, said the metal police star recovered from Pastini's body "appeared to be legitimate."
It's unclear how Pastini got the badge.
---
The stories shaping California
Get up to speed with our Essential California newsletter, sent six days a week.
You may occasionally receive promotional content from the Los Angeles Times.