Zsa Zsa Gabor, the Beverly Hills cop and 'the slap heard 'round the world'
Before O.J. Simpson and the popularization of "celebrity justice," Zsa Zsa Gabor got into an altercation with a Beverly Hills police officer.
The traffic stop would become known as "the slap heard 'round the world" and produced a bizarre trial that even the judge said Gabor — famous for being famous — had turned into her greatest publicity stunt.
Here's the story from the pages of The Times:
The stop and the slap
In 1989 Gabor was driving her $215,000 Rolls-Royce. Beverly Hills Police motorcycle Officer Paul Kramer stopped the actress for driving her car with expired registration tags. While Kramer was checking for other violations, Gabor drove off.
When Kramer pulled her over the second time, Gabor slapped the officer. She claimed that she had acted in self-defense when Kramer pulled her out of her car roughly. Kramer insisted that the slap was unprovoked.
Gabor was fined $2,350 for slapping Kramer, $352 for driving without a license and $235 for possessing an open container of alcohol--a flask of Jack Daniels.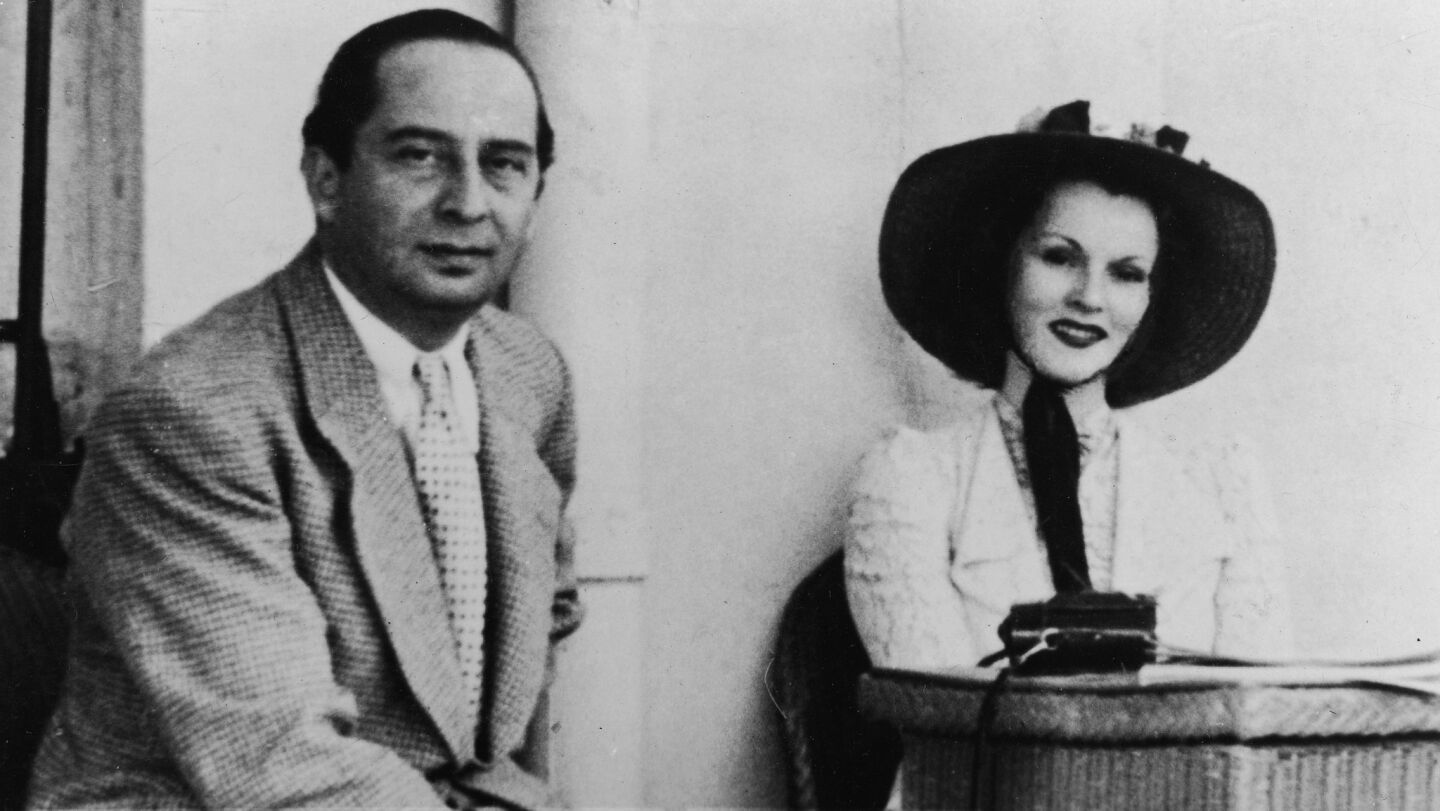 Gabor with her first husband, Turkish diplomat Burhan Asaf Belge, in Ankara.
(Pictorial Parade / Getty Images)
Gabor and her third husband, actor George Sanders, whom she called the love of her life. Sanders, who later married Gabor's sister Magda, wrote in his autobiography that Zsa Zsa was the 20th century's Madame de Pompadour, Queen of Sheba and Cleopatra.
(Jim Pringle / Associated Press)
With Mexican businessman Felipe de Alba after their 1982 wedding in Puerto Vallarta, Mexico. The marriage lasted only a day before it was declared invalid because Gabor's divorce from husband No. 7 wasn't final.
(Pat Alisau / Associated Press)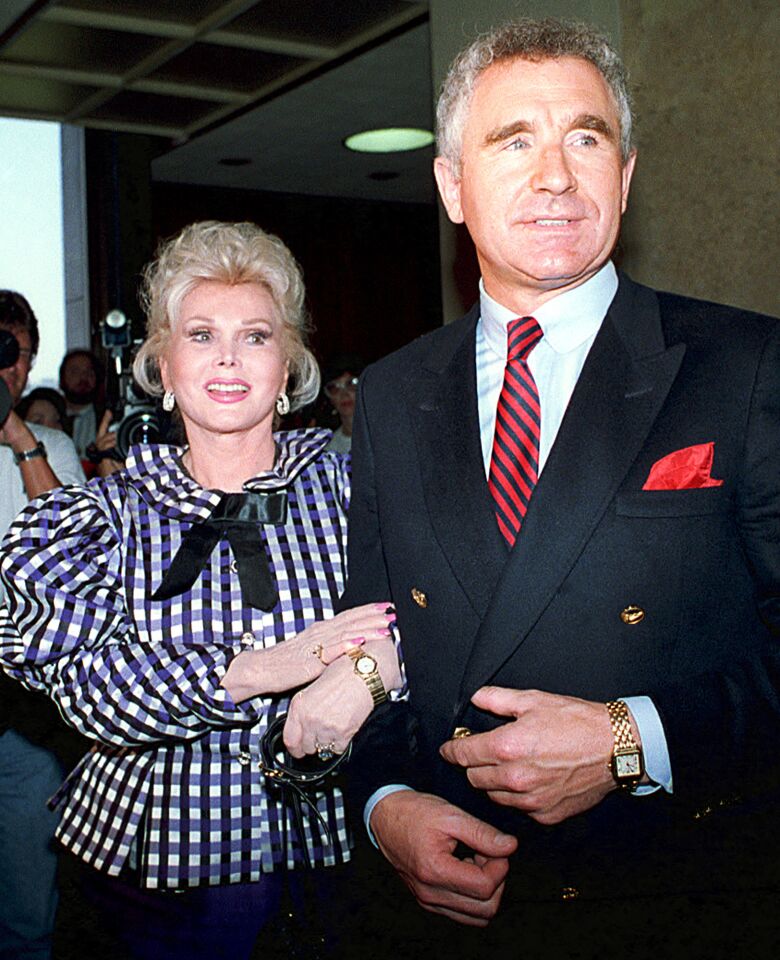 Gabor and Prince Frederic von Anhalt leave court in Beverly Hills in 1989. When she married him three years earlier, she told reporters he would be her last husband, and she was right.
(Doug Sheridan / Associated Press)
The trial
It was less of a trial than a circus.
Gabor lashed out at Kramer repeatedly during the trial, accusing the motorcycle officer at one point of having several gay lovers. She also contradicted herself numerous times while on the witness stand and claimed that police videotapes of her made after her arrest were doctored to show her using vulgar language.
"In Nazi Hungary they were fairer than here. Here they don't kill you. They kill you with words," she told reporters at one point.
At one point, a mock fight in the court building between a Zsa Zsa Gabor impersonator and a man in a "Hang Zsa Zsa" T-shirt provoked wild laughter from bystanders and stern criticism from Gabor's daughter, Francesca Hilton.
The judge in the case accused the former Miss Hungary of "milking" the criminal justice system to publicize herself.
"She has demonstrated an attitude of continual contempt for the legal system," the judge said.
Dist. Atty. Ira Reiner was also highly critical of Gabor.
"Zsa Zsa Gabor tried to make a mockery out of the idea of equal justice. She has an unfortunate history of trying to turn everything into farce and to mock everything," he said.
"It started out as a minor incident. But what elevated this beyond . . . a minor case was her conduct over that three-week period during the trial where she made a mockery out of everything. And it wasn't just a mockery of the criminal justice system . . . the judge, the police officers, the court personnel, the prosecutors, the entire system, which she dismissed as a Nazi-type system because anybody would presume to judge Zsa Zsa Gabor."
The aftermath
Gabor was ordered to serve three days in jail, to pay fines and retribution totaling $12,937, to perform 120 hours of community service--and to undergo a psychiatric evaluation. (The jury acquitted Gabor on the charge of disobeying an officer).
"I'm disappointed. I can't believe it," Gabor said, moments before the premises were cleared because of a bomb threat. "I can't believe that in a country as great as ours that a 6-foot-4 policeman can beat up a lady of 5-foot-4 and use dirty language as if she was a street walker. I think Russia can't be worse, or communist Hungary."
Asked how she felt about the prospects of jail, she said: "That would be wonderful. I'd have time to write my book.
"If I go to jail, Bistro Gardens [a restaurant] said they would serve me food three times a day."
At the end of it all, Gabor appeared anything but penitent — or unhappy.
Asked what she planned to do, she said: "I'm going home to collapse in my swimming pool."
With that, she stepped back into her Rolls-Royce and rode away.
ALSO
'Rest in peace, my dear': Hollywood salutes Zsa Zsa Gabor
Zsa Zsa Gabor dies at 99; she had glamour and husbands in spades
That time we spent the day with Zsa Zsa Gabor and the prince at their ranch
---
Life is stressful. Our weekly mental wellness newsletter can help.
You may occasionally receive promotional content from the Los Angeles Times.