Zsa Zsa Gabor dies at 99; she had glamour and husbands in spades
The best known of three glamorous sisters from Hungary, actress Zsa Zsa Gabor pioneered a modern version of celebrity — she was famous for being famous.
With the advent of television talk shows, Gabor became a frequent guest as early as the 1950s, charming audiences with her fractured English and slightly risque jokes about her reputation as an oft-married seductress fond of men and money.
"Husbands are like fires. They go out if unattended," she would say. Or "I want a man who is kind and understanding. Is that too much to ask of a millionaire?"
Her nine marriages and reputation for shaving years off her age made her a pop-culture punch line. When entertainer Bob Hope joked, "You can calculate Zsa Zsa Gabor's age by the rings on her fingers," it only cemented her fame.
So did a penchant for public escapades that included a 1989 assault conviction for slapping a Beverly Hills police officer. When reporters asked if she was prepared for a long trial, she cooed: "I have enough outfits to last a year."
The final years of her life were marked by a strange circus of publicity often orchestrated by her ninth husband, Prince Frederic von Anhalt, a German immigrant who had brokered an adoption as an adult to gain a royal-sounding title. He issued frequent media alerts on her precarious health and publicly squabbled with Gabor's only child, Francesca Hilton.
Gabor died Sunday of heart failure in her Bel Air mansion, according to her publicist Edward Lozzi. She was 99.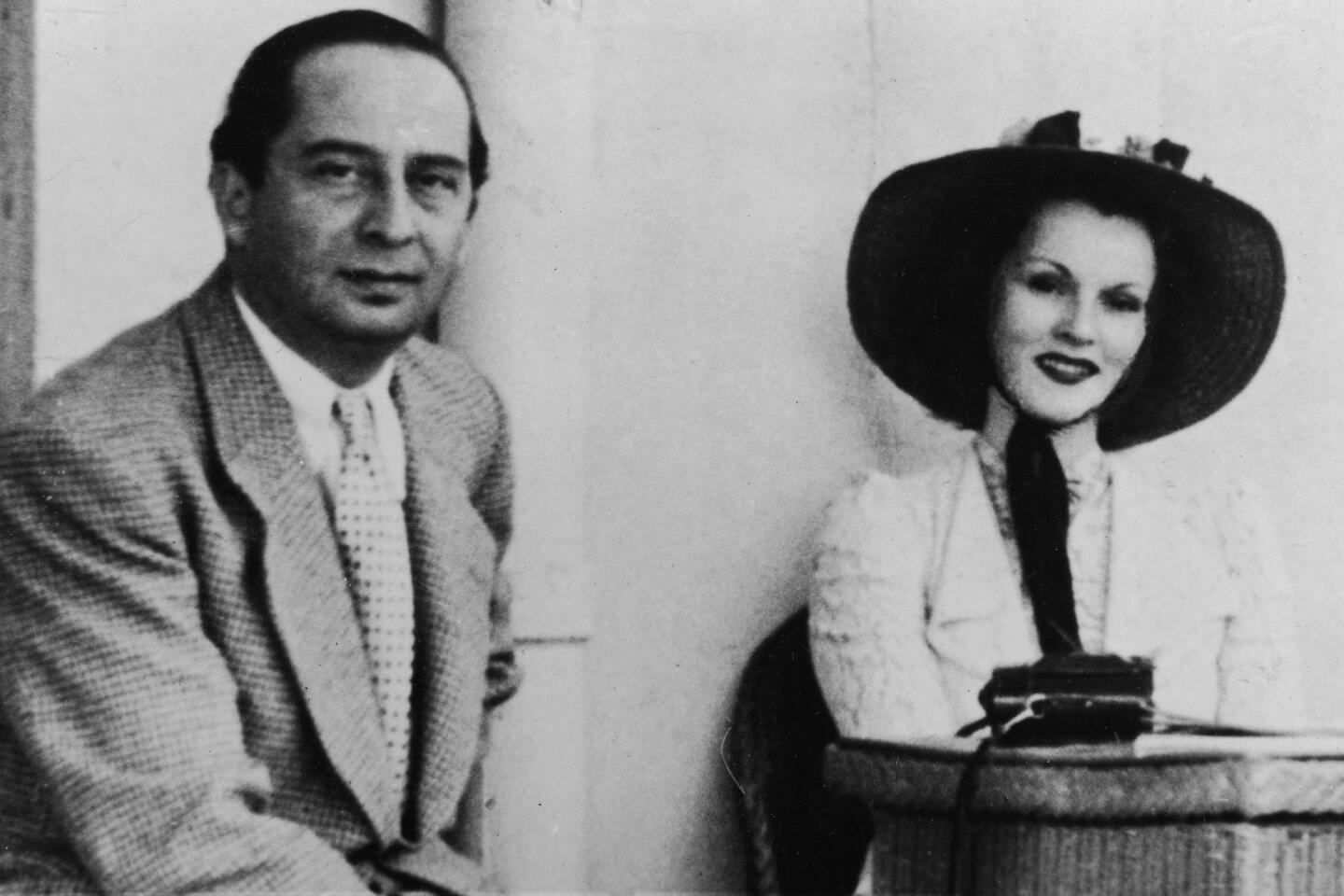 Gabor with her first husband, Turkish diplomat Burhan Asaf Belge, in Ankara.
(Pictorial Parade / Getty Images)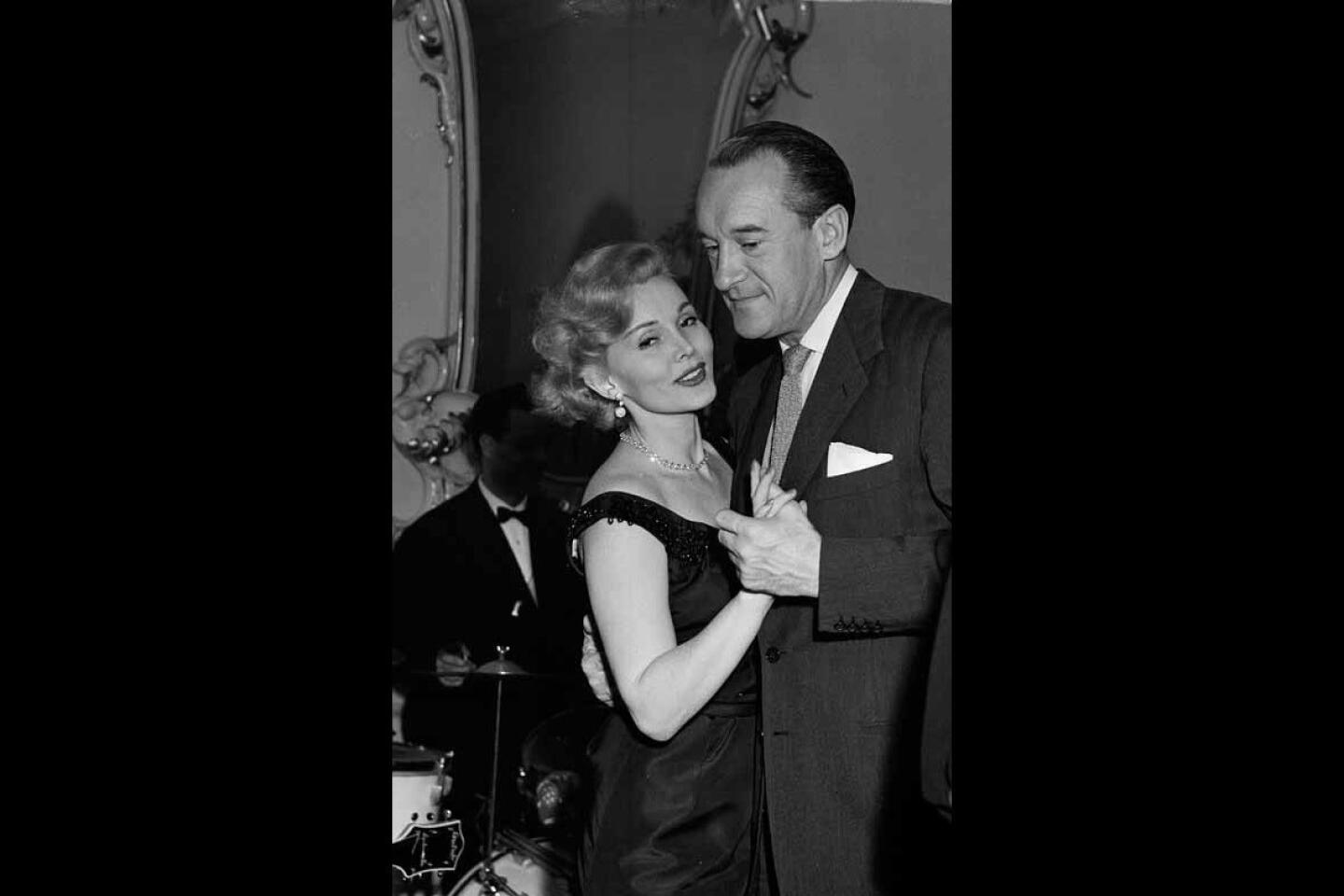 Gabor and her third husband, actor George Sanders, whom she called the love of her life. Sanders, who later married Gabor's sister Magda, wrote in his autobiography that Zsa Zsa was the 20th century's Madame de Pompadour, Queen of Sheba and Cleopatra.
(Jim Pringle / Associated Press)
With Mexican businessman Felipe de Alba after their 1982 wedding in Puerto Vallarta, Mexico. The marriage lasted only a day before it was declared invalid because Gabor's divorce from husband No. 7 wasn't final.
(Pat Alisau / Associated Press)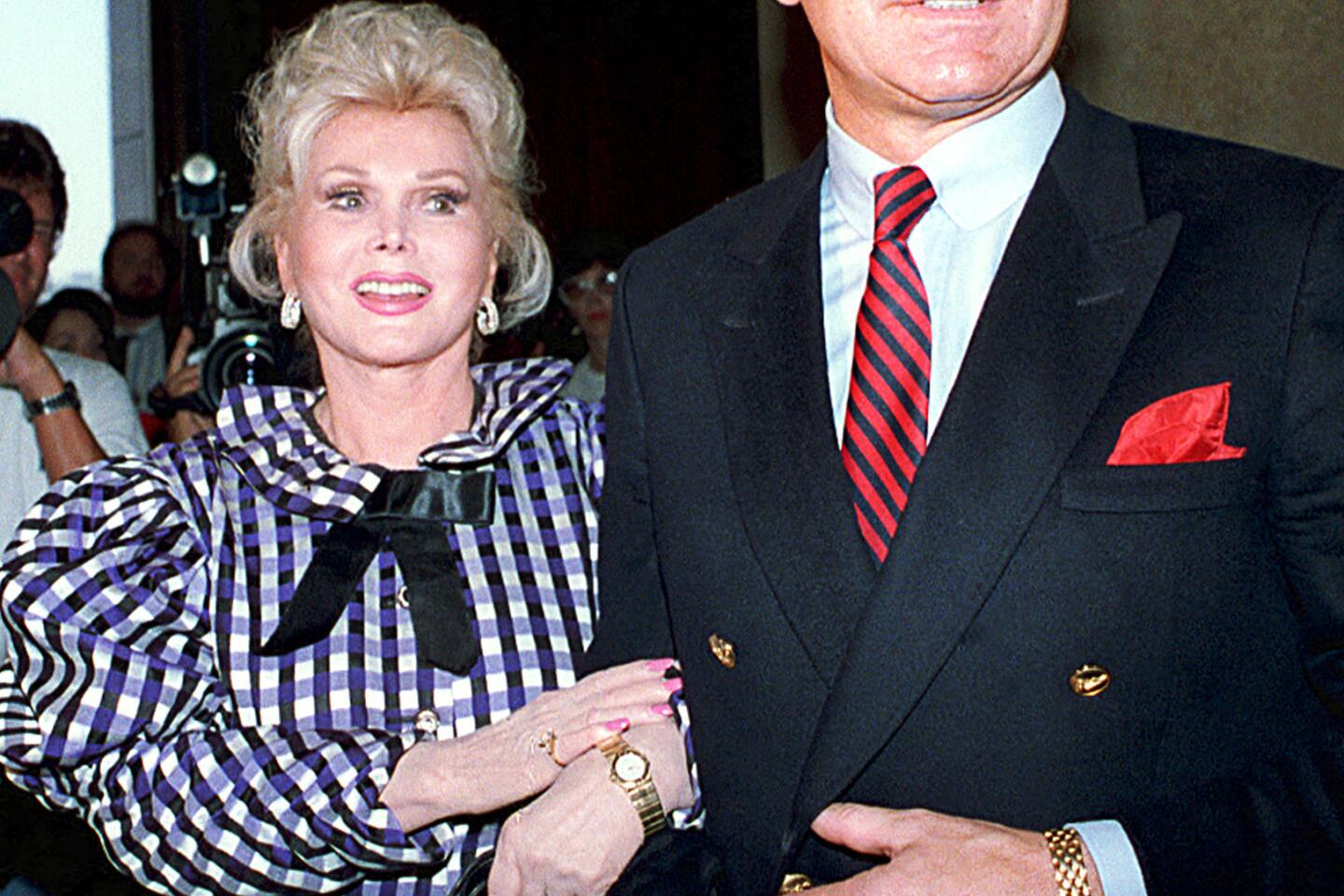 Gabor and Prince Frederic von Anhalt leave court in Beverly Hills in 1989. When she married him three years earlier, she told reporters he would be her last husband, and she was right.
(Doug Sheridan / Associated Press)
The last surviving Gabor sister, she had been in declining health after being seriously injured in 2002 when the Rolls-Royce convertible in which she was riding, with her hairdresser at the wheel, jumped a curb on Sunset Boulevard in West Hollywood and struck a light pole. The accident left Gabor partially paralyzed.
She had been in and out of the hospital since breaking her hip in 2010 and having most of her right leg amputated in early 2011 after developing an infection following hip-replacement surgery.
Although her personal life grabbed the headlines, Gabor did build an acting career. One of her finest film roles came early in her career when she portrayed Henri Toulouse-Lautrec's model in 1952's "Moulin Rouge." In directing her, John Huston reportedly said: "Zsa Zsa, forget about acting. Just make love to the camera."
Gabor later told a biographer: "Now, I knew very little about acting but a great deal about making love. It worked."
In 1958 she made an impression as a strip-club owner in the Orson Welles cult classic "Touch of Evil" and appeared in the campy "Queen of Outer Space," one of her many more forgettable movies. She acted in at least 30 films.
By the 1970s, Gabor had begun turning down the smaller parts that came her way but would occasionally appear on TV and in movies. She made appearances on talk shows, and on game shows as a panelist, into the 1990s.
To Gabor, everyone was "dahlink," an endearment that entered the vernacular of mid-20th century America. She was a celebrity of the old school who believed in glamour. She once said of today's actresses, "When you see them in real life, they look like nothing." Not so Zsa Zsa, who flaunted her jewels and furs.
She turned her celebrity into a commodity, mining her own reputation for one-liners. "I am a marvelous housekeeper. Every time I leave a man I keep his house," she might say, or "There is nothing wrong with a woman encouraging a man's advances, as long as they are in cash."
The aristocratic, blond Gabor was reportedly wooed by such rich and famous men as Prince Aly Khan, billionaire J. Paul Getty and actor Richard Burton, none of whom she married.
Shortly after arriving in the U.S. in 1942, she made her most notable marriage with second husband Conrad Hilton, the hotel magnate, who was more than twice her age.
The union lasted five years. The couple's daughter, Francesca, was the only offspring of the Gabor sisters, who had at least 18 marriages among them. Older sister Magda, who largely stayed out of the limelight, had at least five husbands, while younger sister Eva had at least four. Eva made the biggest splash as an actress, co-starring in the CBS sitcom "Green Acres," which debuted in 1965.
Life with his young wife, Hilton later wrote, was "a little like holding a Roman candle — beautiful, exciting, but you were never quite sure when it would go off. And it is surprisingly hard to live the Fourth of July every day."
He added, "Glamour, I found, is expensive."
For her part, Gabor later said Hilton was the only husband she had married for money. In the divorce settlement she received $35,000 and $2,500 a month until she remarried. That union linked her by marriage to tabloid favorite Paris Hilton, Conrad's great-granddaughter.
Gabor's next marriage, in 1949, was to actor George Sanders, whom she called her one true love. But Gabor complained that the mercurial Sanders wanted to turn her into a "little hausfrau" and divorced him after five years. Sanders, who was later briefly married to Gabor's sister Magda, committed suicide in 1972.
Gabor next married businessman Herbert Hutner, oilman Joshua Cosden, inventor Jack Ryan, attorney Michael O'Hara and Mexican businessman Felipe de Alba. The De Alba union was declared invalid after a day because Gabor's divorce from O'Hara wasn't final.
In 1986, when Gabor married Von Anhalt, she told reporters he would be her last husband. She was true to her word.
Zsa Zsa Gabor was born Sari Gabor in Budapest on Feb. 6, 1917, and named for Hungarian actress Sari Fedak. Her father, Vilmos, was a cavalry officer turned diamond merchant, and her mother, Jolie, was a onetime aspiring actress who steered her daughters toward show business.
At 15, Zsa Zsa entered the Miss Hungary contest, which led to another beauty contest in Vienna. Instead of returning to Swiss boarding school, Gabor proposed to Burhan Belge, a former Turkish ambassador to Hungary, and the couple married.
But bored with her first husband — and entranced by sister Eva's descriptions of life in Hollywood, where she had started acting — Gabor hopped a ship to America in 1941 and had her marriage annulled.
Her mother came too and started a successful jewelry business in New York. With her daughters, she became a fixture of high society. Both Zsa Zsa and Eva often appeared on the covers of popular magazines, and in 1953 the three sisters had a nightclub act in Las Vegas.
Gabor said she was "born to make headlines," and often did.
In a 1989 incident that came to be known as "the slap heard 'round the world," she was convicted of assaulting Paul Kramer, a Beverly Hills police officer who had pulled over her Rolls-Royce Corniche for having expired license-plate tags. She claimed she never hit him, served three days in an El Segundo jail and paid nearly $13,000 in fines. She later poked fun at the cop-slapping incident in the movie "The Naked Gun 2 1/2."
She became entangled in a slander suit brought by actress Elke Sommer, who didn't appreciate being called "a has-been." Gabor was ordered to pay $3.3 million in damages in 1993.
Gabor and Von Anhalt pursued lawsuits against the driver of her Rolls-Royce in the aftermath of her 2002 accident, and against Gabor's daughter over disputed finances, one of several clashes that publicly pitted Von Anhalt against Francesca Hilton.
But when Francesca Hilton began performing a stand-up comedy routine in 2008 that riffed on her famous family lineage, Gabor supported the move, according to her daughter. "My mother and I, we're the best of friends now that we're the same age," Hilton, then 61, said in a joke referring to Gabor that wrapped up the act. Hilton died in January 2014 of an apparent stroke. She was 67.
Medical bills and meager savings forced Von Anhalt to list Gabor's mansion in 2011, he said. Two years later the home sold for $11 million in a court-approved deal that allowed the couple to continue living there for three more years.
An accomplished horsewoman, Gabor rode in the Rose Parade and owned a horse ranch in Ventura County. She also wrote several autobiographies, including a slender 1970 volume, "How to Catch a Man, How to Keep a Man, How to Get Rid of a Man."
"A girl must marry for love," Gabor once said, "and keep on marrying until she finds it."
She is survived by her husband, who could not immediately be reached for comment by The Times on Sunday.
Nelson and Beyette are former Times staff writers.
Times staff writer Tre'vell Anderson contributed to this report.
ALSO
From the Archives: That time we spent the day with Zsa Zsa Gabor and the prince at their ranch
When Jimmy mussed Donny and other instances of TV softballing Trump
Henry Heimlich, doctor who invented lifesaving anti-choking procedure, dies at 96
Lawrence Colburn dies at 67; helped end Vietnam's My Lai massacre
Sign up for Essential California for the L.A. Times biggest news, features and recommendations in your inbox six days a week.
You may occasionally receive promotional content from the Los Angeles Times.