Los Angeles spends big to end homelessness, but the crisis drags on
This was the year that local tax money to tackle Los Angeles' homelessness crisis began to flow in earnest: $442 million for housing, and $177 million for services, with $400 million more due by the middle of next year.
Officials were quick to credit the new services with a January dip in the homeless population count, although critics questioned the numbers. And while eight housing projects broke ground, not a single unit financed by voter-approved money opened by the end of 2018, two years after voters approved Proposition HHH, the $1.2-billion city bond measure to build new housing for the chronically homeless.
In the meantime, soaring rents pushed thousands into homelessness for the first time, and skyrocketing costs and red tape cast the region's goal of building 10,000 units of homeless and affordable housing in a decade in doubt.
Complex financing and preparation for subsidized housing takes time. Prodded by a citizens' oversight committee, Mayor Eric Garcetti agreed to explore financing for prefabricated and modular buildings and other innovative housing models and to eliminate regulatory barriers. And with no quick fix for tent cities stretching from central L.A. to the suburbs, Garcetti launched A Bridge Home, the first city shelter construction program in 40 years.
"We definitely expect to see community transformation as soon as we have projects come online," said Christine Miller, deputy mayor for city homelessness initiatives.
Over the year ending in July, city, county and private teams put 16,000 people in permanent homes, approved nearly 3,000 new homeless units and sent an army of more than 700 outreach workers into the streets.
Yet the wait for housing still stretches into months, and in some cases, years.
"There is a big difference between activity and accomplishment," said retired UCLA law professor Gary Blasi, who studies homelessness.
And there is disagreement about the definition of — and the path toward — accomplishment.
"Thousands of families and individuals — including veterans and young people — have been directly helped with permanent housing placements, rental subsidies" and other services, said Phil Ansell, director of the Los Angeles County Homeless Initiative.
Authorities brought mobile showers, wash stations and toilets to street encampments, and added $300,000 for extra street cleaning after a typhus outbreak was declared in downtown and South Los Angeles.
But "cleanup" can be controversial. Downtown business groups demanded that the city go to trial over a federal injunction against summarily seizing and destroying homeless people's property on skid row while civil rights lawyers threatened litigation over enhanced enforcement and the cleanup zones Garcetti ordered around the shelters. A federal appeals court decision dashed business leaders' hopes that the city could resume arrests for sleeping on sidewalks when shelters are full.
Metro put social workers in the subways to help people who use the trains as mobile shelters. At least five parking lots opened for homeless people to sleep overnight in their vehicles.
But the city, stung by neighbors' complaints of trash and disorder, also cut off overnight street parking, sending RV dwellers scurrying to other neighborhoods. Camp cleanup costs soared to $31 million a year. Violent crime, particularly assaults, against homeless people rose, and 39 of them were murdered, Los Angeles police said.
The first A Bridge Home shelter opened in downtown's El Pueblo historic district, and shelter sites in Venice, Hollywood and South Los Angeles were approved. The mayor's staff said the city is on track to install 15 shelters by mid-2019.
But mass protests against allowing homeless people near schools, homes and businesses helped kill a homeless housing proposal in Sherman Oaks, and forced a Koreatown shelter proposal out to the fringes of the nightlife and high-end apartment district.
Homeless housing and shelter proposals survived a raucous meeting where Venice homeowners shouted down Garcetti and Councilman Mike Bonin and in December, the city approved plans to open the shelter. Venice activist Mark Ryavec said he plans to sue the city over the project.
Meanwhile, in Orange County, the January eviction of hundreds of homeless people from the riverbed next to Angels Stadium set off a legal showdown with a federal judge, David O. Carter.
The county paid to put displaced people in motel rooms for six months, and the cities of Santa Ana, Anaheim and Tustin agreed to open shelters.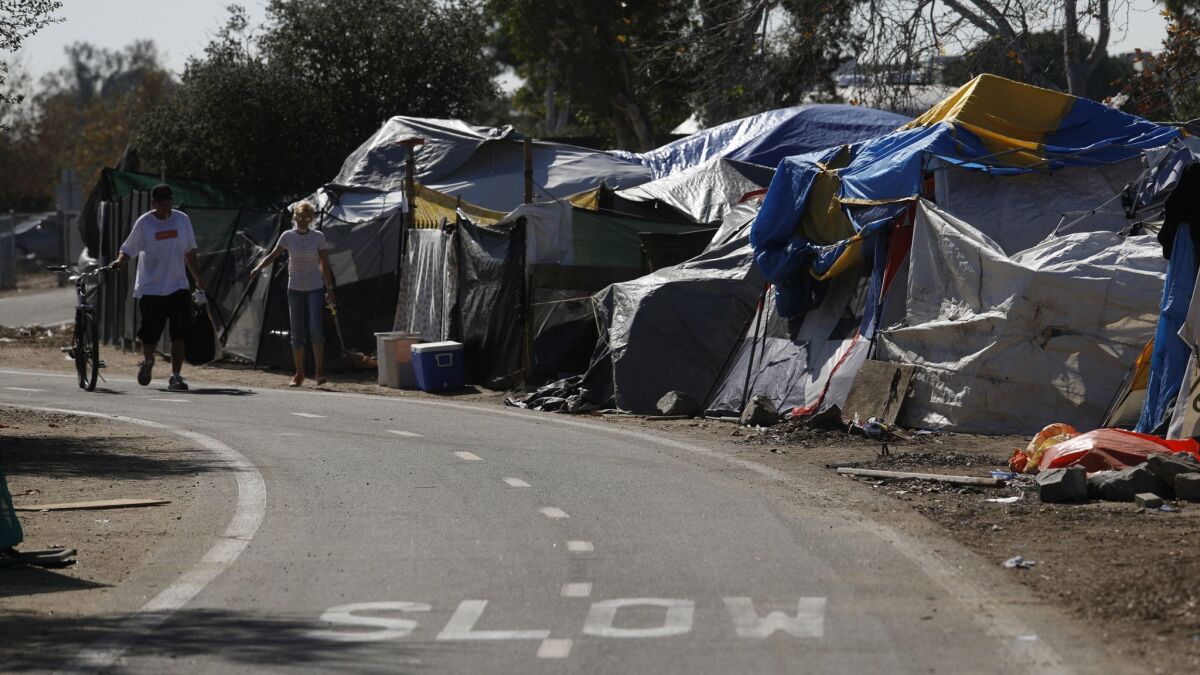 But busloads of protesters from Irvine persuaded the Orange County Board of Supervisors to drop plans for temporary shelter in that famously clean, planned community. Shelter plans were also scratched in the face of huge opposition in Huntington Beach and Laguna Niguel.
In Los Angeles, at year's end, the state stepped in with an unprecedented $410-million infusion for rental subsidies, shelter development, supportive housing and other aid for homeless people — but Miller said residents have to pitch in too.
"We need the community to say yes to these projects," she said. "The opposition is loud, but I've had more conversations with people who support solutions than not."
Read More: The Year in Review »
Here are our most read, shared and retweeted stories of 2018 »
Twitter: @geholland
---
The stories shaping California
Get up to speed with our Essential California newsletter, sent six days a week.
You may occasionally receive promotional content from the Los Angeles Times.