Will Gavin Newsom change the state's water course? Fish and farmers will soon find out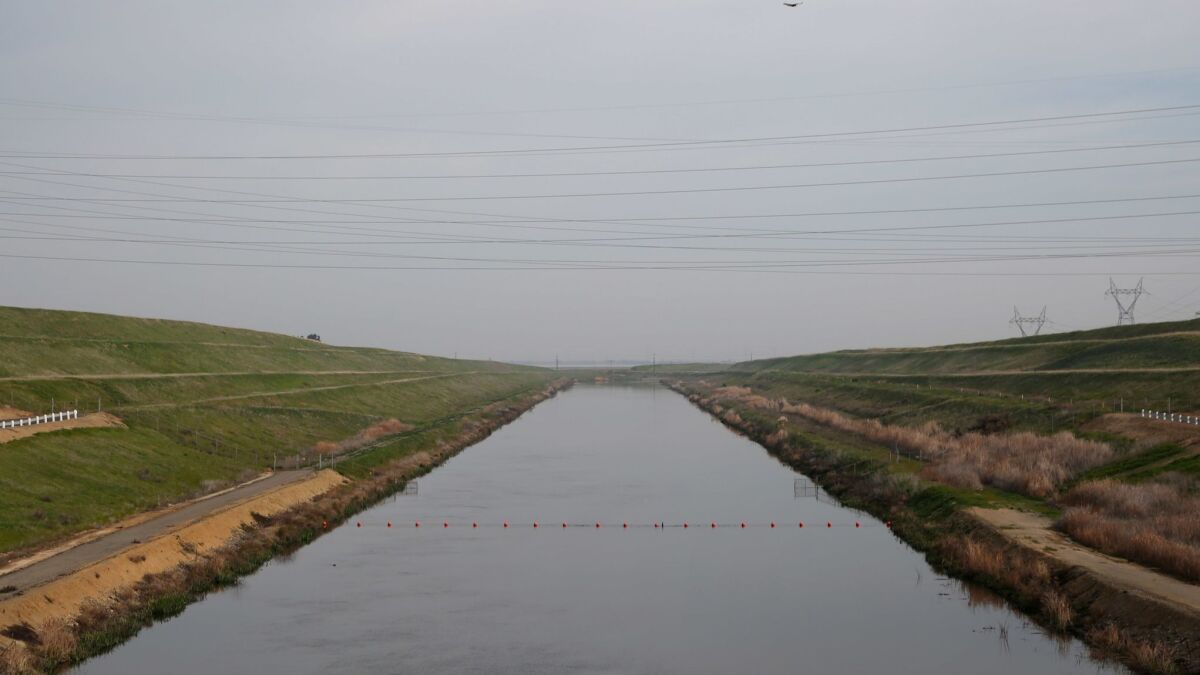 In the final weeks of Gov. Jerry Brown's administration, his appointees on a state board ordered some powerful water districts to cut their historic river diversions to protect endangered salmon populations.
It was a major move by a panel that in the past has often been leery of flexing its regulatory muscles.
But while the State Water Resources Control Board was demanding more water for fish, other Brown appointees were busy crafting deals that could ultimately mean less water for the environment.
Despite a flurry of activity, Brown is leaving plenty of unfinished water business as he heads to his ranch in the Sacramento Valley.
Brown-backed plans to build two giant water tunnels still need key state permits. The water board is in the midst of adopting new flow standards for the Sacramento-San Joaquin Delta and the rivers that feed it. Federal agencies are revising Endangered Species Act protections in the delta, the center of California's vast water system.
After Gavin Newsom moves into the governor's office, the state's position could change on all of those initiatives.
Newsom has previously said he favors a scaled-down tunnel project. Whether he reappoints state water board chair Felicia Marcus will signal whether he wants the board to stand firm or back down on the flow requirements. His picks for top posts in the Natural Resources Agency will determine whether his administration goes along with a potential weakening of delta protections by the Trump administration — or fights it.
"I'm sure we're going to get a different view and philosophy from the Newsom administration. But I also expect they will respect decisions made under the Brown administration," said Jeffrey Kightlinger, general manager of the Metropolitan Water District of Southern California, which has played a key role in those decisions.
Metropolitan gets roughly a third of the Southland's water supply from the delta in the form of State Water Project deliveries. That means that flow requirements and endangered species protections in the delta and its huge watershed influence how much water goes into the California Aqueduct for the 444-mile trip south.
So even though Metropolitan is not directly affected by the state board's December order to leave more water for migrating salmon in three tributaries of the San Joaquin River, MWD is advocating settlements that would pare those requirements, as well as avert tougher ones in the offing for the Sacramento River basin and the delta itself.
"We've been throwing flow at the fish for a couple of decades and they've gotten worse every year," Kightlinger argued. "What we really need to do are non-flow measures, such as acquiring habitat, restoring marshlands, setting back levees, creating better food supply for the fish … more predation control measures."
The state board would have to approve any settlements. But it is not involved in the negotiations with diverters, which have been conducted by directors of the state Water Resources and Fish and Wildlife departments.
The state is also consulting with federal agencies in a periodic review of environmental limits on the delta pumping operations that are part of the State Water Project and the federal Central Valley Project.
The projects will "basically be making the case for different types of outflow at different times of year based on the science we've been conducting," Kightlinger said.
Department of Water Resources Director Karla Nemeth said proposed changes in the pumping operations could involve fewer restrictions and more exports. "But I want to be really clear that DWR has not made any commitments on that front. I want to be really, really clear about that."
Combine the potential for settlements and relaxed pumping limits in the delta, and environmental flows through the delta and out to sea could actually wind up lower than they are today.
"There was the big effort to present this grand bargain, in part to stop the water board from adopting these new standards, but in part to try to build political momentum for what appears to be a bait and switch," said Doug Obegi, an attorney with the Natural Resources Defense Council, an environmental group.
The settlement framework "does not appear to be addressing the most fundamental part of restoring the health of the delta, which is increased water flowing through the delta to Suisun Bay and San Francisco Bay," he added.
Nemeth defended the proposed settlement, saying proponents will have to show that habitat improvements tied to some additional river flows will provide enough environmental benefits to satisfy the water board.
"I think [the system] needs water and physical restoration," she said. "What is the right combination that … provides comparable or better benefits," to the board's flow standards.
So much water is diverted by farms and cities upstream of the delta and pumped from the delta itself that the average volume of flows out to the bay is about half of what it once was.
That has distorted hydrological patterns and altered salinity levels, making the delta more hospitable to a host of invasive aquatic species than native fish. Diversions have so depleted the San Joaquin River and its tributaries that once-abundant salmon runs have all but disappeared.
New flow standards — part of a long overdue update of a water quality control plan for the delta watershed — are intended to halt that decline.
Whether they are implemented or diluted by accords will ultimately be up to the board, whose members are appointed by the governor to four-year terms.
Newsom will have only one board opening to fill soon after he takes office. Marcus' term expires in January.
Marcus has said she is open to voluntary agreements, but also led the panel's 4-1 adoption of the first round of flow requirements in the face of threatened lawsuits and loud protests by river users.
In coming weeks, the water world will be watching to see if Newsom steers a new course. His spokesman declined to discuss Newsom's positions, saying Brown was still the governor.
"It remains to be seen," Kightlinger said. "But you can't do long-term things if each administration starts from scratch."
Twitter: @boxall
---
The stories shaping California
Get up to speed with our Essential California newsletter, sent six days a week.
You may occasionally receive promotional content from the Los Angeles Times.