Scientology spying claims latest in decades of controversy, accusations
The Scientology building on Fountain Avenue in Los Angeles.
(Irfan Khan / Los Angeles Times)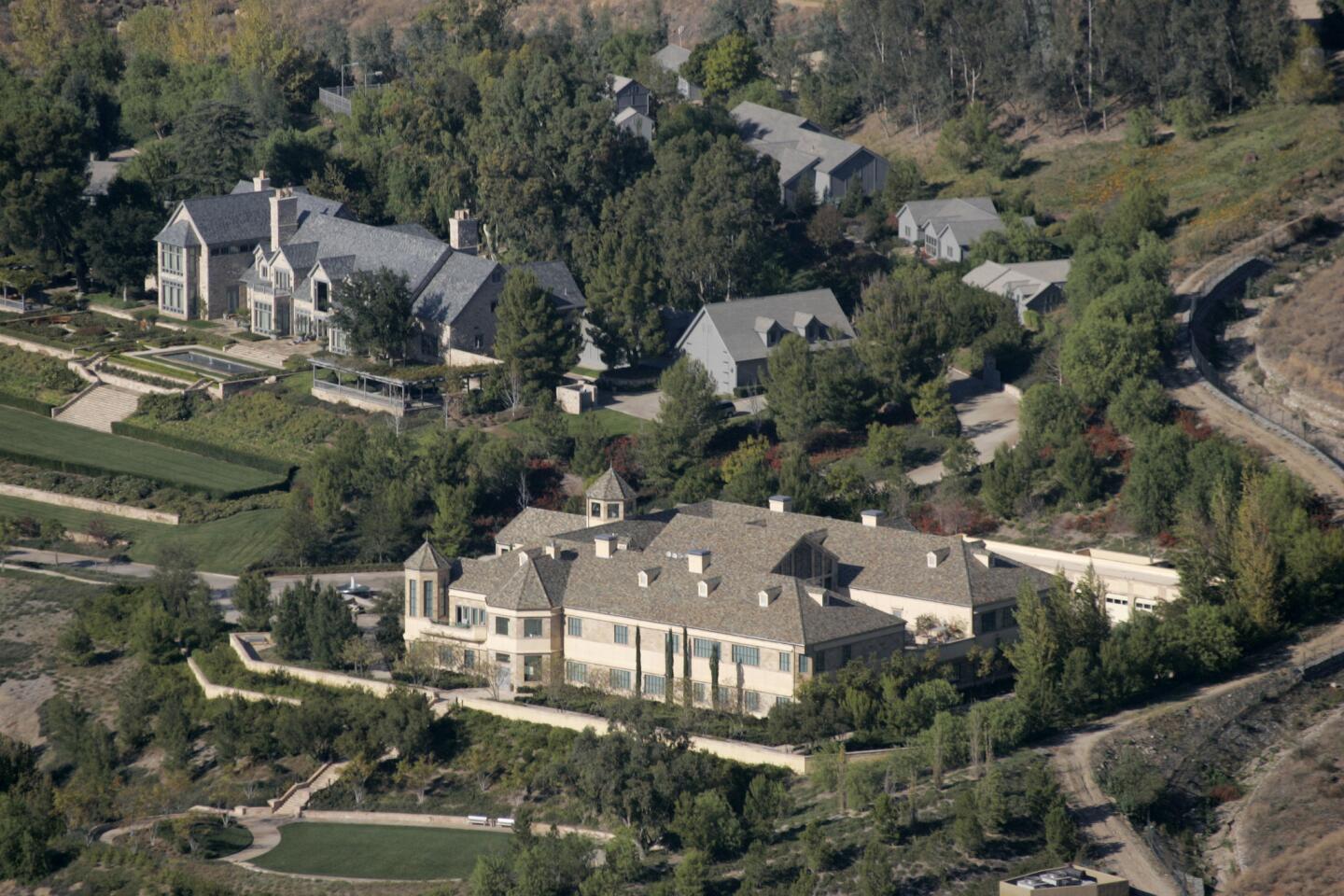 In the past seven years, the church has poured at least $45 million into the former Gilman Hot Springs resort. In the foreground is the $18.5-million management building that includes a wing of offices for church leader David Miscavige.
(Don Kelsen / Los Angeles Times)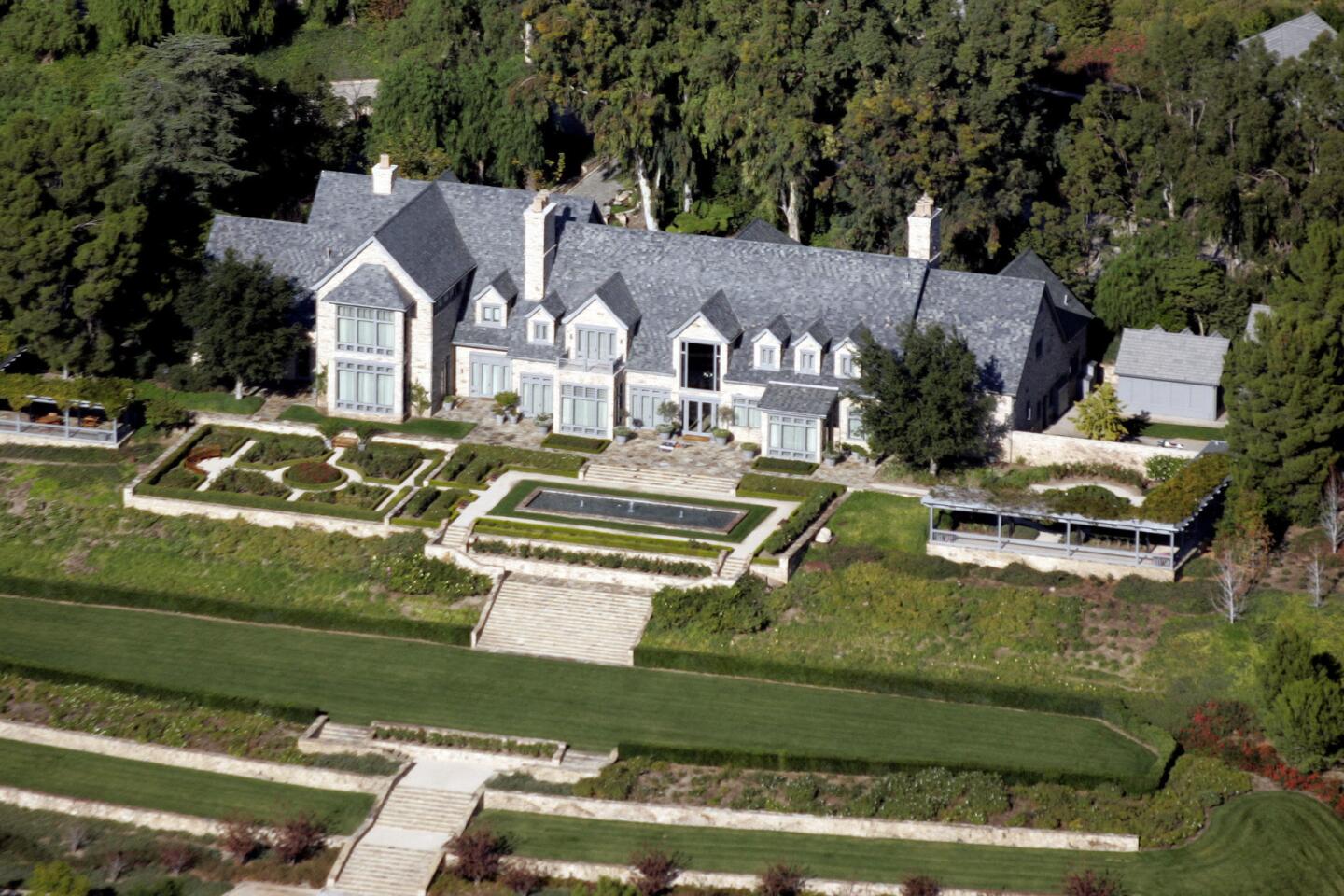 A close view of "Bonnie View," a $9.4-million mansion that ex-members say was constructed for the expected return of late church founder L. Ron Hubbard. Church officials say the mansion is simply a museum to commemorate Hubbard''s life and house most of his possessions.
(Don Kelsen / Los Angeles Times)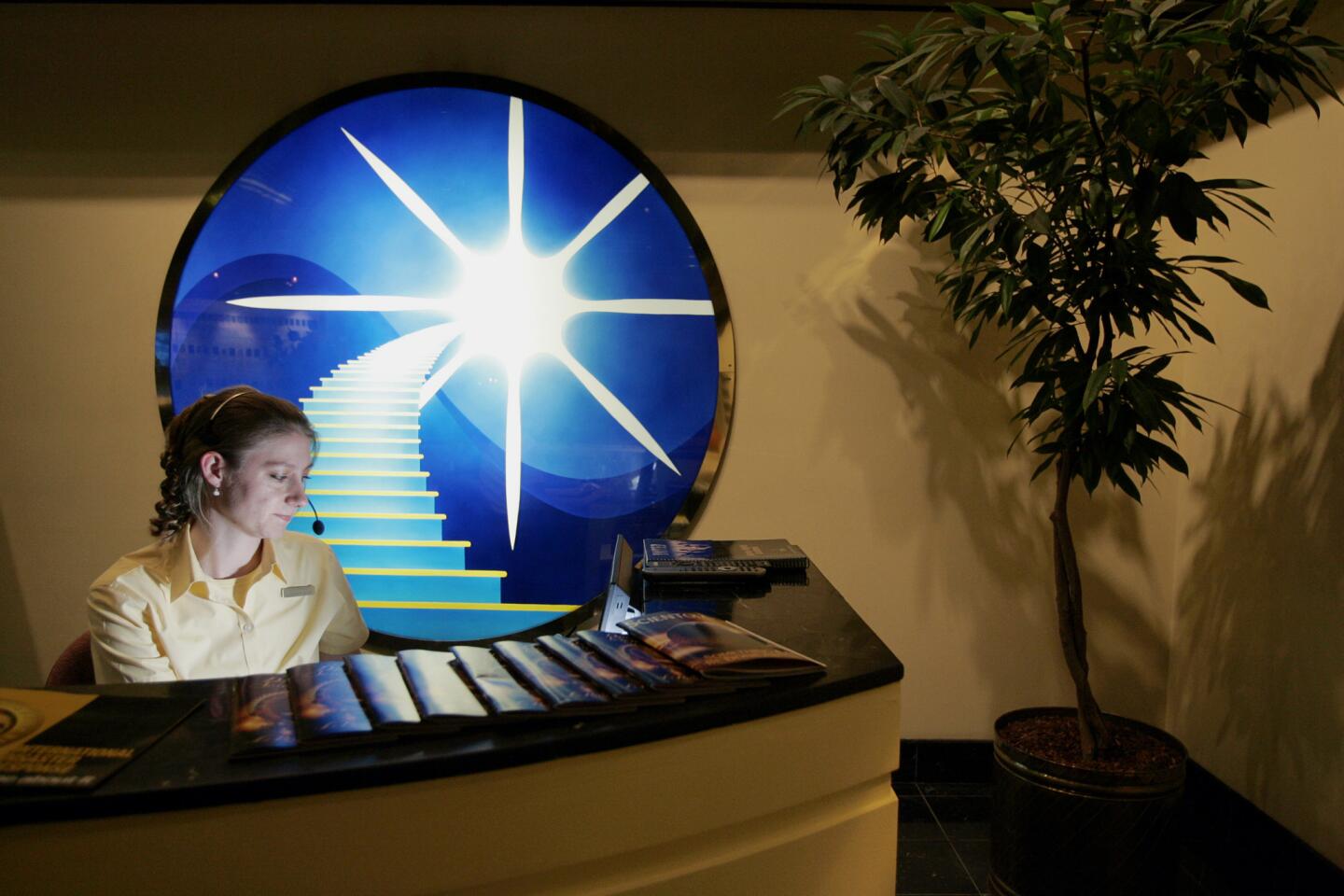 Receptionist Charlotte Heldt at Golden Era Productions. The artwork behind her depicts Scientology's "Bridge to Total Freedom," the church''s path to enlightenment.
(Don Kelsen / Los Angeles Times)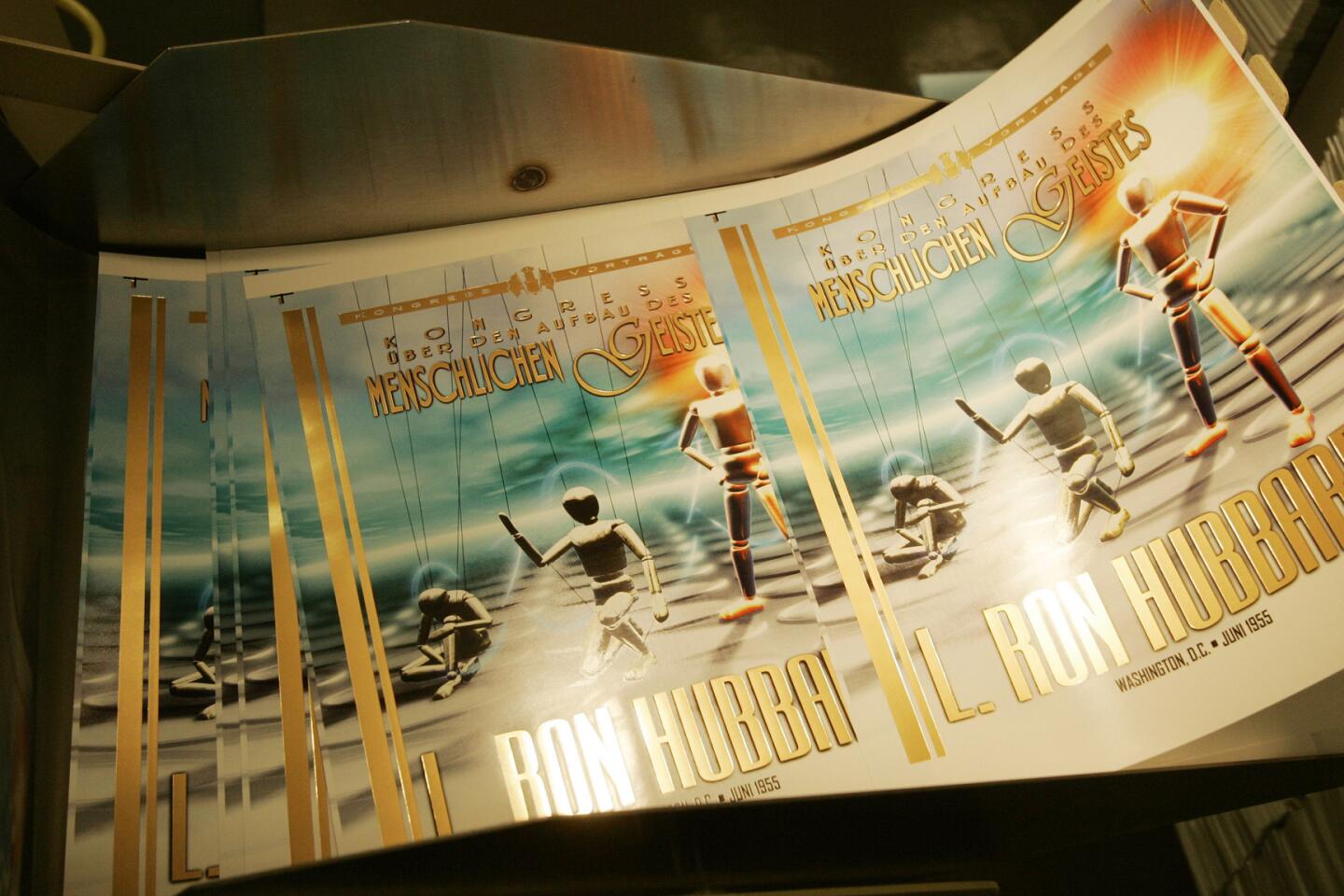 Inside Golden Era Productions, staffers produce nearly all the printed materials for the church. Here, a foil is pressed onto a lecture binder cover that will be used for a CD of one of Hubbard''s speeches that has been translated into German.
(Don Kelsen / Los Angeles Times)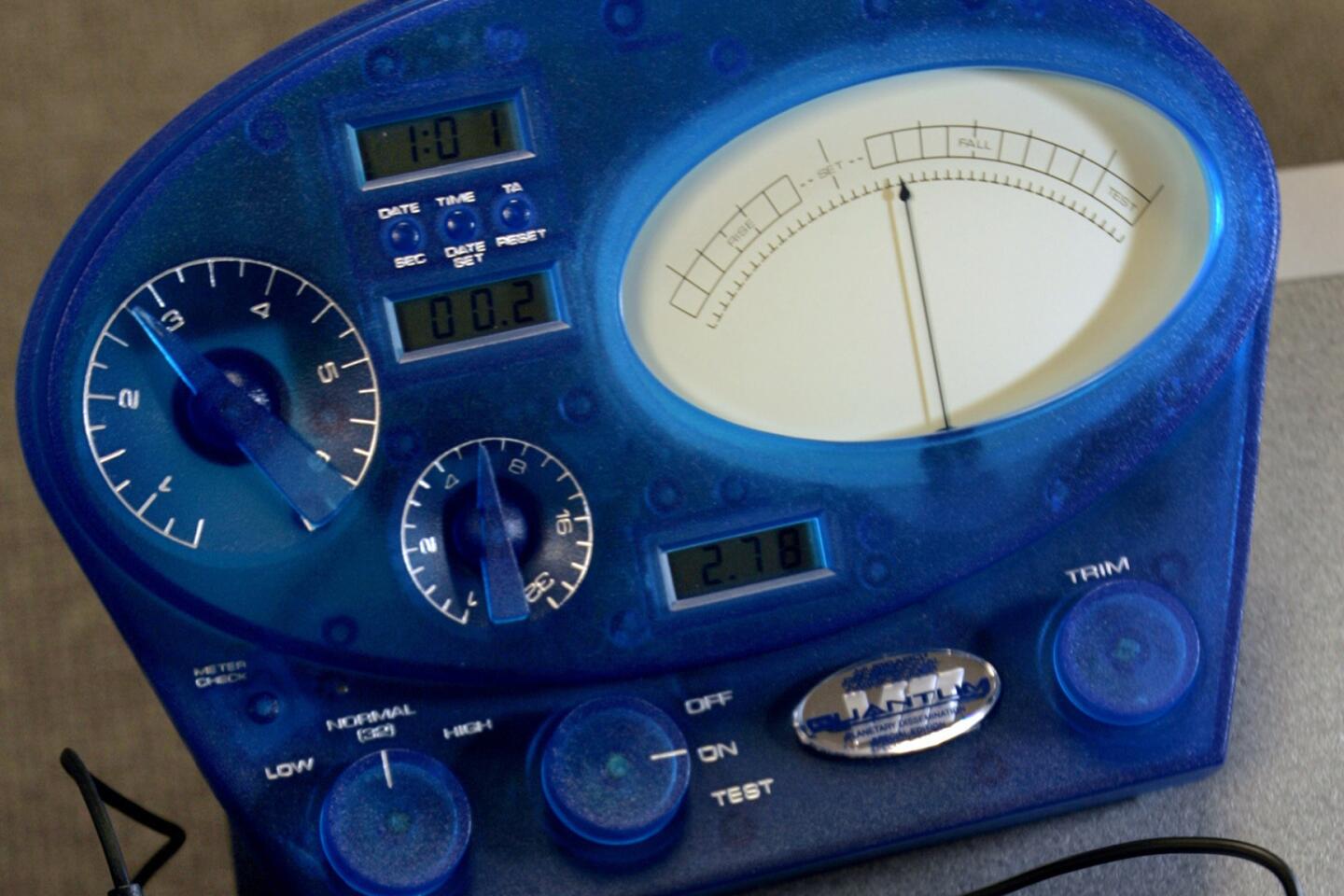 Hubbard invented the "e-meter" as a device that could measure the spiritual clarity of his followers.
(Don Kelsen / Los Angeles Times)
Allegations that the church of Scientology paid hundreds of thousands of dollars to investigate the father of leader David Miscavige are the latest in several decades of claims that the organization uses intimidation and harassment against perceived enemies.
Scientology denied the reports involving Miscavige's father, and over the years the church has vigorously fought claims that it mistreats anyone.
Here is a rundown of some of the controversies involving Scientology, from The Times archives:
'Snow White'
An investigation by The Times that began in the 1980s ultimately produced a 24-article series that detailed, among other things, the church's campaigns of intimidation and surveillance, including a plan that was code-named "Snow White." The plot led to a criminal conspiracy in the 1970s that ultimately landed 11 Scientology members, including church founder L. Ron Hubbard's wife, in prison.
Among the tactics the church used were allegedly framing author Paulette Cooper, who had written a book entitled "The Scandal of Scientology," by forging bomb threats to the church on stationery she had touched. Scientology officials also placed moles in the Department of Justice and the Internal Revenue Service to find out what information the agencies had on Hubbard and the church, stealing thousands of documents in nighttime raids. When the FBI raided Scientology offices, they discovered burglar tools, eavesdropping equipment and nearly 50,000 documents detailing operations against their "enemies."
In later years, Times reporting showed, private detectives had largely replaced church members as agents of intimidation in an aggressive campaign to unnerve and discredit the church's proclaimed "enemies." Use of private detectives insulated the church from questionable, and potentially embarrassing, investigative tactics, former members said.
In one such scheme, a D.C.-based private investigator looked into the life of federal judge James Richey, who had presided over the criminal trial of Hubbard's wife and the 10 other Scientologists. The investigator leaked information about a prostitute whose services Richey allegedly used during trips to Los Angeles.
In 1989, The Times reported, an American Scientologist arrested in Spain was found with dossiers containing confidential information and family photos of a member of Parliament and a Madrid judge who had overseen a tax-evasion investigation of the church.
A reporter's dog
Decades later, Joel Sappell, a former Times reporter who co-wrote the investigative series, described a number of unnerving experiences he had while investigating the Scientology church. When the story hit and made international headlines, The Times told Sappell and his colleague, Robert Welkos, to disappear for a few days until things cooled down.
While in hiding, Sappell's dog died, after more than one source had told the reporters to keep an eye on their pets. During the course of their investigation, the colleagues endured a number of tactics, including: Forest Lawn burial brochures appearing on their doorstep, private detectives rummaging through their lives, bogus charges of assault and much more, he wrote in Los Angeles Magazine in 2012.
Inland Empire compound
The Times in 2005 detailed the church's sprawling Inland Empire compound, which served as a church sanctuary and a courting ground for one of the church's most famous Hollywood members, Tom Cruise. Described by ex-members as the church's international nerve center, the secretive complex was guarded by a barbed-wire perimeter and monitored by video cameras, motion sensors and a lookout spot where Scientology members with telescopes would take note of license plate numbers of anyone who lingered too long.
Scientology defectors
A Tampa Bay Times series that began in 2009 centers on interviews with people who have defected from Scientology, including several who used to be high-ranking church staffers. Former members of Scientology leader David Miscavige's inner circle described a culture of physical violence that involved slapping and beating underlings.
One also admitted to ordering others to destroy evidence in the 1995 death of member Lisa McPherson, who became severely dehydrated and died while in the care of church staffers.
------------
FOR THE RECORD
April 10, 2:15 p.m.: An earlier version of this article incorrectly identified Lisa McPherson as Linda McPherson.
------------
Other defectors said the church pushed them to have abortions they didn't want, forced them to cut off contact with family members who shunned the religion and intimidated them into giving more money to the church than they could afford.
The church has denied the allegations.
Paul Haggis' exit
In 2011, Oscar-winning screenwriter Paul Haggis ("Million Dollar Baby," "Crash") opened up to The New Yorker about his immersion into Scientology and his reasons for leaving. He had been with the church for 35 years when, in 2008, he left because of its support of Proposition 8, which sanctioned marriage only between a man and a woman. (The proposition passed but has since been overturned.) Haggis, who has two gay daughters, tried to get the church to remove its endorsement of the bill. When his efforts failed, he resigned.
Haggis said that in his resignation letter, he mentioned he had read the Tampa Bay Times expose. "If only a fraction of these accusations are true," he wrote, "we are talking about serious, indefensible human and civil-rights violations," he said. When asked why he aligned himself with a religion that many had disparaged, Haggis told the magazine, "I have a perverse pride in being a member of a group that people shun."
Times Staff Writers Tenny Tatusian and Lauren Raab contributed to this report.
Sign up for Essential California for news, features and recommendations from the L.A. Times and beyond in your inbox six days a week.
You may occasionally receive promotional content from the Los Angeles Times.