Gay rights lawyer senses high court will strike down DOMA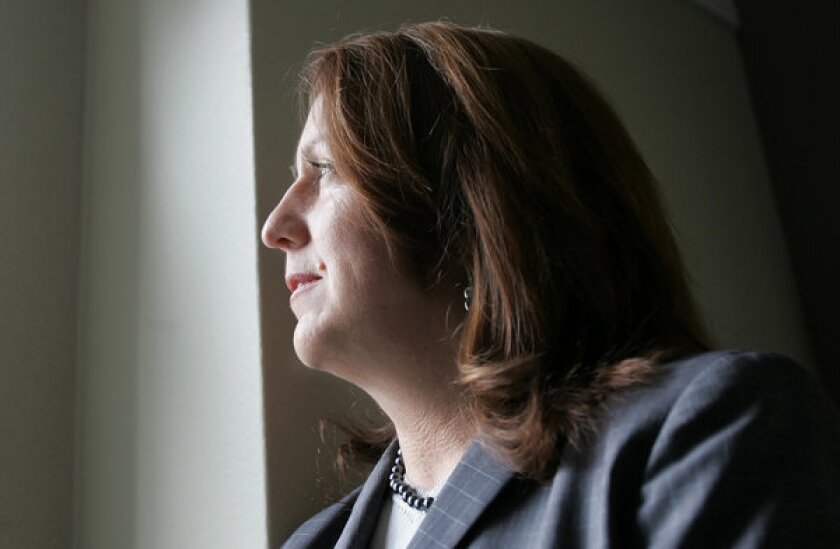 The U.S. Supreme Court appears likely to strike down the federal Defense of Marriage Act, which bars federal recognition of same-sex marriages, a gay rights lawyer said Wednesday.
Kate Kendell, executive director of the National Center for Lesbian Rights, said after attending the court's hearing that she believed there were five justices willing to rule on the constitutionality of the federal law.
"By June, DOMA will be history," Kendell said.
FULL COVERAGE: Same-sex marriage ban
She said the justices appeared more relaxed during the hearing on the federal law than they had been Tuesday in the arguments over Proposition 8, California's ban on same-sex marriage.
"When the judges first walked in [Tuesday], they all looked a bit grim-faced," said Kendell. "And today they walked in, and they were all smiling a bit."
She surmised that the court might be more deeply divided over the Proposition 8 case than the DOMA challenge.
She said she was "really stunned" when Justice Samuel Alito, who she expects will vote in favor of Proposition 8 and the federal marriage law, used the phrase "loving and committed" to describe same-sex couples.
"When he uttered that sentence, there was a little bit of an intake of breath from several people sitting around me," Kendell said. "Even a justice who is clearly diametrically opposed to us on this policy issue talked about us in very human terms imbued with dignity."
ALSO:
Supreme Court turns to Defense of Marriage Act today
Justin Bieber assault claim didn't involve 'physical touching'
LAPD officer wins $1.2 million verdict in racial harassment suit
Twitter: @MauraDolan
maura.dolan@latimes.com
---
For reporting and exclusive analysis from bureau chief John Myers, get our California Politics newsletter.
You may occasionally receive promotional content from the Los Angeles Times.