Beleaguered Cudahy to be audited by state controller's office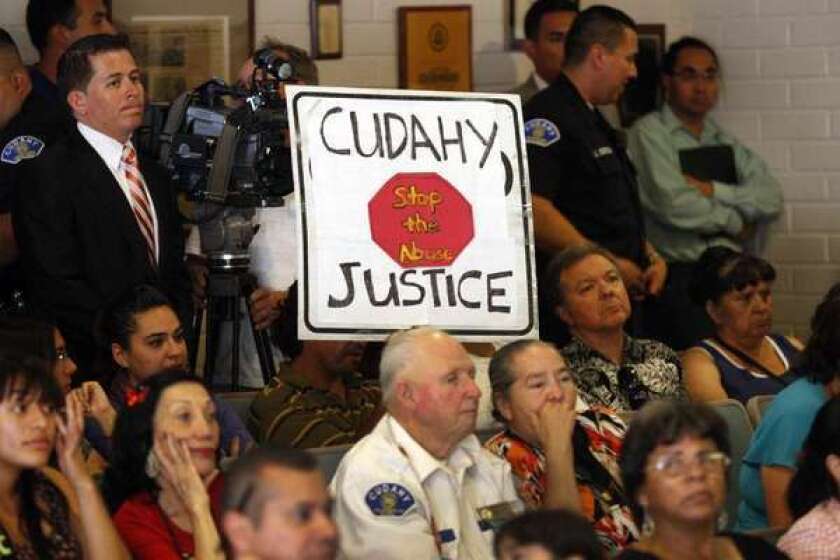 State Controller John Chiang will conduct an investigation into the administrative and internal controls of scandal-battered Cudahy after receiving several requests from city leaders.
"This is a significant milestone for the city," Mayor Jack Guerrero said. "I'm encouraged by the news."
For several months, Guerrero and the vice-mayor made multiple requests to state officials for an audit after a federal bribery investigation last June revealed widespread corruption at City Hall.
Three officials — including two long-term council members — were hauled away by FBI agents for extortion and bribery. The cases revealed a city marred by corruption, election fixing and drug use at City Hall, according to federal court documents.
The state controller's decision to audit Cudahy comes a few days after Gov. Jerry Brown signed a state bill that would allow the controller to establish stronger internal control standards for local governments.
In a letter dated Tuesday, Sept. 3, Chiang said he agreed to conduct the audit because of Cudahy's problems noted in previous letters, such as internal controls deficiencies. State auditors also raised concerns after they reviewed the city's audit reports.
"I have concluded that there is reason to believe the city's ability to provide reliable and accurate information relating to required financial reports submitted by the city is questionable," Chiang wrote.
The letter notes that state auditors were alarmed by the city's financial status. Between 2009 and 2012, the city's expenses exceeded revenue by hundreds of thousands of dollars. The city also saw a decline in net assets for the same time period.
The investigation will look at RDA funds that were transferred to the city or other local agencies and funding from state grants.
Guerrero hopes the result — good or bad — will offer an independent view of the city's condition to residents.
"Our city has been hurt by the corruption scandal, and people are naturally skeptical," Guerrero said. "This is one way to find out where we have gaps and deficiency in our controls."
ALSO:
New Bay Bridge troll is unveiled by Caltrans on Twitter
Torrance hiker conquers Mt. Whitney, then falls to his death
Rim fire in and around Yosemite almost third largest in state history
Twitter: @latvives
---
The stories shaping California
Get up to speed with our Essential California newsletter, sent six days a week.
You may occasionally receive promotional content from the Los Angeles Times.