Chris Farley, the wild, 300-pound comic actor who gained recognition for his physical antics on "Saturday Night Live" as well as such movies as "Tommy Boy" and "Black Sheep," was found dead Thursday in his Chicago apartment. He was 33.
The cause of death was not immediately known, but a Police Department source said Farley's death appeared to be from natural causes, and a Cook County medical examiner on the scene said, "There's nothing to indicate otherwise at this time."
Local radio stations reported that Farley had been on medication for high blood pressure. An autopsy will be performed today.
The death of Farley, known for working himself into a sweaty frenzy during performances, provides unavoidable parallels to John Belushi, another "Saturday Night Live" alumnus whom Farley grew up wishing to emulate. Belushi, who also struggled with his weight, died of a drug overdose in 1982.
In a 1996 interview, Farley said he "dreamed of being John Belushi. That's why I went the Second City [a Chicago comedy troupe], 'Saturday Night Live' route. I wanted to follow him."
Friends and associates had long expressed concern about Farley's health and excessive behavior, and the comic acknowledged battling his own outrageous tendencies. An Us magazine article this year titled "Chris Farley: On the Edge of Disaster" quoted Farley's manager as saying he feared the comic actor would "go the route of John Candy" if he wasn't careful. Candy died of a massive heart attack in 1994, at the age of 43.
In one of his most recent appearances, Farley seemed impaired while guest-hosting "Saturday Night Live" in October, frequently flubbing lines.
"Even though it's shocking, I can't say it's a surprise," said actor Brian Dennehy, who played Farley's father in the 1995 hit "Tommy Boy."
"Chris had an enormous appetite for everything, but I never got the feeling this was a kid who was doing these things for all the wrong reasons," Dennehy said. "He loved to eat. He loved to raise hell. . . . It's just such a waste. He's a terrific kid, a nice kid, hard-working [and] very talented."
Chicago Fire Department officials received a call shortly after 2 p.m. Thursday, and Farley was pronounced dead on the 60th floor of the John Hancock Building, where he had lived in a condominium off and on for about two years. Farley's brother found him lying in the apartment's entranceway.
Several restaurant employees near the building had seen Farley when he appeared to be inebriated.
Todd Poore, who works at the Cheesecake Factory near Farley's residence, said the comic showed up about a week ago with two women and drank heavily.
"He looked really gross. He was sweating like a slob, he was loud and obnoxious—a complete mess," Poore said.
David Spade, a co-star on "SNL" and in two films, had expressed concerns about Farley's health. In a recent interview Spade said he was pleased that Farley had cut out drugs and alcohol, but added that he "needs to watch his weight. He drinks too much coffee, he smokes."
Through a spokeswoman, Spade said Thursday, "He was one of my best friends, and I will miss him every day."
Farley said in 1996 that he sometimes felt trapped "by always having to be the most outrageous guy in the room. In particular, I'm working on trying not to be that guy in my private life."
Maria Pappas, a Cook County commissioner who lives in Farley's building, said Farley was "very approachable" and gracious, especially toward children.
Born in Wisconsin to a close-knit family, Farley was the middle child of five. After graduating from Marquette University in Milwaukee, Farley joined the Second City touring company and was performing in Chicago when invited to audition for "Saturday Night Live," joining the cast in 1990.
Farley spent four years on the show—popularizing such characters as inspirational speaker Matt Foley—before moving on to feature films. He scored a surprise hit with "Tommy Boy," which he followed with "Black Sheep" and "Beverly Hills Ninja."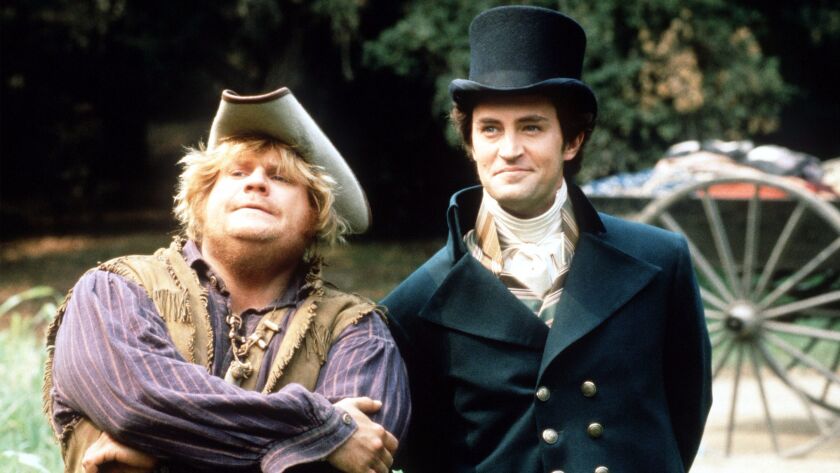 Farley recently completed a movie for Warner Bros., tentatively titled "Almost Heroes."
In addition to Belushi and Candy, Farley had also expressed admiration for the late Jackie Gleason.
"All the fat comics, they're my favorites," he said in a January interview. "I watch them over and over again. The great comics can fall on their faces, but then they can say, 'Oh, baby, you're the greatest.' They show their heart and their vulnerability."
Lowry reported from Los Angeles and Braun from Chicago. Researcher John Beckham in Chicago also contributed to this story.
From the Archives: Eddie Albert, 99; Versatile Stage and Screen Actor Best Known for Role in 'Green Acres'
From the Archives: John Ritter, 54; Versatile Star of 'Three's Company,' '8 Simple Rules'
From the Archives: Richard Pryor; a Groundbreaking, Anguished Comedian
From the Archives: Mayor Who Reshaped L.A. Dies
From the Archives: Red Skelton, TV and Film's Quintessential Clown, Dies
---