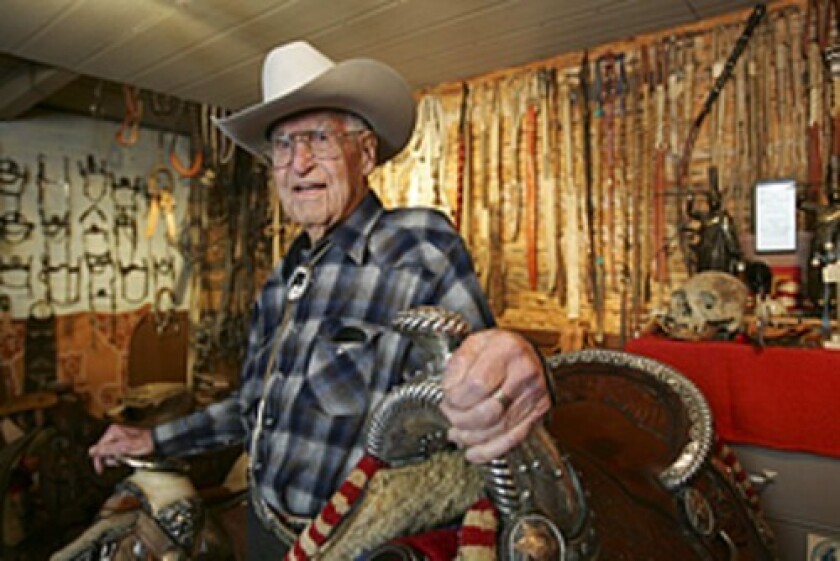 Frank Bogert, the crusty ex-cowboy and longtime mayor of Palm Springs who helped turn the desert outpost into a glamorous destination for celebrities and tourists, died at his home Sunday after a brief hospitalization, according to city officials. He was 99.
Bogert, who lived in Palm Springs for more than seven decades, served four terms as mayor, from 1958 to 1966 and 1982 to 1988. A legendary figure in a white cowboy hat and boots, he became a highly effective promoter of the desert town in the 1930s, when he began taking pictures of the celebrities who stayed at the El Mirador Hotel and sent them to newspapers across the country.
He was a friend of many old Hollywood stars, including Gene Autry, Will Rogers, Bob Hope and Lucille Ball, and knew several presidents, including Dwight D. Eisenhower, John F. Kennedy and Ronald Reagan. A master horseman, he led arduous trail rides well into his 90s.
He also was a local historian who wrote two books about his adopted hometown: "Palm Springs: The First Hundred Years" and "View From the Saddle: Characters Who Crossed My Trail."
"He was one of a kind and a true pioneer whose name was synonymous with Palm Springs," said Mayor Steve Pougnet.
Bogert literally rode into town on a horse. The youngest of eight children, he was born Jan. 1, 1910, on a cattle ranch in Mesa, Colo. He came to Wrightwood in 1927 to work at a stable. When the owner died a few years later, he left 60 horses to Bogert, who moved to Palm Springs and began offering trail rides for $1 an hour.
He also started working at the El Mirador, which had just opened. As publicist and later as general manager, he spread the word about Palm Springs as a playground for the rich and famous. "Doug Fairbanks, Ralph Bellamy, Shirley Temple -- they all came," he told the Desert Sun some years ago. "If you stayed at the El Mirador long enough, you'd meet everybody in the world."
One of the most famous people he met there was Albert Einstein, who was, as Bogert later described the Nobel Prize-winning physicist, "the nicest little guy you'd ever want to meet."
After serving in the Navy during World War II, Bogert joined with some partners to start the Thunderbird dude ranch. In the 1950s it became Thunderbird Country Club, which later hosted major pro golf tournaments such as the Bob Hope Chrysler Classic.
As mayor during much of the 1960s, Bogert presided over a period of rapid growth. During his tenure the city's municipal golf course was built, as well as the Palm Springs Aerial Tramway and the city airport. In addition, he supported the development of hundreds of homes by Alexander Construction Co., which doubled Palm Springs' population and gave it a reputation as a haven for modernist architecture.
In 1963 Bogert invited modernist architect Albert Frey to design an eye-popping gas station at the entrance to town. With its soaring "flying wedge" roof, it remains a local landmark, but Bogert later said he regretted endorsing its design. "I don't like modern, fancy, dad-gum buildings," he told The Times in 1997 when a developer wanted to destroy it.
Toward the end of his tenure in 1966, the city demolished about 200 dwellings in a blighted part of town owned by the Agua Caliente Band of Cahuilla Indians. Bogert's strong advocacy of the redevelopment effort, which displaced poor black and Latino families, provoked an investigation by the state attorney general's office. The probe resulted in a blistering report that said the city's actions were a "classic study in civic disregard for the rights and feelings of minority citizens." Bogert defended the city and denied that racism had been a factor.
Seeking to restore glamour to Palm Springs, he ran and won in the city's first direct mayoral election in 1982. One of his main accomplishments was helping attract the Wyndham Resort to downtown Palm Springs. He retired in 1988 and was succeeded by entertainer-restaurateur Sonny Bono.
Bogert is survived by his second wife, Negie; daughters Denni Russell, Cindy Lamm and) Donna Higueras; and four grandchildren.
A memorial service is scheduled for 2 p.m. Friday at Temple Isaiah, 322 W. Alejo Road, Palm Springs. Memorial donations may be sent to Angel View Crippled Children's Foundation, 12379 Miracle Hill Road, Desert Hot Springs, CA 92240; Pegasus Riding Academy for the Handicapped, 35450B Pegasus Court, Palm Desert, CA 92211; or Desert Trail Riders Fund, P.O. Box 4063, Palm Springs, CA 92263.
---