George Barris, creator of the Batmobile, dies at 89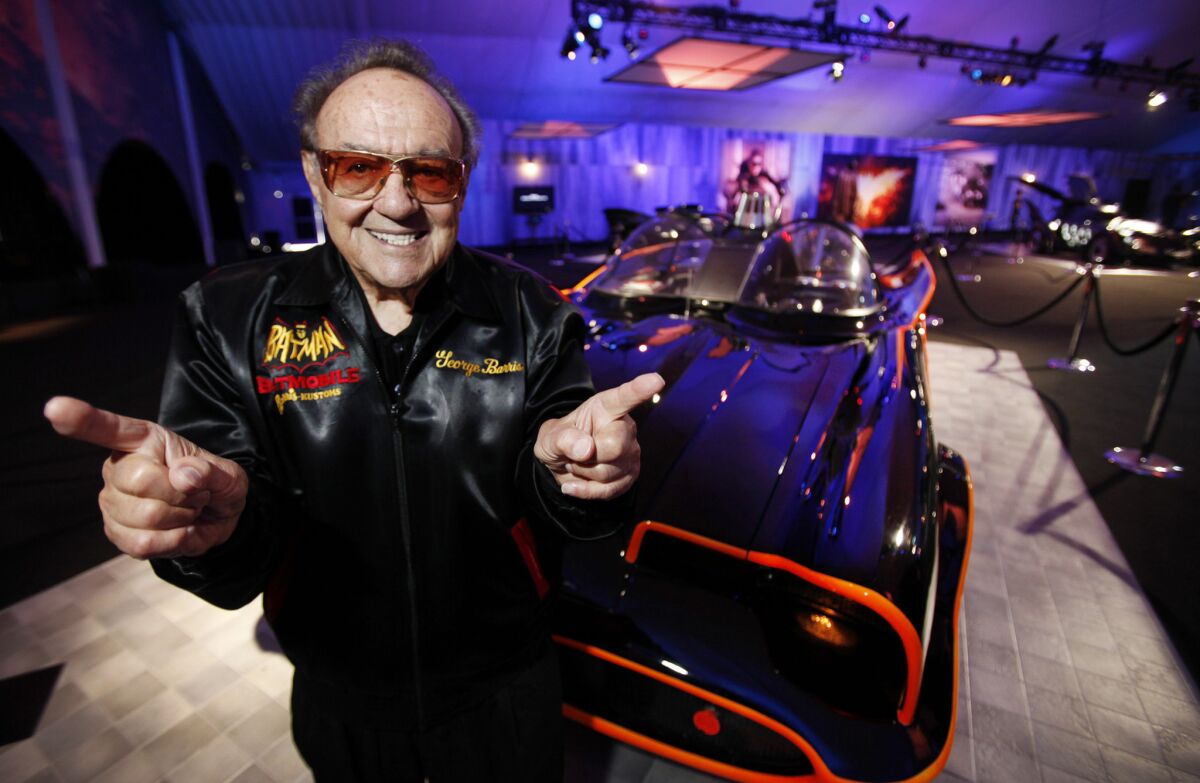 In 1965, producers of the "Batman" television show needed a supercar that Adam West could wield to battle the Joker and the Riddler.
There was just one man for the job: George Barris.
"I saw the script and it said, 'Bang,' 'Pow,' 'Boom,' " Barris told The Times in 2012. "That's exactly what I wanted the car to be able to do. I wanted it to be as big a character as the actors themselves."
It took 15 days and $15,000 for Barris to transform a 1955 Ford Lincoln Futura into the iconic midnight black and fluorescent-red-pinstriped Batmobile with plexiglass bubble windshields — "bulletproof," of course. He didn't forget the Bat Ray, with its dual 450-watt laser beams for obliterating obstacles, the Bat-O-Meter for identifying the bad guys, or the oil squirters for repelling evildoers.
Barris, the Southern California custom-car legend who created many of the most memorable and outrageous automobiles ever seen on film and television, died Thursday at his home in Encino. He was 89.
The cause was cancer, said family spokesman Edward Lozzi.
A man nearly as flamboyant as his cars, Barris also designed special vehicles for many of the biggest names in Hollywood, including Frank Sinatra, Sammy Davis Jr., Elvis Presley, Michael Jackson and John Wayne.
For his everyday use he drove a Toyota Prius that was tricked out in true Barris fashion — sprayed gold with emerald green metallic accents and doors that opened upward, like a Lamborghini.
"George Barris could take a vehicle and with a minimum of modifications turn it from something ordinary to something grand and exciting," said Leslie Kendall, chief curator of the Petersen Automotive Museum in Los Angeles, which has exhibited many Barris cars over the years.
"Most people thought that to customize a car you had to go to a coachbuilder and spend a lot of money to do it. He said, 'No, I can do this with a few simple modifications and not a lot of time and money.' He made customizing accessible."
He also was credited with helping to turn cars into art.
He was "a good example of a kid who grew up completely absorbed in this teenage world of cars, who pursued the pure flame and its forms with such devotion that he emerged an artist," Tom Wolfe wrote in "The Kandy-Kolored Tangerine-Flake Streamline Baby," his 1965 book celebrating custom car culture.
"It was like Tiepolo emerging from the studios of Venice, where the rounded Grecian haunches of the murals on the Palladian domes hung in the atmosphere like clouds. Except that Barris emerged from the auto-body shops of Los Angeles."
The son of Greek immigrants James and Fanicia Salapatas, Barris was born in Chicago on Nov. 20, 1925. Only a toddler when his mother died, young George was sent with his brother Sam to live with her brother, John Barakaris, and his wife, Edith, in Roseville, Calif. His uncle Americanized the family name to Barris shortly after the boys arrived.
Car-obsessed from an early age, Barris resisted pressure to work in the family restaurant. By age 7 he was making model cars out of wood. At 13, he and his brother restored a 1925 Buick, scavenging items such as the knobs from Edith Barris' dresser to customize the grille.
By his teens he was rushing to sweep floors at a local auto body shop as soon as the last school bell rang. Before long, he was wielding a blowtorch on the immense metal auto bodies of the era.
At 18, after a brief time in junior college, Barris moved to Los Angeles, the capital of the emerging 1940s teen car culture.
He and other teenagers showed off their flashy custom cars at drive-ins and hamburger stands across Southern California. He made his 1936 Ford roadster a standout with a custom silver paint job, and removed the door handles and running boards to streamline it. He also shaved the fenders to make the front end pointed.
"I had just come from Sacramento, and I wasn't supposed to know anything," Barris told Wolfe. "I was a tourist but my car was wilder than anything around. I remember one night this kid comes up with a roadster with no handles. It looked real sharp, but he had to kick the door from the inside to open it. You should have seen the look on his face when he saw mine — I had the same thing, only with electric buttons."
With his savings, Barris and his brother opened a shop in Compton and quickly gained a reputation for daring and imaginative work.
They called the business Barris Kustom. "Because I was Greek, I spelled it with a K," Barris said. "I wish I would have trademarked that. I'd be a millionaire."
To get the right look, Barris would try almost anything. He cut a car's suspension coils so it would ride lower in front and be kicked up in the rear. He'd "french" the headlights, meaning he'd mold them into the body to get a smoother look on the car. Once, to attain the ideal shade of pearl, he grated the scales off a sardine and mixed them up in paint.
He fashioned tail fins and bubble-tops and lowered the body, "things Detroit didn't do until years later," Wolfe wrote.
In 1948, when Hot Rod magazine publisher Robert E. Petersen mounted the first custom car show in Los Angeles, he included a Buick transformed by Barris. Before long, Hollywood took notice of Barris' talents.
He put "diamond-dust" paint on the Bobby Darin Dream Car. He transformed a 1965 Mustang for Sinatra's ad executive character in the movie "Marriage on the Rocks" into a racy European-style sports car, with a television inside. He welded together three Model T bodies and added casket handles and a blood-red velvet interior for "The Munster Koach," the family car for the Munsters TV family. He reupholstered Liberace's Cadillac convertible in the pattern of a piano keyboard and added a candelabrum in the back.
-----------
For the Record
Nov. 6, 12:34 p.m.: An earlier version of this story erroneously credited Barris for work on the car actor James Dean was driving in his fatal 1955 crash. The work was done by Dean Jeffries.
-----------
He built five Batmobiles — one for primary filming, one stand-in, one for stunts and two for promotional use.
Barris did not become the "King of Kustom" on talent alone: He was known as a tireless promoter, a constant presence at car trade shows in wraparound rose-colored sunglasses and a neon yellow windbreaker with Barris Kustom Industries emblazoned on the back.
Some critics accused him of claiming credit for work that wasn't his. In 2007, after he displayed the DeLorean DMC-12 featured in the "Back to the Future" films in front of his North Hollywood shop, Universal Studios obtained a cease-and-desist order, alleging that he was misrepresenting his involvement with the movie. Barris said he had never claimed to have built or designed the iconic sports car.
His wife, Shirley, an interior decorator and longtime collaborator, died in 2001. His survivors include a daughter, Joji Barris-Paster; a son, Brett; and a grandson, Jared.
The allure of the custom car, Barris once said, was the same whether a person spent a few hundred or many thousands of dollars.
"You go in to buy a car, you don't care if it's got a rubber band for an engine," he told the Daily News of Los Angeles several years ago. "You care how it looks first."
Follow @ewooLATimes on Twitter
Times staff writer David Colker contributed to this report.
Must-read stories from the L.A. Times
Get the day's top news with our Today's Headlines newsletter, sent every weekday morning.
You may occasionally receive promotional content from the Los Angeles Times.