Thomas Blatt dies at 88; among 300 Jews who escaped Nazi death camp at Sobibor
During a 2013 ceremony commemorating the 70th anniversary of a successful uprising at the Sobibor camp, insurgents Philip Bialowitz, from left, Thomas Blatt and Jules Schelvis light candles.
(Janek Skarzynski / AFP/Getty Images)
Candles burn at the monument of the Sobibor death camp in Poland.
(Janek Skarzynski / AFP/Getty Images)
A plaque in the woods commemorates the Jewish victims who died in the successful uprising at the Sobibor Nazi extermination camp during World War II.
(Janek Skarzynski / AFP/Getty Images)
Residents of Israel, Poland, Germany and the Netherlands gather at the monument of the Sobibor in 2013. In the 1943 uprising at the camp in Poland, most of the Nazis were killed and 300 prisoners escaped.
(Janek Skarzynski / AFP/Getty Images)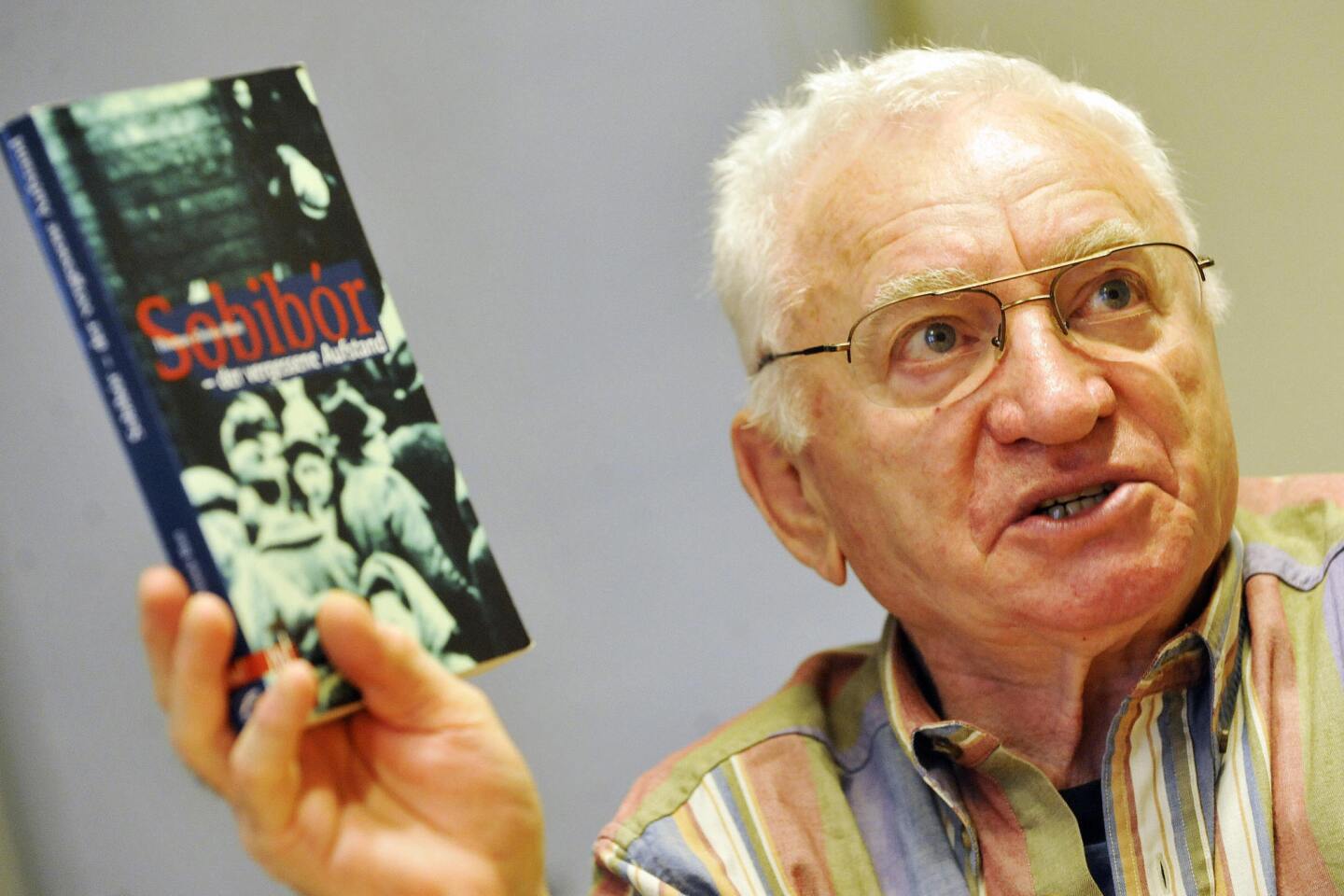 Thomas Blatt, a survivor of the Sobibor concentration camp in Poland, holds his book in 2009 in Munich.
(Oliver Lang / AFP/Getty Images)
Thomas Blatt, joint plaintiff in the trial against Nazi death camp guard John Demjanjuk, and lawyer Stefan Schuenemann wait for the defendant's arrival in a Munich courtroom in 2009. Demjanjuk was found complicit in the deaths of more than 28,000 people.
(Miguel Villagran / Getty Images)
Sobibor concentration camp survivors Philip Bialowitz, left, and Thomas Blatt attend the Munich trial of Ukrainian-born John Demjanjuk. The retired Ohio autoworker was convicted of serving as a guard at the Nazi camp.
(Oliver Lang / AFP/Getty Images)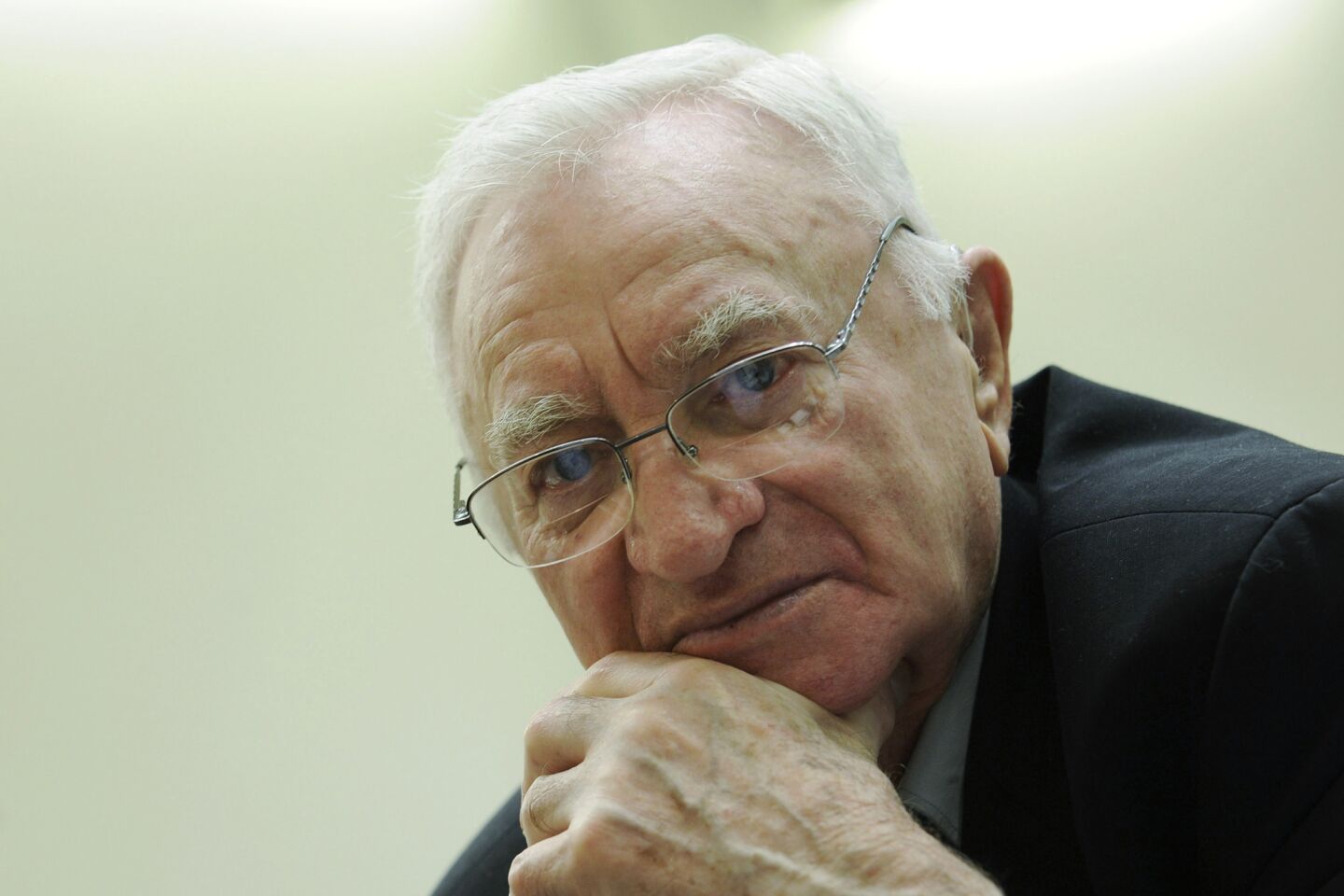 Polish-born Thomas Toivi Blatt waits in a courtroom in Munich, Germany, before trial of John Demjanjuk on Jan. 20, 2010.
(Christof Stache / Associated Press)
Thomas Toivi Blatt, one of about 300 Jews who overwhelmed guards to escape a Nazi concentration camp in Poland and who decades later became a key witness at the trial of former guard John Demjanjuk, has died. He was 88.
Blatt had dementia, said Ruth Dubin Steinberg, a spokeswoman for Blatt's family. He died Saturday morning at his Santa Barbara home.
Well into his later years, Blatt spoke to audiences around the world about the atrocities he witnessed as a teenager at Sobibor. He wrote two books and consulted on the 1987 TV film "Escape From Sobibor."
"He was passionate about getting the message out," said Steinberg, who runs educational programs about the Holocaust for the Jewish Federation of Greater Santa Barbara. When he was up to it, Blatt attended Steinberg's monthly sessions for Holocaust survivors.
In a letter to Blatt's family, federal prosecutor Eli Rosenbaum, who has spent much of his career pursuing suspected war criminals, recalled Blatt's determination to keep the world reminded of the Holocaust's reality.
"Many now devote themselves to realizing the post-Holocaust imperatives 'Never Again' and 'Never Forget.' But for your father these were virtually sacred obligations and they were decidedly not of recent vintage," Rosenbaum wrote.
On Oct. 14, 1943, Blatt, who was then 16, took part in the only mass escape from a World War II death camp. Moments before the revolt began, its leader, Sasha Pechersky, urged the others to think of a larger mission.
He "spoke the words that ended up shaping your father's life for the next 72 years," Rosenbaum wrote. "'Those of you who may survive, bear witness: Let the world know what has happened here."
Some 250,000 prisoners — virtually all of them Jews — died at the camp. Blatt's father, mother and brother were taken to one of the camp's five gas chambers, just after the family arrived from their village in Poland. Blatt was chosen, seemingly at random, as a camp laborer. One of his jobs was to cut the hair of women who had been stripped before their executions. Their hair was shipped off for use in military footwear.
After the uprising, most of the 300 escapees were hunted down and killed. Some perished in the woods surrounding the camp. Blatt and a companion bribed a farmer, who hid them in his barn for months before shooting them. With a bullet lodged in his jaw, Blatt was left for dead but managed to survive in the forest until the war's end.
"The great moment for which I had been waiting all those terrible years, of which I had dreamt in the extermination camp, in the barn, in the woods, was here," he once wrote. "According to the way I pictured it, I should have been in ecstasy. I should have danced for joy. Instead, I felt empty and sad and alone."
Blatt, who was born in Izbica, Poland, on April 15, 1927, was among the Jews rounded up and taken to Sobibor in 1942. Even after he established himself in the U.S. and owned three electronics shops in Santa Barbara, he kept returning to the site. In weeds and tall grasses, he would find bone shards and bury them.
Blatt raised funds to preserve what remained of the camp. In a 1988 Times interview, he fumed over a plaque that memorialized the "Russian POWS, Jews, Poles and Gypsies" who died there.
"They are falsifying history," he said. "Jews, Jews and only Jews were killed there."
The Polish government later changed the plaque's wording.
In 1957, Blatt immigrated to Israel, where he met and married an American woman. They moved to the U.S., but their marriage ended in 1986.
"I don't want to live in Sobibor anymore," Dena Blatt told her husband, according to his account in The Times interview. "I've lived there for 30 years."
In 2011, Blatt's testimony helped convict Demjanjuk, a retired Ohio autoworker, of being an accessory to the murder of more than 28,000 people. Demjanjuk, who said he had never served as a guard, died in a German nursing home the next year, as his case was being appealed.
Blatt, the main plaintiff in the case, said he wanted to keep a collective memory of the death camp alive.
"The Nazis razed it to the ground, trees were planted to cover the human ashes and most of the documents proving its existence were destroyed," he said. "At least this trial will ensure that it goes on the record, because once the survivors and all their relatives are dead, it will be easier for revisionists to say it was a fabrication, that Sobibor, in fact even the Holocaust, never happened."
Blatt's survivors include his children Hanna Stankiewicz, Leonard Blatt and Rena Smith; six grandchildren; and four great-grandchildren. Funeral services are set for Wednesday at 12:30 p.m. at Congregation B'nai B'rith in Santa Barbara.
Twitter: @schawkins
Must-read stories from the L.A. Times
Get the day's top news with our Today's Headlines newsletter, sent every weekday morning.
You may occasionally receive promotional content from the Los Angeles Times.