Walt Hazzard dies at 69; former Bruins basketball star and coach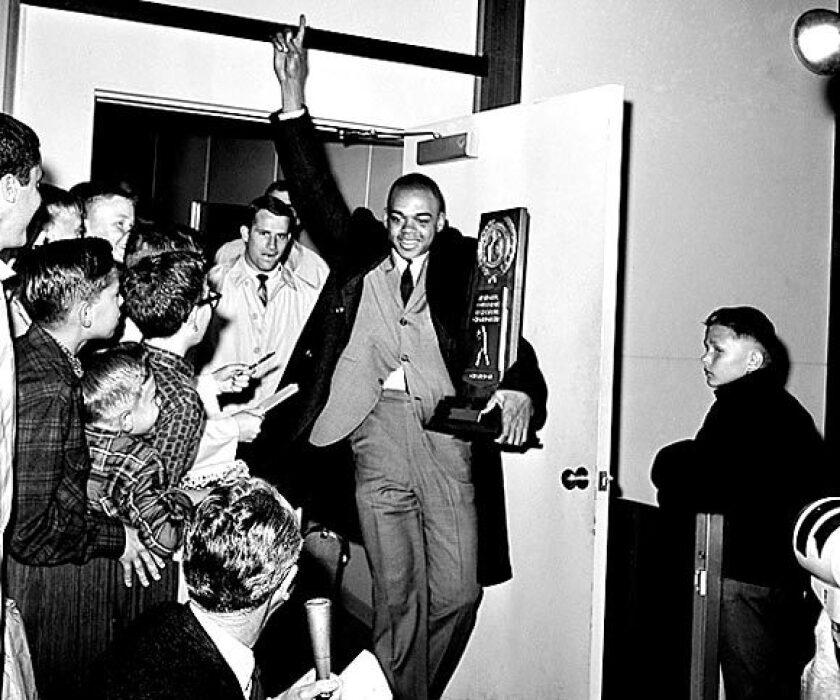 Walt Hazzard, a stellar point guard who helped John Wooden win his first national championship at UCLA and became the fifth coach to follow the college basketball legend, died Friday. He was 69.
Hazzard, who suffered a stroke in 1996, died at Ronald Reagan UCLA Medical Center following a long illness, the university announced. Hazzard had endured complications following heart surgery, his family said.
The backbone of UCLA's undefeated 1964 championship team, Hazzard directed the Bruins' offense to a 98-83 victory over Duke in the NCAA final. But he was unable to bring another NCAA title banner to Pauley Pavilion as the Bruins' coach from 1984 to 1988. He was a special consultant with the Lakers at the time of his death.
PHOTOS: Walt Hazzard | 1942-2011
"Walt was the catalyst for Coach John Wooden's first championship team and played the game with a style that excited Bruin basketball fans everywhere," Dan Guerrero, UCLA's athletic director, said in a statement.
Hazzard, who played 10 seasons in the NBA, including three for the Lakers, was a scout for the L.A. team until suffering the stroke. He had open-heart surgery soon after and was in rehabilitation for years.
UCLA basketball coach Ben Howland called Hazzard "one of the pillars of UCLA's first championship team in men's basketball."
"He was a great player and an outstanding coach at UCLA," Howland said in a statement. "He is a huge part of the UCLA legacy."
Walter Raphael Hazzard Jr. was born April 15, 1942, in Wilmington, Del., and grew up in Philadelphia. As an 8-year old he went to a performance by the Harlem Globetrotters and later said, "I went out and practiced dribbling like Marques Haynes for hours every day."
Hazzard was soon absorbed into Philadelphia's basketball high society, honing his game as an Overbrook High School sophomore on the playground "against Guy Rodgers, Wilt Chamberlain, Woody Sauldsberry and Andy Johnson," he later said.
Like Chamberlain, Hazzard became a star at Overbrook, where his teams were 89-3. He was the city player of the year as a senior.
UCLA provided a grander stage, and the 6-foot-2 point guard helped the Bruins to their first Final Four appearance in 1962.
Hazzard's skills as a ball handler were such that Wooden once said, "I never had a better man on the fast break than Walt Hazzard."
The coach later recalled that he brought Hazzard into his office one day and "asked him to pattern himself after Oscar Robertson, who looks for the pass first and the shot second. I told him his passing could make him an All-American."
A three-year starter, Hazzard did become an All-American in 1963 and again in 1964, when the Bruins went 30-0 and won the first of Wooden's 10 NCAA titles. Hazzard was named the outstanding player of the 1964 NCAA Final Four.
"Recruiting after that 1964 national championship was tremendous," Wooden said later. "Lew Alcindor [Kareem Abdul-Jabbar] would never have come to UCLA had we not won it in 1964 and 1965."
UCLA was also where Hazzard met his future wife, Jaleesa, who was a Bruin cheerleader.
Hazzard, attired in a sweater, shorts and sandals, was on campus one day with his roommate, tennis player Arthur Ashe, and said, "See that girl? I'm going to marry her."
She told him, "Not if you don't wear socks." The two were married in May 1964. By then Hazzard's future lay before him.
That summer he was part of the U.S. Olympic basketball team that won a gold medal in Tokyo. The Lakers made him their first pick in the 1964 NBA draft, and he played three seasons for them. He went to Seattle in the 1967 expansion draft then on to Atlanta, Buffalo and Golden State before ending his pro career with Seattle in 1974.
As a coach, Hazzard's success was mixed. He spent two seasons at Compton College, taking the team to the 1982 state junior college championship game, and two seasons at Chapman College in Orange before being hired at UCLA.
Hazzard confronted things in a direct manner as a coach, the same way he did as a player.
The son of a Methodist minister, Hazzard converted to Islam in 1971, changing his name to Mahdi Abdul-Rahman. When a group of Chapman alumni expressed concerns about his coaching career at Compton (the team had to forfeit 21 of 22 victories because of an ineligible player one season), Hazzard answered by saying, "They are just drawing certain conclusions about me because I'm a Muslim."
The issue died and Hazzard remained at Chapman, going 44-14 in two seasons.
But concerns about how his religion was perceived led him to go back to using the name Walt Hazzard, he said, as "a professional courtesy," adding, "it seemed like people were scared of my Muslim name on a resume."
Coaching, he said when he was hired at UCLA in 1984, is "a tough and nasty business, and I love it. Maybe I'm a little whacko, but I love it."
Hazzard was the fifth coach who attempted to add to the legacy established by Wooden after his 1975 retirement. Following Gene Bartow, Gary Cunningham, Larry Brown and Larry Farmer, he was eager for the challenge, saying, "I'm not worried about the pressure. Give me a knife and a fork and a napkin."
The Bruins reached the NCAA tournament only once in Hazzard's four seasons — in 1987, when he was named Pacific 10 Conference coach of the year — though they did win the 1985 National Invitation Tournament title. He had a 77-47 record at UCLA, but was fired after the 1987-88 season.
After his stroke, Hazzard spent most of his time at his family's Los Angeles home with his wife and four sons, Yakub, Jalal, Khalil and Rasheed, all of whom survive him.
Services were pending.
PHOTOS: Walt Hazzard | 1942-2011
---
Must-read stories from the L.A. Times
Get all the day's most vital news with our Today's Headlines newsletter, sent every weekday morning.
You may occasionally receive promotional content from the Los Angeles Times.