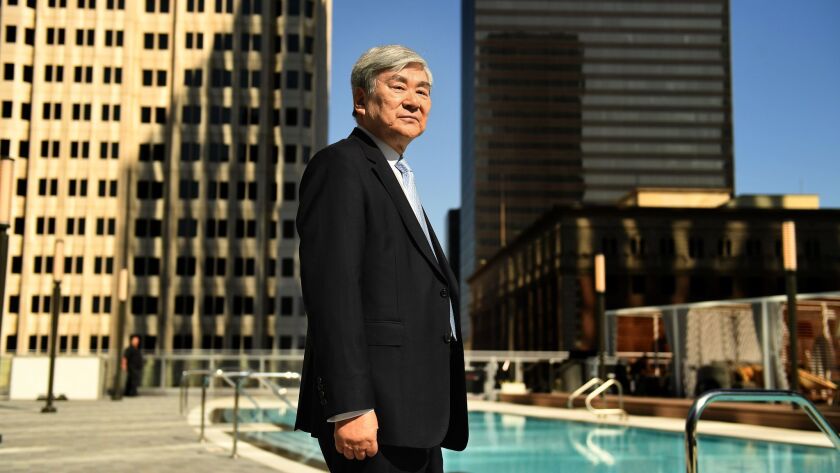 Cho Yang-Ho, the chairman of Korean Air who built L.A.'s highest skyscraper but whose leadership was marred by family scandals including his daughter's infamous "nut rage" incident, died at a hospital in Los Angeles, the company said Monday.
Cho had been indicted in South Korea on charges including embezzlement and tax evasion. His death, two weeks after shareholders voted to remove the 70-year-old from the airline's board, will probably force a court to dismiss his criminal case.
The company did not specify his illness or provide other details, but a senior Korean Air executive said Cho had been receiving treatment for an unspecified lung illness since late last year and that his condition had "worsened rapidly" after the shareholder vote.
Despite his troubles in his native South Korea, Cho is perhaps best remembered in Los Angeles for building the Wilshire Grand Center. The hotel-and-office project, which soars 1,100 feet and is emblazoned with Korea Air's logo, was intended to signify the growing influence of South Korean immigrants in Los Angeles.
Mayor Eric Garcetti called the $1.35-billion tower, the highest in the West, a "new tent pole for Los Angeles," where Cho served for years on the Board of Trustees at USC. He and all three of his children earned degrees there.
"He was an avid and loyal supporter of USC and a mighty member of the Board of Trustees who was so supportive not only financially but also with his time and commitment to helping USC gain popularity in Asia," said real estate developer Rick Caruso, chairman of USC's board. "Wilshire Grand represents his belief and commitment to the region."
Cho was previously convicted of tax evasion in 2000, facing charges with his father and brother. The Chos were charged with receiving millions in rebates when they purchased airplanes from Boeing and Airbus and evading taxes on the money.
The Cho family also faced intense criticism after company employees alleged they were subjected to mistreatment and tantrums.
Cho's eldest daughter, Cho Hyun-ah, formerly the head of the airline's cabin service, received worldwide notoriety in 2014 after she ordered a Korean Air passenger plane to return to a New York terminal because she was angry that the crew served her macadamia nuts in a bag instead of on a plate.
Cho Hyun-ah was sentenced to one year in prison for violating aviation law but was released early when a higher-level court suspended the sentence.
Cho's wife was summoned last May by South Korean police to question her about allegations that she abused and assaulted employees. Lee Myung-hee was accused of physically or verbally abusing more than 10 former and current employees of Korean Air's parent company.
Cho's younger daughter, Cho Hyun-min, also was investigated by state prosecutors for potential assault connected to the hurling of a cup of water during a business meeting. No charges were filed.
The scandals severely tarnished the Cho family's image, while highlighting public criticism about South Korea's "chaebol," a privileged group of family-owned conglomerates that have been tied to corruption and exploitive behavior.
Before his reputation was marred by scandals, Yang Ho Cho, who led Korean Air since 1992, had been credited for overseeing the company's growth into one of Asia's biggest airlines. Korean Air, which began in 1969 with eight planes, now operates 166 aircraft with international flights to 111 cities in 43 countries.
Cho was also the chairman of the Hanjin Group, a global transportation conglomerate of dozens of companies that includes the airline. He also was the co-chairman of the Korea-U.S. Business Council and vice chairman of the Federation of Korean Industries.
He was involved in the bidding process and preparations for the 2018 Winter Olympics held in South Korea's ski resort town of Pyeongchang and headed the Olympic organizing committee for two years before stepping down in 2016.
Cho — survived by his wife, two daughters, a son and five grandchildren — grew up in Incheon, where he played in the parking lot of his father's burgeoning transportation business.
He attended boarding school in the U.S. and returned to South Korea to earn an engineering degree from Inha University before his father sent him to USC to earn a master's degree in business. He later earned a doctorate in business administration from Inha.
In a 2014 interview, Cho recalled visiting Southern California in 1974 on a honeymoon trip with his new bride only to get lost amid the dark, empty industrial buildings and shuttered shops of downtown Los Angeles.
Cho remembers he could find no one on the streets to ask for directions to his hotel. It is unlikely today that anyone will have trouble finding Cho's $1.35-billion skyscraper, a passion project that houses an InterContinental hotel, several floors of office space and five restaurants.
"From Olympic Boulevard, you can directly see this building, the tallest and in the center" of the downtown skyline, Cho said when it opened. "All the Korean community in L.A. is very proud of this."
The colorful Korean Air logo atop Wilshire Grand will be lit in monochromatic black and white as a symbol of mourning, said Cho's friend and business associate Christopher Martin, chairman of AC Martin, the Los Angeles architecture firm that designed the tower and managed its development.
"This was Chairman Cho's project, and he made every single decision" in its creation, Martin said. "He had a dream of a very beautiful hotel that would be the highest quality in Los Angeles and he was unrelenting."
Just before it opened, Cho stopped on the open-air lounge atop the Wilshire Grand Center to snap a photo of the spire that rises about 175 feet above the building, giving it the bragging rights as the tallest in the West, surpassing the U.S. Bank Tower on Bunker Hill, which opened in 1989.
Korean Air passengers arriving on more than 30 flights a week from Incheon would be able to see it from the air as their planes circle into LAX, he said.
"After 25 years," he said, "I have achieved my dreams."
The Associated Press contributed to this report.
---