For Pierre André Senizergues, skater cool meets SoCal beach house
Pierre Andre Senizergues takes a familiar stance on a patio mosaic.
(Don Bartletti / Los Angeles Times)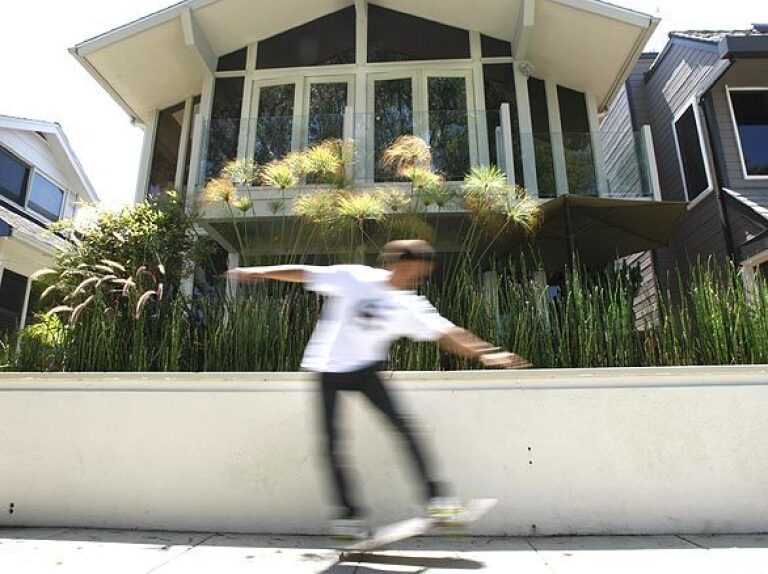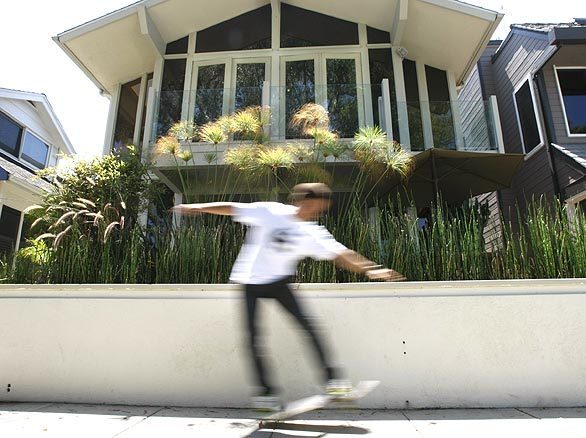 "The idea was to take the French sensibility to the California lifestyle," designer Llongueras says. The result is an eclectic mix that balances its owner's passions.
You can tour dozens of other cool Southern California homes in our
Homes of the Times
archive.
(Don Bartletti / Los Angeles Times)
Los Angeles Times Staff Writer
AT 22, Pierre André Senizergues moved from the suburbs of Paris to skateboarding's Valhalla: Venice Beach. "I was living in a Ford Econoline van for the first six months," he says, adding that his next home was a Manhattan Beach surf shack where he paid $50 a month to crash behind a sofa.
That was long before Senizergues turned pro, became world champion, traveled the international circuit and founded Etnies, the footwear and apparel giant that logs $200 million in annual sales with its sister brands. Now 45, Senizergues finds himself in different shoes.
"This is the first house I ever owned," he says of his place on Newport Harbor. "I wanted it to be me."
Indeed, it is. Senizergues' home is a highly personal statement, as stunning as his signature aerial maneuvers. In a single 1948 structure, he references California beach houses, midcentury Palm Springs ranch homes, downtown lofts, Basque country residences and Moroccan hookah dens.
It's a boldly idiosyncratic update that makes any visitor wonder whether Senizergues is talking about skateboarding or decorating when he declares, "To do something new, that nobody else has, you can't be afraid to fall."
At times the house, which uses the shapes and materials of Senizergues' sport as design motifs, throws as many curves as a skate park.
As part of his bachelor padding, Senizergues worked with Studio X designer Xavier Llongueras to add a window in the bathroom wall just so the bedroom TV is visible from the tub.
The three-bedroom, 2,400-square-foot house is a mosaic of styles, a combination of Senizergues' travels around the world and Llongueras' skills as a decorative tile designer.
"Pierre is very open-minded and creative," Llongueras says. "He is a businessman but an artist too, and this house reflects his personality, complexity, sophistication and great eye for color."
On the patio, which faces Newport Harbor, Llongueras created a mosaic skateboard in the concrete. In the kitchen, he amped up ocean-blue, glass-tile backsplashes and concrete counters with concealed blue lights.
The meditation room is filled with Marrakech pillows on pumpkin-hued, legless leather seating, and outside Llongueras fashioned a water fountain tiled with an abstract crest of Leucate, Senizergues' native village on the southern coast of France.
"The idea was to take the French sensibility to the California lifestyle," Llongueras says.
The mosaic artist often works in Byzantine, Roman and Gaudí styles, so the house let him expand into a midcentury modern vibe when creating the floors of the main living spaces.
The indoor Jacuzzi is a seascape of green, blue and black tiles, a color combination that Senizergues vividly recalls from childhood boat trips. The powder room is paved in black and white pebbles. "To give you a massage when you walk on it," Senizergues purrs in a French accent.
Accented with glass mosaic inlays, the polished concrete floor downstairs was selected for function, first and foremost. "I was having so many out-of-control parties," says Senizergues, who bought the house in 1994 because its location on the harbor made it harder for cops to find him. "With 200 to 300 people, it felt like a troop of elephants had been on the original wooden floor. I got tired of cleaning it."
When he bought the house, however, it was too clean for his tastes. "All white, with mirrors and plexiglass, too 1970s," Senizergues says. "I wanted it to be contemporary without being cold and sterile."
A sandstone fireplace wall in the living room and mahogany paneling in the dining area added warmth, a modern iteration of the centuries-old stone and wood residences he grew up with in France.
Senizergues also brought home inspiration from work. Color -- green in the living room, orange in the meditation room -- punctuated spaces, while the concrete's gray, the favored earth tone of skateboarders, tied everything together.
The goal, he says, was to integrate the natural beauty of Newport with the warmth of his homeland, the clean and classic style he saw as a young man in Paris and the ethnic souvenirs of a globe-trotting businessman.
"Skateboarders always have to reinvent themselves and their space," says longtime friend Gil Le Bon De Lapointe. "Twenty years ago, they were kids on the streets like Pierre. Now they are entrepreneurs and designers. The lifestyle is a blend of all these influences -- hip-hop, grunge, street couture and urban culture."
For Senizergues, a collector of contemporary art by the likes of Ryan McGinness and Patricia Chaplin, the list should also include the era of architecture and design from which the skateboard emerged.
After stocking the house with classics such as the 1962 Arco lamp, vintage pieces from Skank World and Futurama in Los Angeles, and contemporary chairs by Karim Rashid and Vico Magistretti from Design Within Reach, Senizergues teamed with De Lapointe to create a collection of furniture called Skate Study House.
The men partnered with skateboard businesses to reuse excess inventory, fashioning skateboard decks into slat benches and Noguchi-esque coffee tables, and transforming wheels into Nelson-style clocks and Eames-inspired coat hooks.
"I thought if it's OK to make shoes and clothes," Senizergues says, "I should also show skateboarders how to make their own furniture."
---
The stories shaping California
Get up to speed with our Essential California newsletter, sent six days a week.
You may occasionally receive promotional content from the Los Angeles Times.